It shall be our new Christmas tradition: whip up a batch of super easy chocolate bark and devour it before it can make it into any gift bags.
Oops.
Luckily that 'super easy' part makes it, well, super easy to simply make some more.
Inspired by last year's wildly popular peanut butter cup chocolate bark, this creme-de-menthe bark requires only 3 ingredients: dark chocolate, mint baking chips, and chopped up Andes mints.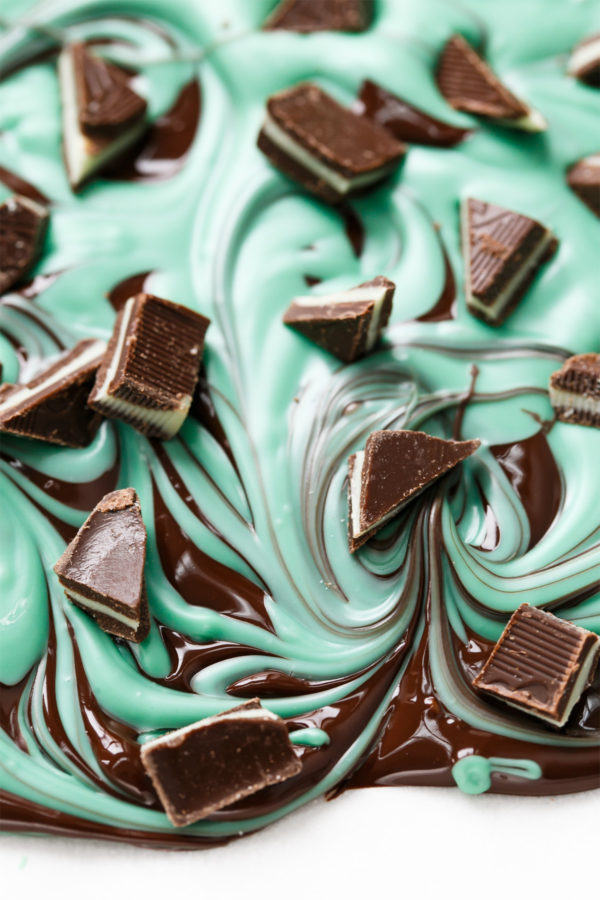 If you're the kind of person who can blow through and entire box of Andes mints without a second thought, this bark is for you.
Dare I say it's even better than the original?
I'll leave that call up to you.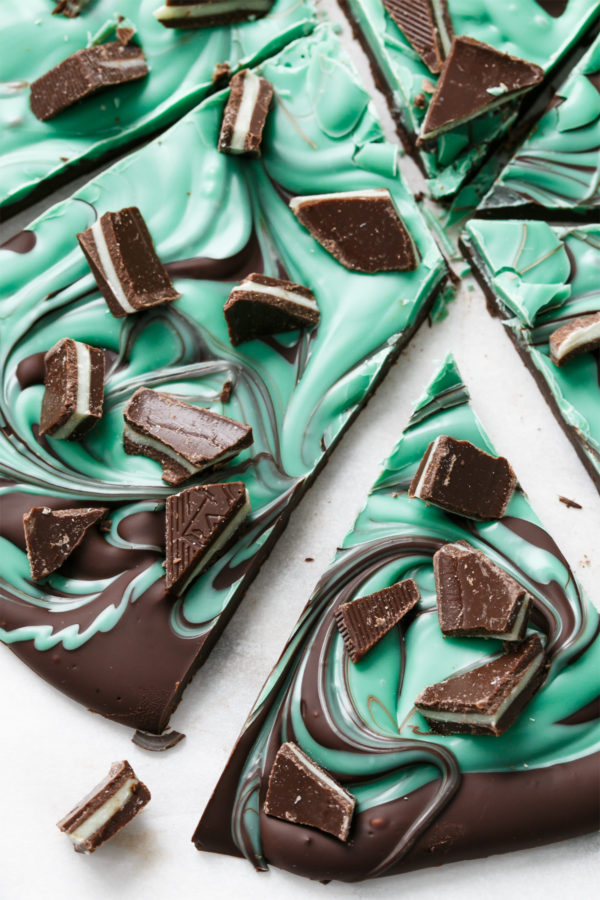 I used Guittard green mint baking chips, since I wanted the pretty contrasting swirls like my peanut butter bark. I've seen dark chocolate mint chips and you could certainly use those, though you won't have the same striking green and brown swirl.
If you want to make your own green mint chips, use white chocolate and mix with an oil-based food coloring and creme-de-menthe flavoring oil. DO NOT use water-based food coloring with white chocolate or it will seize into an unsightly mess. Trust me on this one.


The key to snappy chocolate bark is to melt the chocolate slowly, keeping it at/under 88 degrees the entire time. This will preserve the chocolate's crystal structure (or temper), allowing the chocolate to set up nice and firm and snappy at room temperature. It's not the end of the world if it loses its temper (so don't lose yours as a result)… the bark will just need to be refrigerated otherwise it'll be a bit soft at room temperature. I absolutely adore this little chocolate melter – the 'warm' setting keeps the chocolate from getting too hot.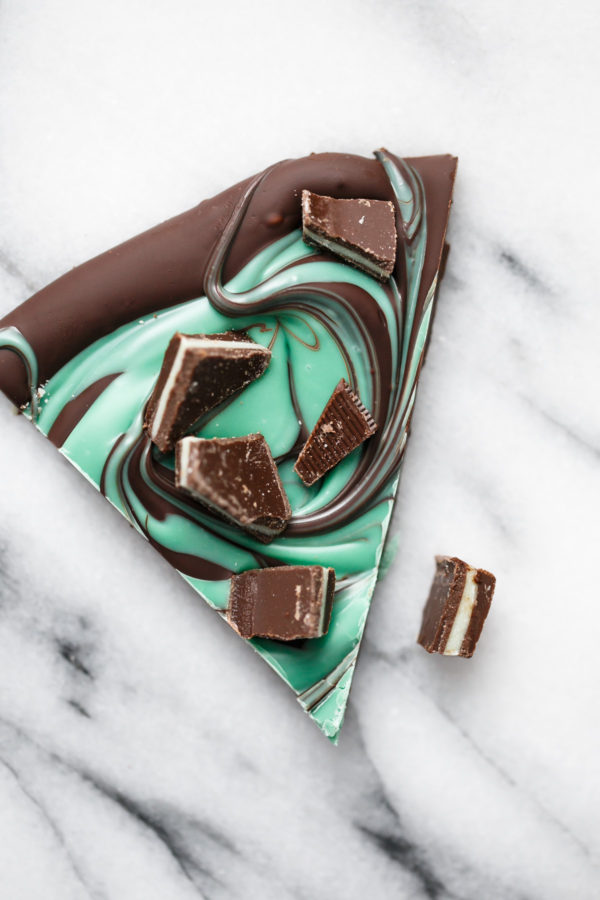 Properly tempered, the chocolate bark will hold up well at room temperature and makes for a delicious gift this holiday season. Or, better yet, make a batch each of my chocolate peanut butter bark and fruity chocolate bark and mix all three into the ultimate bark-grab-bag of sorts. Your friends will love you (and you may very well make some new friends in the process).
Mint Chocolate Swirl Bark
Ingredients:
Directions:
In a microwave, double boiler, or chocolate melter, gently melt chocolate on the lowest possible heat setting. Stir regularly, removing from heat as needed. The goal here is to keep the temperature under 90 degrees, above which the chocolate will lose its temper. Be patient, keep stirring, and even with on and off low heat the chocolate will melt eventually.
Meanwhile, melt mint chips in a microwave safe bowl by microwaving on medium power in 20 second intervals, stirring until melted. If this mixture seems too thick, stir in a teaspoon or two of vegetable oil or shortening to thin it out.
Pour melted chocolate onto a baking sheet lined with parchment paper or a silicone baking mat. Spread into an even layer (it will not cover the entire pan, just spread it until it's as thick as you want your final bark to be). Dollop lines of melted mint chips on top of chocolate. Run a toothpick or skewer through the two kinds of chocolate in a circular motion to form decorative swirls.
Sprinkle evenly with Andes mints. Let sit, uncovered at room temperature, for 1 to 2 hours or until set. Break or cut into serving size pieces.
Did you make this recipe?
Let us know what you think!
Leave a Comment below or share a photo and tag me on Instagram with the hashtag #loveandoliveoil.