I simply adore persimmons, which I believe to be entirely underutilized in cooking and baking. In fact, my all-time favorite green bean recipe (which I made again this year for Thanksgiving) utilizes persimmons in a savory manor, but they are most often found in sweet treats and bready things.
These scones, or scone muffins (scuffins? Hmm, not quite as appetizing-sounding as a cronut) give you the best of both scones and muffins: a light and crunchy top and a moist and tender bottom. Moist and tender (that's the magic of buttermilk), and studded with sweet diced persimmons and spicy candied ginger.
I topped the scones with some pearl sugar for effect, mainly because Philip gave me some a few months back and I've been looking for an excuse to use it. It gives the scones a nice 'snowflake' effect and an added crunch as well. But you could certainly use coarse/turbinado sugar if you wanted instead, or leave it off completely.
I also think these scones would be just delightful with a simple sugar glaze, if you were keen on a sweeter confection to accompany your morning tea.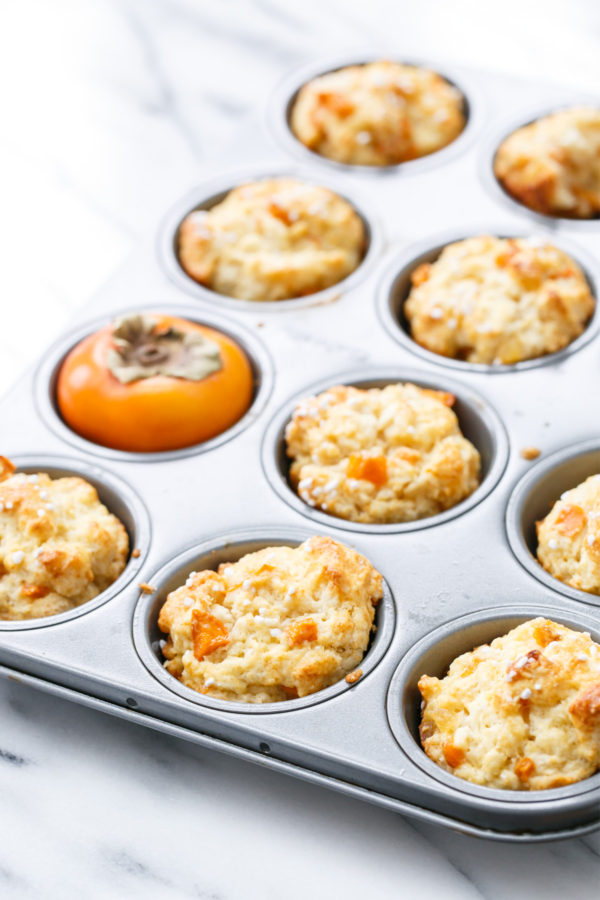 This recipe utilizes the firmer, crunchier Fuyu persimmons. They look like squat orange tomatoes with brittle brown leaves. While the fruit gets sweeter as it ripens, you do want firm-ripe persimmons for this recipe (the flesh should give ever so slightly under your touch). Over ripe fruit will be impossible to dice, trust me, and won't hold its shape as well in the batter.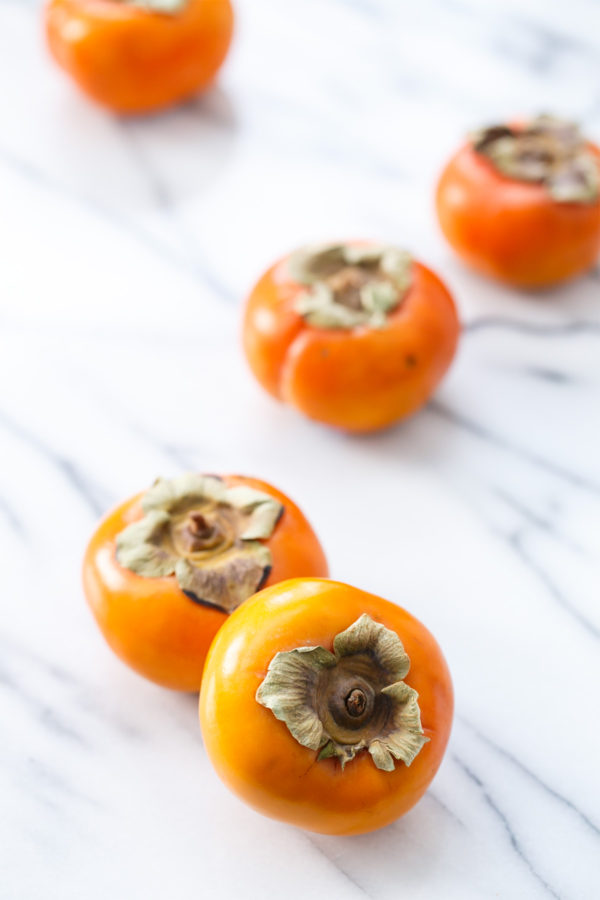 Did I mention I love persimmons?
Seriously though. I'm on the hunt for someone with a persimmon tree. I know they grow in Tennessee… I just need to expand my circle of friends until I find one. But for now I'll continue to buy them at Trader Joe's for $.69 a piece until they disappear for another year.
Ginger Persimmon Scone Muffins
The best of both scones and muffins: a light and crunchy top and a moist and tender bottom, studded with sweet persimmons and chunks of spicy candied ginger.
Ingredients:
2 cups all-purpose flour
1/3 cup granulated sugar
2 teaspoons baking powder
1/2 teaspoon baking soda
1/4 teaspoon kosher salt
1/4 teaspoon ground ginger
1/2 cup (1 stick) unsalted butter, cut into cubes
1 cup buttermilk
2 Fuyu persimmons, peeled and cut into 1/2-inch dice (about 1 cup)
1/4 cup chopped candied ginger
1 egg, whisked with 1 tablespoon milk or water
pearl sugar, for topping (optional, you can also use any raw or coarse sugar)
Directions:
Preheat oven to 350 degrees F. Butter a 12-cup muffin tin or spray with cooking spray and set aside.
In a large bowl, whisk together flour, sugar, baking powder, baking soda, salt, and ground ginger. Add butter cubes and work in with a pastry blender, two knives, or your hands until butter is broken into pea sized chunks. Make a well in the center and add buttermilk, then stir in with a wooden spoon until almost incorporated. Add chopped persimmon and candied ginger and fold until evenly distributed.
Divide dough among muffin cups (a large cookie/cupcake scoop is the perfect size).
Lightly brush tops with beaten egg and sprinkle with pearl sugar.
Bake for 20 to 25 minutes or until tops are evenly golden brown and a toothpick inserted in the center comes out clean. Place pan on a wire rack and let cool until scones are cool enough to remove from tins. Serve warm (scones will also keep in the refrigerator for a few days or even frozen; rewarm before serving).
Did you make this recipe?
Let us know what you think!
Leave a Comment below or share a photo and tag me on Instagram with the hashtag #loveandoliveoil.