It seems Taylor and I are getting pickier as we get older (I joke that it's glad we found each other in high school because we might not meet each other's ever-elevating standards today). But especially when it comes to food. Or maybe it's just Taylor who seems to be getting pickier, since he used to be the guy who would eat anything. Now he doesn't like polenta. Or crispy rice. Or beets.
Or pesto.
I'd often whip up a batch of my favorite homemade pesto and toss it with pasta or couscous for a quick weeknight dinner. Sure, he'd eat it, but more than once he commented that it wasn't his favorite thing. He liked all the ingredients separately, but for some reason, when mixed and processed together they suddenly became unappetizing.
I don't quite get it (since I love me some pesto) but it did get me thinking…
Why do you have to mix up the pesto anyway?
And thus we arrive at this, what I am calling 'deconstructed' pesto. Basically, it's got everything you love about pesto, without the mess of having to clean up the food processor (and now that I think about it, maybe washing the food processor is what ultimately turned Taylor off to pesto in the first place).
Served cool or at room temperature, the tiny orbs of pearl couscous are tossed with good quality olive oil, pine nuts, fresh basil (we used micro-basil but thinly sliced basil will work as well), and shaved pecorino cheese. We also added ribbons of zucchini for some extra texture and substance.
And you know what? It really does taste like pesto. When you get one of those perfect bites, your fork piled high with a little bit of everything, it's just like the pesto you love but with a more variable texture. There's nothing lacking, no missing secret ingredient that makes regular pesto different from deconstructed pesto. Other than the fact that you didn't have to wash the food processor. And I know no one (Taylor especially) will complain about that.
Side note: I'm excited to be an official contributor at FoodFanatic.com, where I've signed on as the resident olive oil expert (I mean, it only seemed natural.) This delightful salad is the first of many olive oil recipes I'll be sharing there in the coming months.
Get the full recipe at FoodFanatic.com »
Deconstructed Pesto Couscous Salad
When you're craving pesto but don't feel like washing the food processor, this quick salad incorporates all the elements you love about pesto without the mess.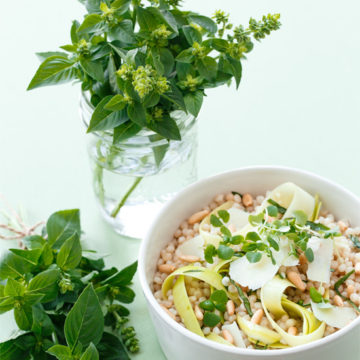 Ingredients:
1/4 cup extra virgin olive oil, divided
2 cups israeli or pearl couscous
sea salt and freshly ground black pepper, to taste
2 cloves garlic, finely minced
1 medium zucchini squash, peeled and ribboned
1/4 cup fresh basil leaves, thinly sliced
1/4 cup pine nuts, lightly toasted
2 ounces pecorino romano cheese, shaved
micro basil, optional, for garnish
Directions:
Heat 1 tablespoon olive oil in a saucepan set over medium-high heat until shimmering. Add dry couscous and a hearty pinch of salt and pepper and cook, stirring occasionally, until lightly toasted, about 3 to 4 minutes.
Did you make this recipe?
Let us know what you think!
Leave a Comment below or share a photo and tag me on Instagram with the hashtag #loveandoliveoil.