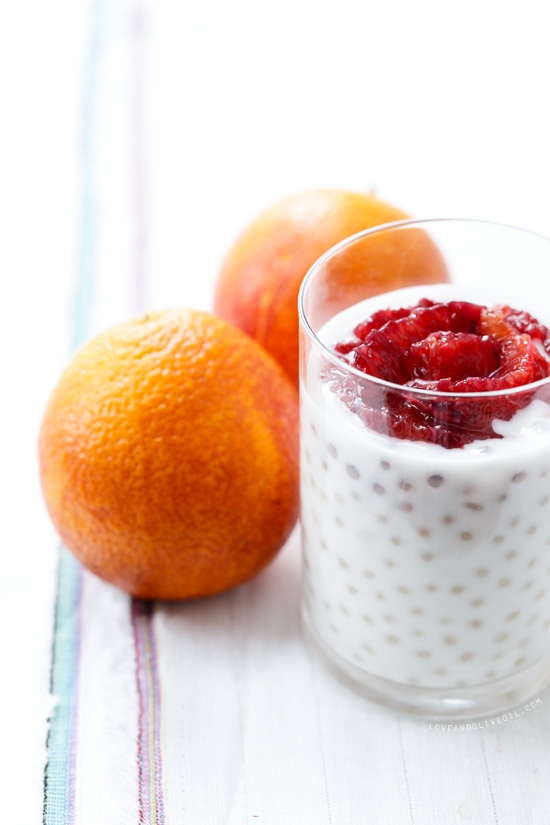 Imagine yourself somewhere warm. Somewhere with a gentle breeze and turquoise waters and the sound of ocean waves.
It's a nice thought, eh? Especially since so many of us are probably freezing our buns off right now.
This recipe takes me back to that serene, happy place, as it was inspired by a similar dish we enjoyed on our cruise last fall. At Jiji's Kitchen aboard the Carnival Sunshine, they served the loose, coconut-infused pudding topped with crispy lychee-filled wontons. While you can certainly do something along those lines, I felt the pudding was standout on its own (in fact, I don't really remember the wonton part at all), and didn't need any fussy fried topping, simply fresh fruit and crunchy raw sugar was more than enough to make one downright impressive dessert.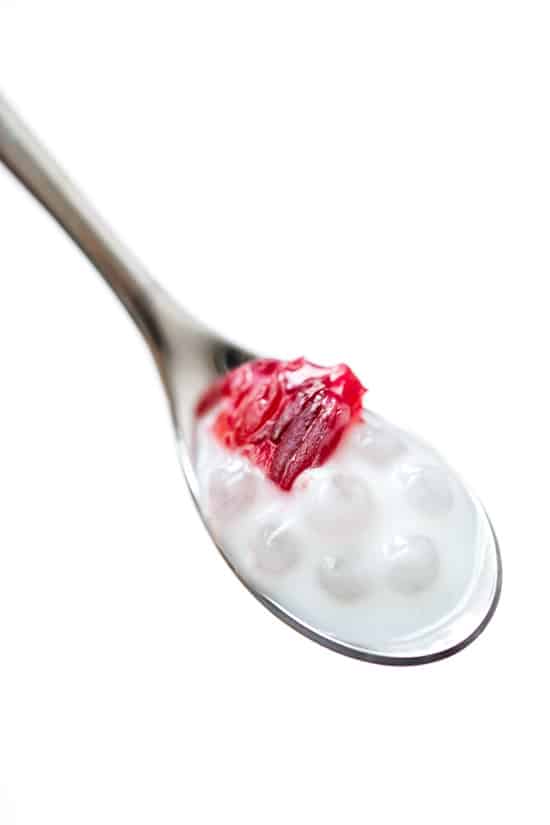 Now, don't make any assumptions: this is NOT your typical sticky, gummy tapioca (ew). In fact, it's more like a soup than a pudding, the transluscent tapioca pearls floating in a milky white sea of sweetened coconut milk.
This dessert is a nice contrast to my usual dense and chocolatey concoctions, and it's quite refreshing. It's surprisingly light and just barely sweet, relying on the natural sweetness of the coconut milk and blood oranges and a mere 1/4 cup of sugar.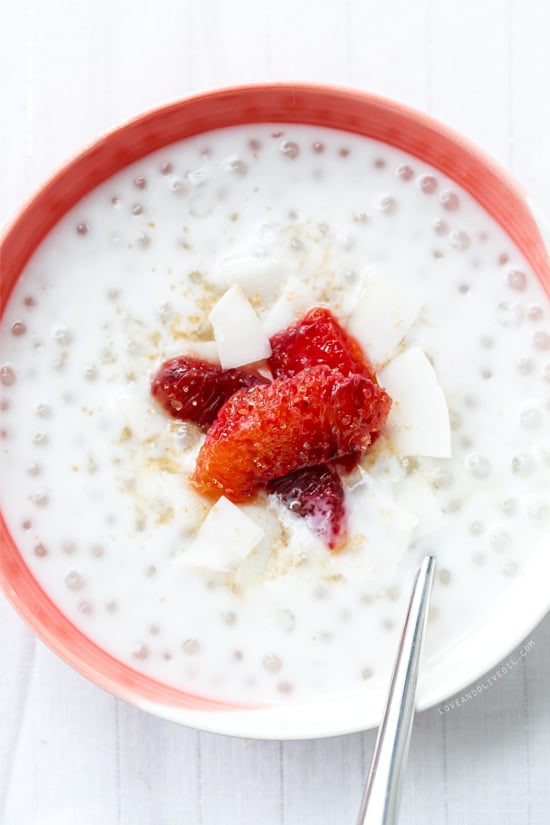 To give the tapioca a bit of texture, I topped it with crunchy coconut chips and a sprinkle of raw turbinado sugar. I toyed with the idea of doing some sort of brittle, crushed and sprinkled on top, and even considered fried wonton chips tossed with cinnamon and sugar. Each would have worked, of that I am certain, but the sprinkle of sugar on its own was so much simpler and accomplished the same thing, giving the dish some much-needed textural contrast.
Small pearl tapioca is not all the same. Some is cous-cous sized (like on the right – I found this at the same Asian market where I buy my boba) and some is slightly larger, more the size of Israeli cous-cous (the stuff on the left came from Nuts.com). I ultimately used the larger pearls for this pudding, but the smaller will work as well – just boil it for 8-10 minutes instead of 15 to 20 so as not to overcook.
How do you know when your tapioca is cooked? When the pearls are completely translucent. In this case, however, since the tapioca is finished in coconut milk, you want to take it off the heat when it's just underdone. It'll look a little something like this, with small opaque white centers. Kind of amphibian-like, actually. Creepy.
The tapioca then gets simmered in sweetened coconut milk to finish, leaving the pearls perfectly tender and translucent.
I swear, I never thought I'd get so much culinary inspiration from a cruise ship.
While you could really top this with any bright and tropical fruit (I'm thinking mango, raspberries, or passion fruit), I implore you to make the most of blood orange season and devour all you can, while you can.
Coconut Tapioca Pudding with Blood Orange
Ingredients:
3-4 cups water
1/2 cup small pearl tapioca
pinch salt
1 can coconut milk
1/4 cup granulated sugar
2 blood oranges, peeled and cut into supremes*
turbinado sugar, for garnish
coconut chips, for garnish
Directions:
Bring 3 cups water to a boil in a saucepan over medium high heat. Add tapioca pearls and boil for 15 to 20 minutes (8 to 10 if using the tiny, cous-cous-sized tapioca). You know the tapica is fully cooked when the pearls are transluscent throughout; here you want them to be just underdone, when they still have a small opaque white center.
Strain through a fine mesh seive; rinse with cool water to refresh.
Wipe out saucepan (or scrub – tapioca can be sticky stuff) and return to medium high heat. Add coconut milk and granulated sugar and bring to a boil. Add tapioca and simmer for 5 minutes, then remove from heat and let cool.
To serve, spoon cool tapioca into serving bowls or cups. Top with blood orange supremes, coconut chips, and a sprinkle of turbinado sugar for crunch.
*To cut supremes, cut off top and bottom of orange. Stand on flat side, then carefully cut off the peel around the curve of the orange so no pith remains. Then, carefully holding the orange steady on its side, cut a slice just inside the membrane of one segment. Then slice inside the membrane on the other side in a wedge shape, essentially creating a membrane-free wedge of citrus. Repeat with remaining segments around the remainder of the orange.
Inspired by JiJi's Kitchen aboard the Carnival Sunshine.
All images and text ©
Lindsay Landis
/ Love & Olive Oil
Did you make this recipe?
Let us know what you think!
Leave a Comment below or share a photo and tag me on Instagram with the hashtag #loveandoliveoil.