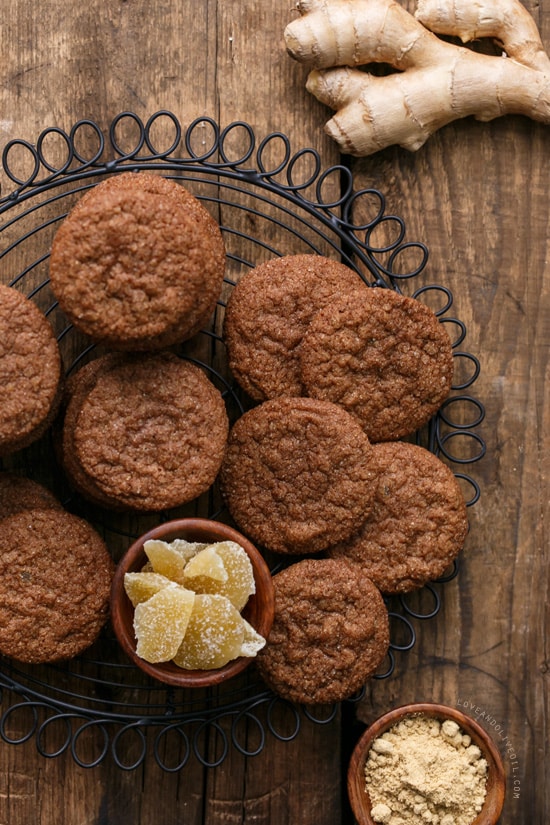 Normally I am wholeheartedly against crispy cookies. Give me soft and chewy any day.
The one exception being gingersnaps.
Soft gingersnaps? That's just an oxymoron. They are called gingerSNAPS, not gingerCHEWS, and it follows that they should be snappy. If you want soft, why not try these soft Molasses Snickerdoodles instead?
The other thing about gingersnaps is they must taste like ginger; the more the better. Much like my ginger beer obsession, if I can't taste the ginger, they're not even worth eating.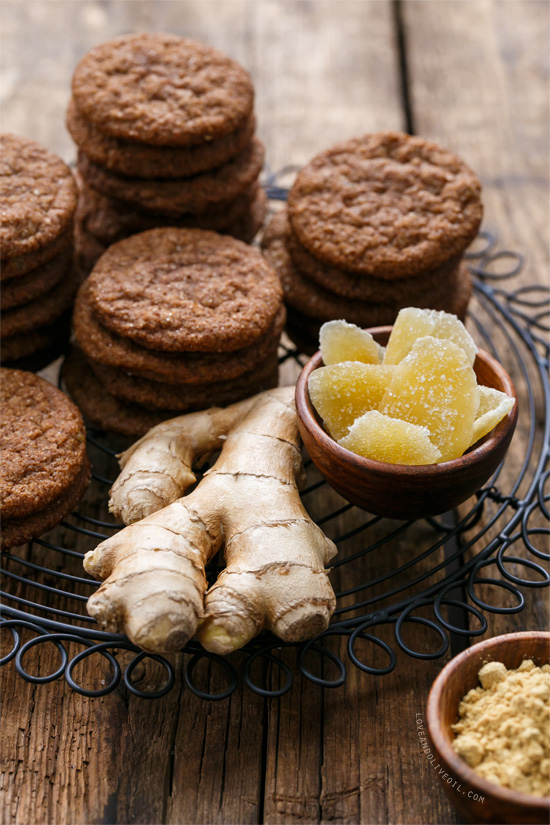 That's why these gingersnaps (inspired by Trader Joe's Triple Ginger Cookies) satisfy all my desires: light and crispy, with three spicy kinds of ginger: fresh, ground, and chunks of crystallized ginger speckled throughout. There's no mistaking these for an everyday spice cookie; they are ginger, through and through.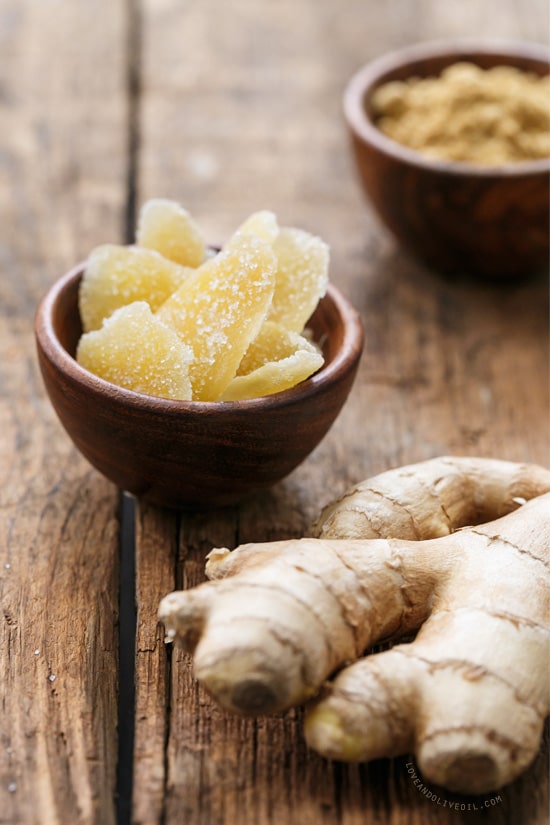 I'm dead serious in saying this recipe calls for 2 tablespoons each of ground AND fresh ginger, and a full 1/3 cup of crystallized ginger. So stock up and don't skimp.
Tip: grating ginger is MUCH easier when the root is frozen. Peel first, then freeze the whole ginger root for a few hours, then grate it with a microplane. You'll find it's much less tedious than trying to grate it fresh.
I also have to say that I LOVE Trader Joe's crystallized ginger. It's soft and chewy, not hard and dry like the stuff that comes in spice jars. You will need to chop up the larger pieces (obviously), and toss the sticky chunks with a bit of granulated sugar to keep them from sticking into one huge mass, then fold them into your cookie dough.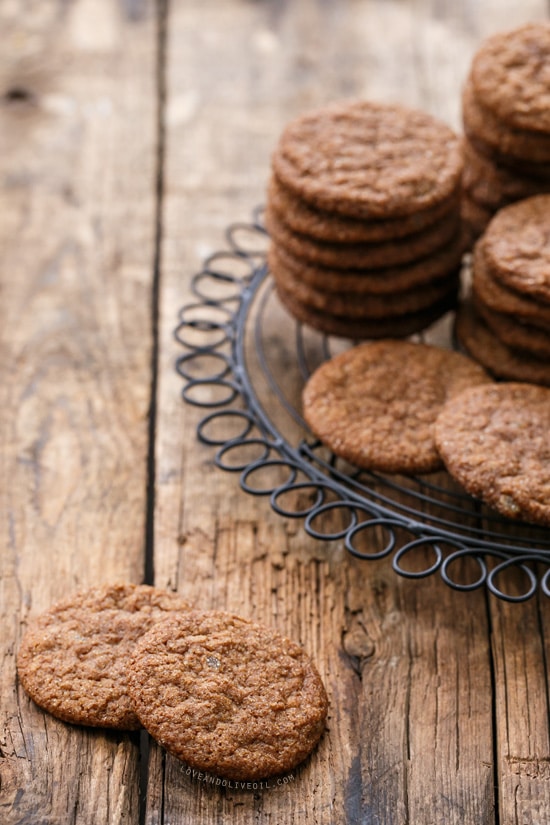 The best part of these cookies is that they last forever. Well, maybe not forever, but at least a solid two weeks. You know what that means? Ship these all the way to Timbuktu (or, you know, California) and they'll very likely survive the journey, not only in one piece but just as crispy and spicy as when you first took them out of the oven.
Triple Ginger Snaps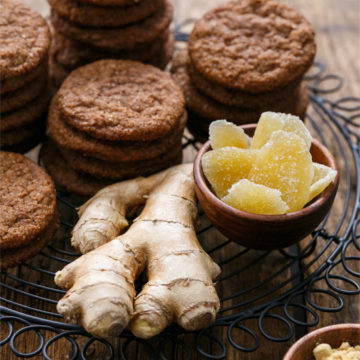 Ingredients:
2 1/2 cups all-purpose flour
2 teaspoons baking soda
1/2 teaspoon salt
12 tablespoons (1 1/2 sticks) unsalted butter
2 tablespoons ground ginger
1/2 teaspoon ground cinnamon
1 1/4 cups dark brown sugar
1/4 cup molasses
2 tablespoons finely grated fresh ginger (from 2-3 inch piece)
1 large egg plus 1 large egg yolk
1/3 cup finely chopped crystalized ginger
granulated sugar, for rolling
Directions:
In a bowl, whisk together flour, baking soda, and salt; set aside.
Melt butter in a skillet set over medium heat. Once melted, lower heat and continue to cook, swirling frequently, until foaming subsides and butter is just beginning to turn golden brown, about 2 to 4 minutes. Transfer melted butter to large bowl and whisk in ground ginger and cinnamon. Let cool for about 2 minutes, then whisk in brown sugar, molasses, and fresh ginger. Add egg and yolk and whisk to combine. Add flour mixture and stir until just incorporated. Mix in crystallized ginger. Cover with plastic wrap and refrigerate until firm, about 1 to 2 hours.
Preheat oven to 300 degrees F; position oven racks to upper-middle and lower-middle positions. Line 2 baking sheets with parchment paper (or use silicone baking mats). Place granulated sugar in shallow dish or bowl. Spoon dough by heaping teasponfuls; shape into 1-inch balls, then roll in sugar to coat. Arrange balls on prepared baking sheets, leaving 1 to 2 inches of space between them.
Bake for 15 minutes, then rotate baking sheets (top to bottom and front to bake) and bake for an additional 9 to 12 minutes, or until cookies on lower tray just begin to darken around edges. Transfer to wire rack and cool completely before serving. Rrepeat with remaining dough. Cookies will keep, stored at room temperature in an airtight container, for up to 2 weeks.
*Make Ahead: Make and shape dough balls and roll in sugar, then place on a parchment lined baking pan. Place pan to freezer and freeze until solid, then transfer dough balls to a zip-top bag. Label with the cookie type and baking information. Cookies can be placed on baking sheets and baked right from frozen, just increase baking time by about 2 minutes.
Adapted from America's Test Kitchen.
All images and text ©
Lindsay Landis
/ Love & Olive Oil
Did you make this recipe?
Let us know what you think!
Leave a Comment below or share a photo and tag me on Instagram with the hashtag #loveandoliveoil.