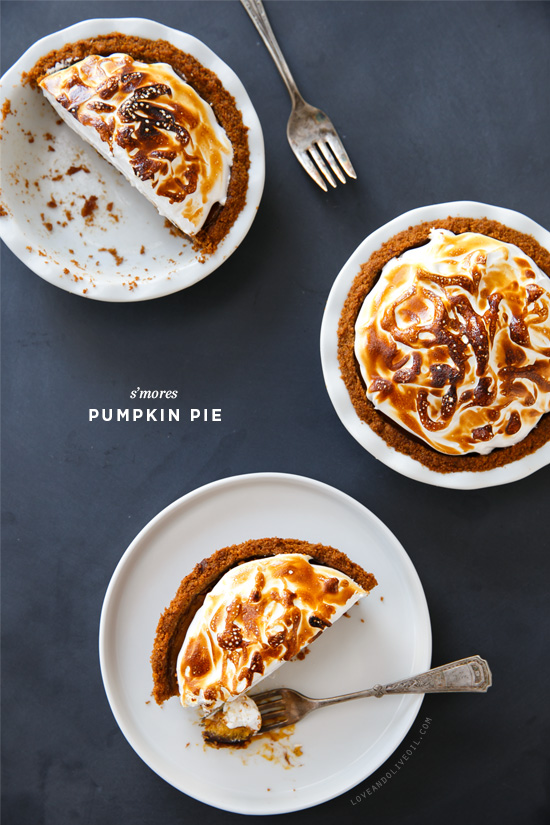 Taylor refuses to let me experiment on Thanksgiving.
Especially when it comes to the pie.
Talk about a buzzkill.
My suggestions of "let's try this!" or "how about that totally unique variation?" are shot down with a loving but firm, "No." And god forbid I suggest making something OTHER than pumpkin…
Or, he tells me sure, go ahead and experiment, but he'll be purchasing his own pre-made pie at the grocery store.
And since we all know I will not allow store-bought pumpkin pie in this house, I give in, agree to make him his boring old pie on Thursday… and immediately begin baking a few miniature pies for myself. Who cares if it's the week before Thanksgiving, I'll have my pie and eat it too.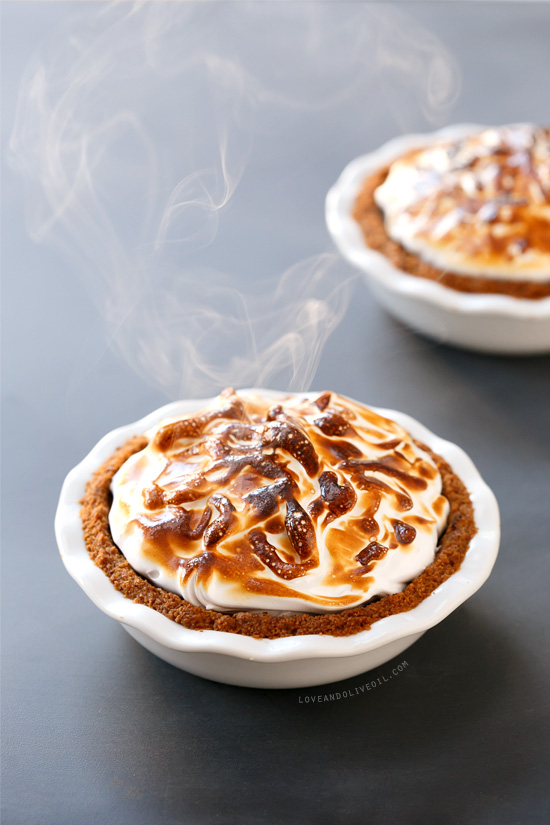 This S'Mores Pumpkin Pie is a mashup between my s'mores mini tarts and a classic pumpkin pie: graham cracker crust, soft chocolate ganache, classic pumpkin filling, and a heaping mound of toasted marshmallow fluff. You can take this idea and use your own classic pie recipe instead of mine, although keep in mind you'll probably have a bit of excess as a result of the extra layer of chocolate on the bottom.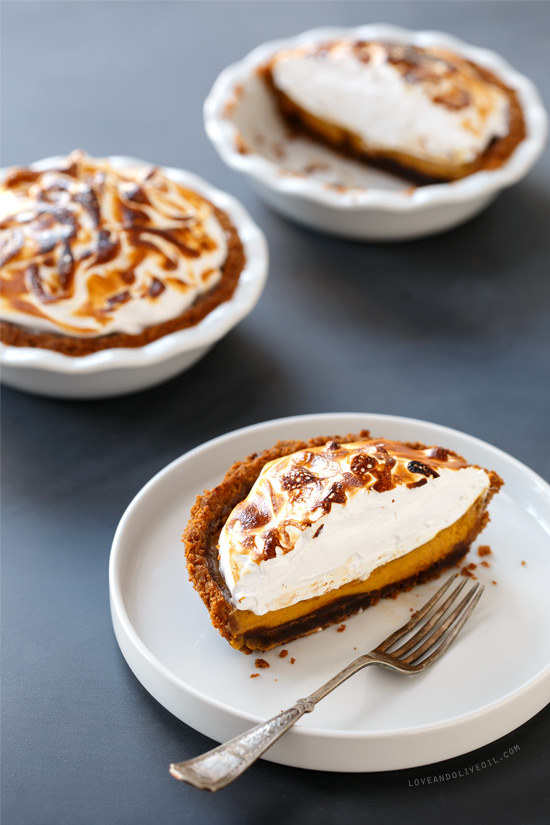 Since I determined that baking an entire pie just for myself was probably overkill, instead I baked a half recipe in these two adorable 5″ pie pans I picked up recently. Turns out two 5″ pies are almost exactly half the volume of one 9″ pie. Yay, math! Each 5″ pie is a good 3-4 servings, unless you're famished in which case you get an entire half a pie all to yourself.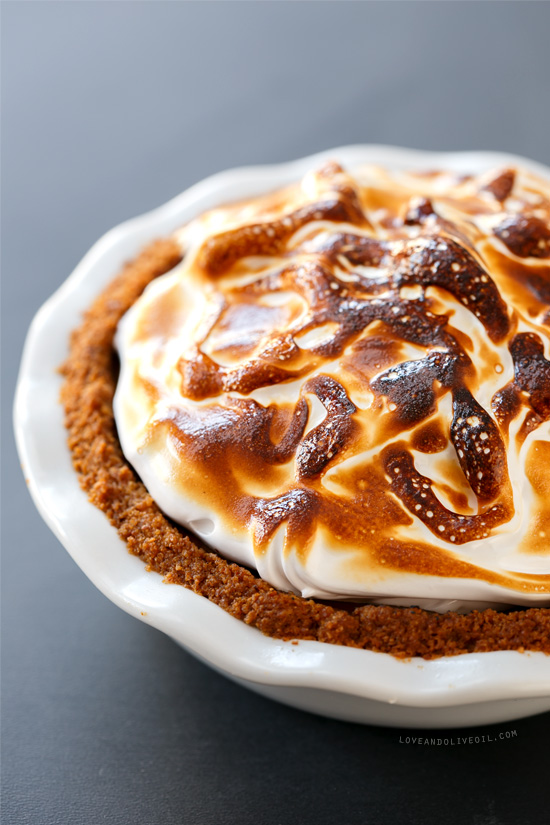 While it is incredibly messy to eat (I'd argue that all the best foods are), the marshmallow fluff is almost like a built-in layer of whipped cream. Sticky, toasted whipped cream.
Plus you get to use your torch (ooo, fire…)
Meanwhile, I'm still scheming on how to give Taylor's mandated "classic pie" a new twist this Thursday, without pissing off his traditional tastes. I'm thinking maybe he won't notice (or mind) if I spike the thing with a hearty dose of bourbon, or if he does he'll be too toasted to complain.
(Side note – literally as I was brainstorming how I was going to make this idea a reality, Jessica's post popped up in my reader. Great minds think alike? Check out her Pumpkin S'mores Tart, which uses a pumpkin cheesecake base and marshmallow meringue, and sounds absolutely divine.)
S'Mores Pumpkin Pie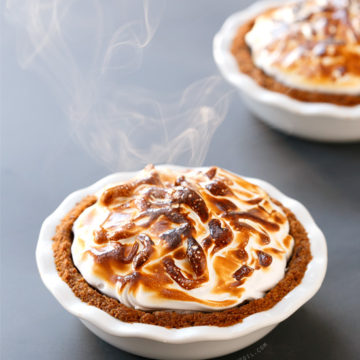 Ingredients:
For Crust:
1/2 box (12 cookies) graham crackers, finely chopped (about 1 1/2 cups crumbs)
1 tablespoon brown sugar
5 tablespoons unsalted butter, melted
For Chocolate Layer:
5 ounces dark chocolate, finely chopped
2 tablespoons heavy cream
For Pumpkin Filling:
1 1/2 cups pumpkin puree
2 large eggs
3/4 cup brown sugar
3/4 cup heavy cream
1/2 cup whole milk
3/4 teaspoon ground cinnamon
1/4 teaspoon ground ginger
pinch salt
For Marshmallow Topping:
2 1/4 teaspoons unflavored gelatin (from 1 packet)
1/2 cup cold water, divided
3/4 cup granulated sugar
1/2 cup corn syrup, divided
1/2 teaspoon vanilla extract
Directions:
Preheat oven to 350 degrees F.
To prepare crust, combine graham cracker crumbs and sugar. Add butter and stir with a fork until mixture resembles wet sand. Firmly press crumb mixture into the bottom of a 9-inch pie pan. Bake for 4 to 5 minutes or until just set. Let cool slightly.
Combine chopped chocolate and cream in a saucepan. Stir over low heat until chocolate is melted and smooth. Pour into crust and spread into an even layer in the bottom.
To prepare pumpkin filling, whisk pumpkin with eggs until smooth. Whisk in sugar, cream, milk, spices, and salt until evenly incorporated. Pour into crust, taking care not to overfill the crust (depending on the size of your pie pan you may have a little bit leftover). Bake for 50 to 60 minutes or until center is just set. Remove from oven and let cool completely, then refrigerate for 1 to 2 hours or overnight. Take out approximately 1 hour before making marshmallow topping to allow any condensation to evaporate.
To prepare marshmallow topping, place 1/4 cup cold water in a small dish. Sprinkle gelatin over and let sit for 5 minutes to soften.
Combine sugar, remaining 1/4 cup water, and 1/4 cup corn syrup in a small saucepan. Bring to a boil over medium-high heat, stirring occasionally, and boil until mixture reaches 240 degrees F on a candy thermometer.
Place remaining 1/4 cup corn syrup in the bowl of a stand mixer. Microwave gelatin mixture on high for 5 to 10 seconds or until completely melted, then add to bowl with corn syrup. Turn mixer to low speed, and slowly drizzle in hot sugar syrup. When all the syrup has been added, increase mixer speed to medium-high, and mix for 5 minutes. Add vanilla extract and beat on the highest speed for another 5 minutes, until marshmallow is opaque, glossy, and tripled in volume.
Working quickly, dollop marshmallow mixture onto pie, and use an offset spatula to spread and shape it into a mound. Let sit for 20 to 30 minutes to allow the marshmallow to set, then gently toast with a kitchen torch until golden brown and blistered. Serve at room temperature. (Tip: to slice, first run a knife under hot water for 30 seconds; then quickly dry and use it to slice your pie. The warm knife will cut through the marshmallow and chocolate layers much cleaner than a cool knife).
Did you make this recipe?
Let us know what you think!
Leave a Comment below or share a photo and tag me on Instagram with the hashtag #loveandoliveoil.