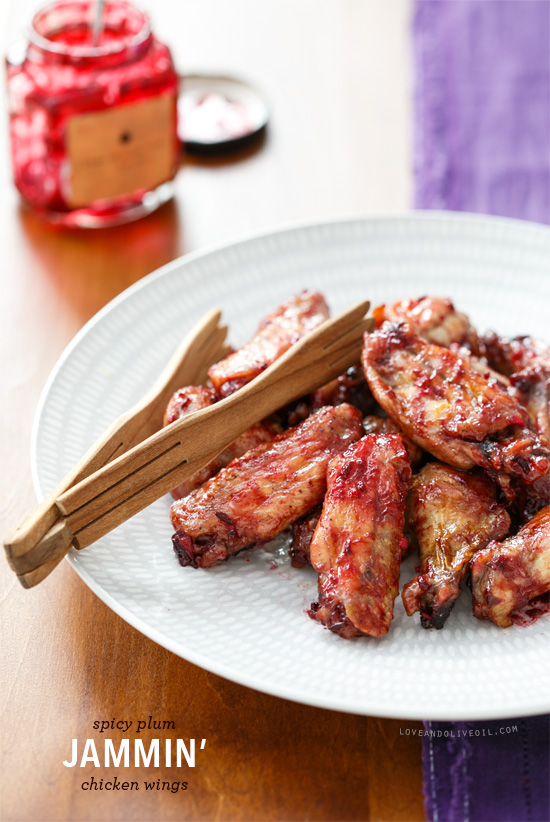 Mission: find creative ways to use up all the damn jam continues…
I think fruit jam is often overlooked when it comes to meat. I know it's not the first thing I think of when cooking meat, although one of our all-time favorite recipes involves chicken and apricot jam and roasted root vegetables so I'm not sure why not. Jam is ripe for savory recipes as well as sweet ones.
And yet chicken wings seem like the perfect, why-didn't-I-think-of-that-before use for jam. Sweet, sticky, smothered and just begging for a fruity addition.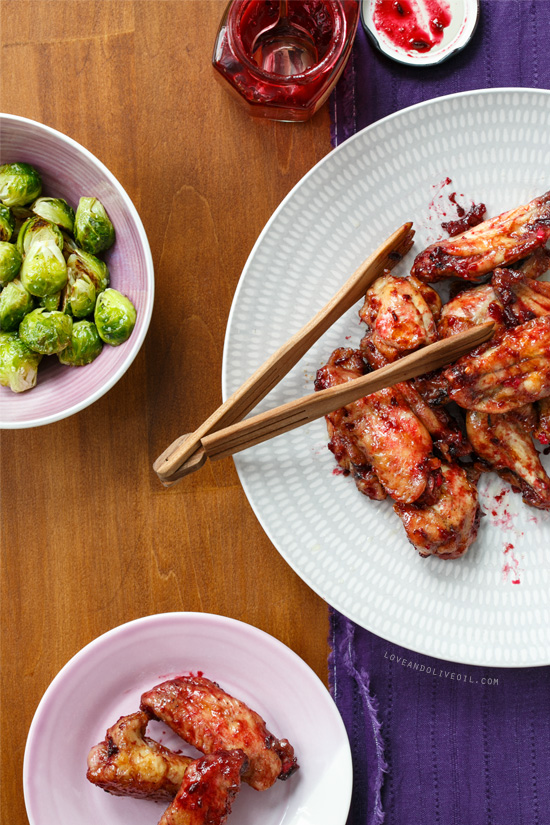 But when the decision came down to WHICH jam to use… I paused for just a moment before cracking open a jar of my latest Damson Plum Jam (yes, the one with gin). But I think other fruit preserves would work nicely as well, including apricot, marmalade, or even blackberry. Maybe not strawberry, although I'm game to experiment should I find myself with a partial jar in need of a purpose.
When the plum jam is simmered with a splash of rice wine vinegar, garlic, and sriracha, it takes on an almost Asian-esque flavor (think plum sauce) that I adored. Sweet, sour, and spicy all at the same time. I'll admit I am not usually a fan of chicken wings (bbq or buffalo? no thank you) but I could devour an entire tray of these in spite of the mess.
Plus, haven't we discussed before that (naturally) hot pink food is kind of awesome? Because it is. Hot pink just may be my new favorite food group.
Jammin' Chicken Wings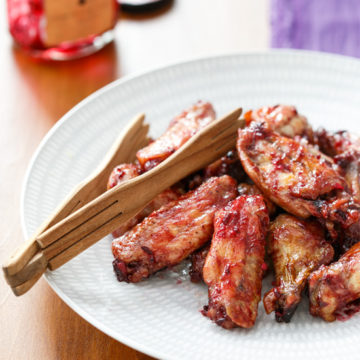 Ingredients:
1 1/2 pounds chicken wings
2 1/2 tablespoons olive oil, divided
1/2 teaspoon salt
1/4 teaspoon pepper
1 garlic clove, minced
1/4 cup jam (I used plum, but use any flavor you like)
1 tablespoon rice vinegar
1 teaspoon sriracha sauce, more or less to taste
1/4 teaspoon each salt and black pepper, or to taste
Directions:
Preheat oven to 425 degrees F. Line a baking sheet with aluminum foil; grease with olive oil or cooking spray.
Toss chicken wings with 2 tablespoons olive oil, salt, and pepper. Transfer to baking sheet and spread out in a single layer. Bake for 30 to 40 minutes, flipping once half-way through cooking, until wings are golden brown.
Meanwhile, to prepare glaze, heat remaining 1/2 tablespoon of olive oil in a small saucepan over medium heat. Add garlic and saute until fragrant, about 30 seconds. Add jam, rice vinegar, sriracha, and salt and pepper and simmer for 3 to 5 minutes or until reduced and slightly thickened.
In a bowl, toss chicken wings with glaze until evenly coated. Return to baking sheet, arranging in a single layer, and bake for 5 minutes or until heated through. Serve warm.
Did you make this recipe?
Let us know what you think!
Leave a Comment below or share a photo and tag me on Instagram with the hashtag #loveandoliveoil.