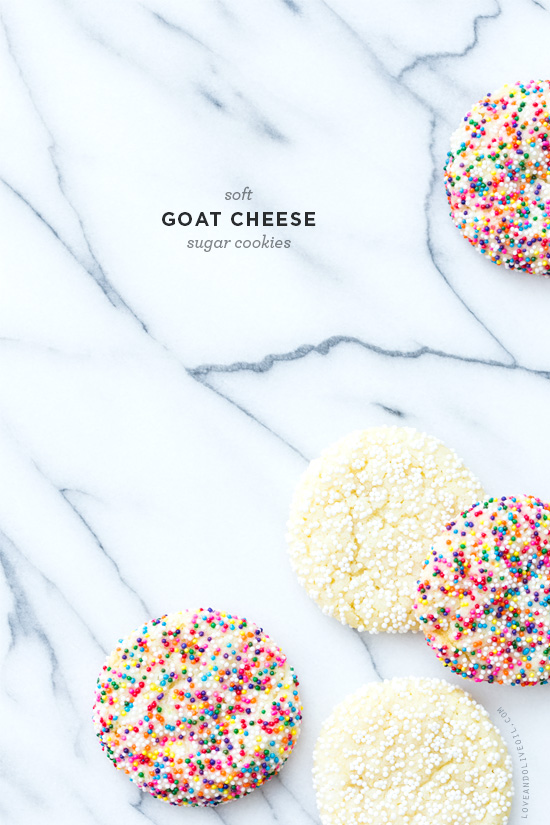 Oh good grief, calm down.
Un-scrunch your nose and hear me out.
Yes, there is goat cheese in these cookies.
No, you really can't taste it.
But I promise you these will be some of the best sugar cookies you've ever had.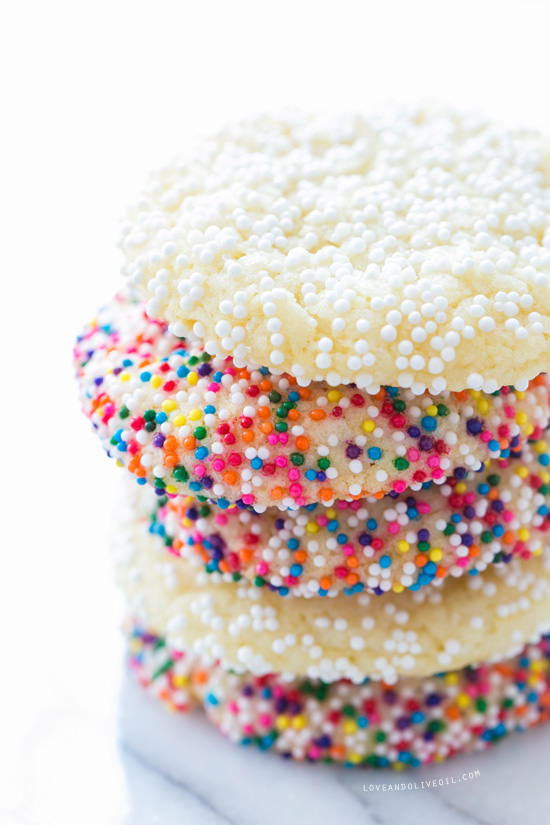 The recipe is based on a Cook's Illustrated recipe, which uses a combination of cream cheese and vegetable oil to make the perfect soft and chewy sugar cookie. It's the same base I used for the Cherry Blossom Stuffed Sugar Cookies and the Chocolate Mint Truffle Cookies from last year, but simply replacing the cream cheese with goat cheese instead.
The goat cheese itself is undiscernible. If I hadn't told you it was there you would never have known. But, much like cream cheese or buttermilk, it brings a subtle acidity and tang to the cookies that wouldn't be there otherwise. It takes these cookies from sugary sweet to just perfectly sweet, with mysterious savory notes that make them even more addictive.
The enduring softness of these cookies would make them perfect candidates for the cookie swap, and as I've proved before, the recipe is ripe for adaptation, most notably stuffing. I think these goat cheese ones, with their ever so slight hint of goaty tang, would be amazing stuffed with some soft caramel or fruit jam.
Instead of the usual sugar, I rolled these in nonpareil sprinkles for a very festive, carnival-like look.
Because everything is better with sprinkles.
Goat Cheese Sugar Cookies
Ingredients:
2 1/2 cups unbleached all-purpose flour
1/2 teaspoon baking soda
1 teaspoon baking powder
1/2 teaspoon salt
1 1/2 cups sugar
1/3 cup (3 ounces) soft goat cheese, room temperature
6 tablespoons (3/4 stick) unsalted butter, melted
1/4 cup vegetable oil
1 large egg
2 tablespoons milk
1 teaspoon vanilla extract
nonpareil sprinkles or sanding sugar (optional)
Directions:
Preheat oven to 350 degrees F. Line a baking sheet with a silicone mat or parchment paper.
In a bowl, whisk together flour, baking powder, baking soda, and salt. Set aside.
Combine sugar, goat cheese, and melted butter in a large bowl and whisk until mixture forms a smooth paste (a few lumps are ok). Whisk in oil. Add egg, milk, and vanilla extract and stir until smooth. Fold in flour mixture until incorporated and no dry ingredients remain.
Pour sprinkles or sugar into a small bowl. Dough will be soft, but should still be workable. If not, refrigerate it for 15 to 20 minutes until it is. Use a small cookie scoop to portion out about 1 tablespoon of dough, then roll in sprinkles/sugar to coat. Arrange on prepared baking sheet, leaving about 2 inches of space between each cookie.
Bake for 10 to 12 minutes, until cookies are just set and slightly cracked. Cool on the baking sheet for 3 minutes, then transfer to a wire rack to cool completely. Store in an airtight container at room temperature for up to 1 week.
Adapted from Cooks Illustrated.
All images and text ©
Lindsay Landis
/ Love & Olive Oil
Did you make this recipe?
Let us know what you think!
Leave a Comment below or share a photo and tag me on Instagram with the hashtag #loveandoliveoil.