I'll be darned if I let peach season slip away without squirreling away at least a few jars of something peachy.
Time was running out, so when a local farm announced a last-chance sale on pick-your-own peaches, I knew I had to act. Luckily, my husband is a good sport, and agreed to take me peach picking early one morning.
I was of the opinion that white peaches were an early season delicacy, and so was pleasantly surprised to arrive to a few rows of just-ripe white peaches. Sure we had to battle a few bugs, and literally squeezed hundreds of peaches to find enough ripe ones to take home. But we left with just over 16 pounds. For $8, I'd call that time well spent.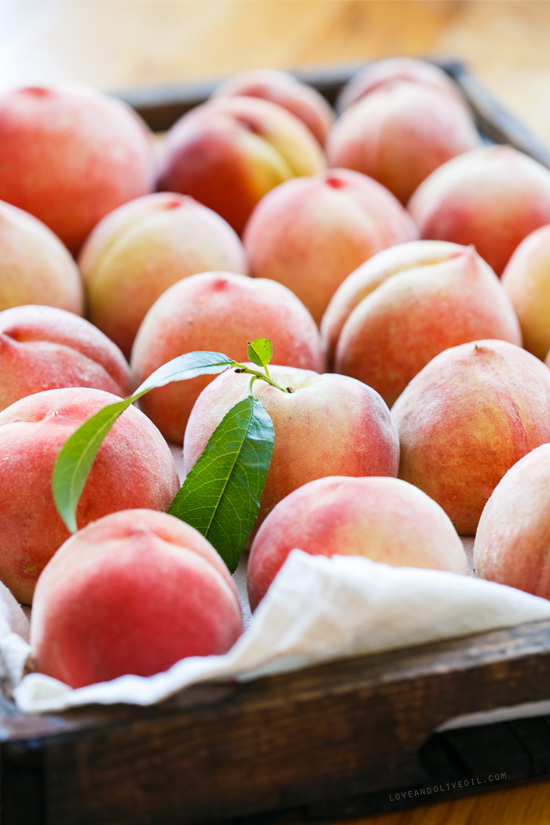 White peaches are naturally lower in acid, so they require the addition of lemon juice or other acid to safely can. Definitely don't skip this. Marisa recommends 1 tablespoon of added lemon juice per finished pint, but I figured 2 or 3 couldn't hurt. The lemon also gives the jam a nice bright finish that pairs beautifully with the aromatic vanilla.
Being that this particular recipe is a no-pectin jam, it requires a longer cook time, and thus has a lower overall yield: 2 pounds of peaches will give you almost exactly 2 half-pint jars, or 2 1/2 of the 6-ounce jars pictured above.
I also did a ginger version, adapting a basic recipe from a low-sugar pectin package. Because the cooking time is significantly less and there is more sugar in the recipe to begin with, the same 2 pounds of peaches gave me 5 jars of buttermilk-yellow jam.
Either way, white peaches make for extraordinary preserves. It's late in the season I know, but if you can get your mitts on some, it'd be preposterous not to. Otherwise, stash this one away for next year.
Be sure to click through for the recipe and BONUS printable labels!
White Peach & Vanilla Jam
Ingredients:
2 pounds white peaches (about 5-6 large), peeled, pitted, and chopped
1 1/4 cups granulated sugar
1 large vanilla bean, split and seeded
1 large lemon, zested and juiced
Directions:
In a bowl, combine peaches, sugar, vanilla seeds, lemon zest, and lemon juice (make sure it equals at least 3 tablespoons). Toss to coat. Cover and refrigerate at least 2 hours or overnight.
When you are ready to proceed, prepare canner and wash/sterilize 2 half-pint (or equivalent) mason jars. Keep jars in hot (not boiling) water until ready to use.
Pour peach mixture into a large, heavy saucepan or skillet and place over high heat. Cook, stirring regularly, until the peaches soften, the liquid reduces, and the whole mixture becomes quite thick and spreadable, about 10 to 12 minutes.
Ladle hot jam into prepared jars, leaving 1/4-inch of head space. Wipe jar rims and threads. Screw on lids and rings. Process in a boiling water bath for 10 minutes. Remove from water and let cool completely, 12 to 24 hours. Check seals. Any unsealed jars should be refrigerated and used within 3 weeks.
Did you make this recipe?
Let us know what you think!
Leave a Comment below or share a photo and tag me on Instagram with the hashtag #loveandoliveoil.
Bonus! Label time! Sure, you could use the Mix 'n Match labels for your white peach jam (although I neglected to include White Peach in the lineup, d'oh!) But I think these chalkboard-inspired labels (in both vanilla and ginger varieties) contrast beautifully with the flaxen color of the preserves.
I'm offering these chalkboard jar labels to you, free for personal use. Simply download the printable file, then print onto full-sheet sticker paper (which can be purchased online at OnlineLabels.com or locally at most office supply stores). Cut out the rectangles and apply directly to the the finished jars. These labels should fit most standard mason jars, although if you can find smooth sided jars (ie ones without raised designs on them) that work the best. Curious about the hexagon jars I've used? I ordered them online at SKS Bottle (the 6oz size).
Disclaimer: Copyright Love & Olive Oil. For personal use only. If you post about or share these labels, please credit appropriately and do not link directly to the downloadable file but rather to this post. Please do not distribute these downloadable files. Thank you much!