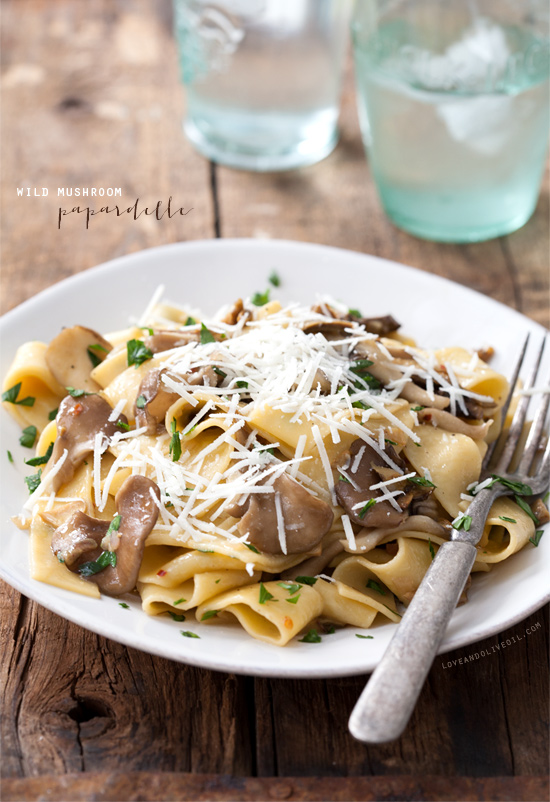 I'm inspired by simplicity.
And when that simplicity is bathed in butter? Even better.
This pasta dish contains two kinds of mushrooms: dried porcini mushrooms as well as the more exotic Maitake mushroom, also called Hen of the Woods mushrooms, my newest discovery. Why dried mushrooms? Why not use all fresh? While the fresh mushrooms definitely have a delicate texture that the dried version can't reproduce, it's that rehydrating process that is the key to this recipe, namely what is leftover: mushroom water (mushroom juice?) The soaking liquid left after the mushrooms have softened is loaded with a robust, earthy flavor that would be a shame to waste. Some of that water gets added to the pan along with the mushrooms, making the sauce into, well, a sauce.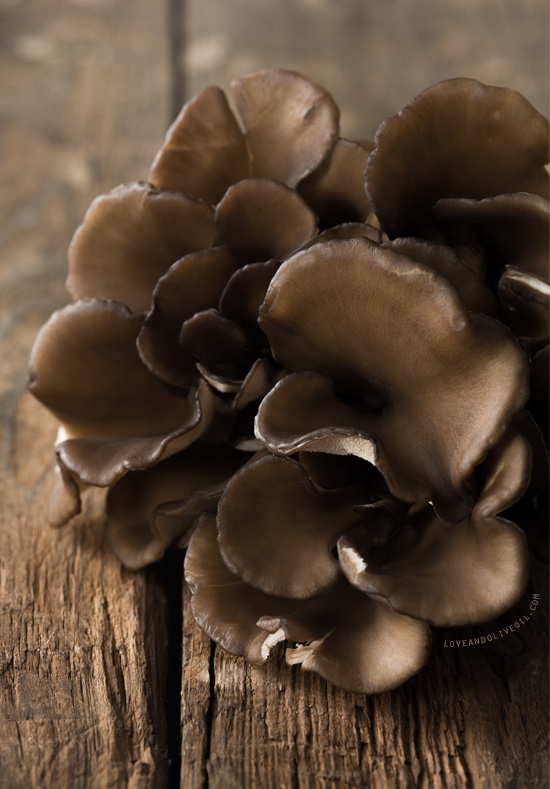 With a splash of lemon juice, a dash of parsley and red pepper flakes, and a flurry of freshly grated Pecorino cheese topping it all off, this dish comes together in a delightful symphony of flavors, rich and buttery yet light and delicate. Inspired by a local restaurant here in Nashville (the same place, the same meal actually, that inspired this Brussels Sprout Salad that you all loved so much), the result is incredible.
If you've never made homemade pasta before, I suggest you start out with a basic recipe, perhaps the one that came with your machine (or hand crank). I've posted my basic recipe before, such as in these Fresh Corn Ravioli, as well as published it in our book, you'll just want to slice the pasta sheets into wide noodles instead of shaping them into ravioli.
Another tip? Make the effort to find 00 pasta or 00 semolina flour. It makes a world of difference; you've never had pasta so tender. However, you can also substitute fresh store bought linguine or fettuccine in this recipe if you're short on time.
Wild Mushroom Papardelle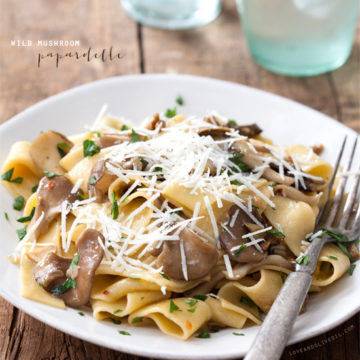 Ingredients:
1.25 ounces dried Porcini mushrooms
8 ounces dried or 12 ounces fresh papardelle (wide) noodles
6 tablespoons unsalted butter
2 tablespoons olive oil
1 shallot, minced
1/2 teaspoon red pepper flakes
1 large Maitake (also called Hen of the Woods) mushroom (about 3.5 ounces), trimmed and petals separated
1 tablespoon lemon juice
1 tablespoon fresh chopped parsley, plus more for topping
salt and freshly ground black pepper, to taste
1/2 cup (2 ounces) grated pecorino cheese
Directions:
Place dried mushrooms in a bowl with 2 1/2 cups very hot water. Set aside and let soften for 30 minutes. Drain, reserving leftover liquid. Coarsely chop mushrooms.
Bring a large pot of salted water to a rolling boil. Cook pasta according to package directions if using dried noodles, or approximately 4 to 5 minutes for fresh noodles, or until just al dente. You want the pasta to be done at about the same time as the mushroom sauce, so time your cooking accordingly.
Melt butter together with olive oil in a large saucepan over medium-high heat. When butter is melted and frothy, add shallot and red pepper flakes and saute until softened, about 3 minutes. Add rehydrated mushrooms and cook, stirring occasionally, for about 3 more minutes. Reduce heat to medium and add Maitake mushroom pieces, stirring until slightly softened and coated in butter, about 2 minutes. Stir in lemon juice and 1/4 cup of reserved mushroom liquid; season with salt and pepper.
Add drained noodles to pan with mushrooms, sprinkle parsley over top, and gently toss until noodles are coated and have absorbed some of the liquid, 1 to 2 minutes. Divide among serving bowls, top with a generous sprinkling of pecorino cheese and more parsley (if desired), and serve immediately.
Did you make this recipe?
Let us know what you think!
Leave a Comment below or share a photo and tag me on Instagram with the hashtag #loveandoliveoil.