Who says you can't have ice cream in January?
Certainly not me.
Put on some mittens if you have too, but once you make this chocolate peanut butter hot fudge sauce you're going to want to eat ice cream every night.
This recipe is adapted from my grandma Bettie's fudge sauce recipe, which is probably a bit different than what you're used to seeing around, but the result is entirely like the classic fudge sauce you're used to tasting. Since there's no cream, it's less perishable, and thus great for gifting (make a triple batch, package them in some pretty jars, and give it to your girlfriends for Christmas or Valentine's day.)
We also did a maple version that is to die for – but you're going to have to buy the book to get that recipe.
The key to keeping this sauce smooth and not grainy is cooling it slowly. Resist any urge you may have to pop it in the fridge to speed-chill it. I can guarantee you'll end up with a grainy mess. Instead, let it cool to room temperature on its own, stirring it every few minutes as it does.
The result is a classic hot fudge sauce, thick and chocolatey and laced with peanut butter. Like liquid Reese's.
I'll admit that this, along with the liquid birthday cake I posted last week are as close as I'll ever get to a liquid diet. Juice cleanse? Yeah right. A hot fudge cleanse is more my style.
Chocolate Peanut Butter Fudge Sauce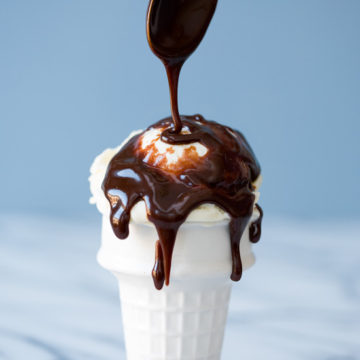 Ingredients:
1 cup granulated sugar
1/3 cup cocoa powder
2 tablespoons flour
1/4 teaspoon salt
1 cup boiling water
1/4 cup light corn syrup
1/2 cup creamy peanut butter
1 teaspoon vanilla
Directions:
Sift together sugar, cocoa powder, flour, and salt in a medium saucepan. Slowly whisk in boiling water until smooth, followed by corn syrup and peanut butter. Bring to a boil over medium heat, whisking occasionally; simmer for 5 to 7 minutes, or until thickened slightly and reduced by half.
Remove from heat and transfer to a heatproof bowl; stir in vanilla. Let cool to room temperature, stirring occasionally, about 20 minutes (don't refrigerate the sauce before it has completely cooled or it may become grainy).
When completely cooled, transfer sauce to a glass jar or airtight container and refrigerate for up to 2 weeks. Warm gently in the microwave before serving.
Did you make this recipe?
Let us know what you think!
Leave a Comment below or share a photo and tag me on Instagram with the hashtag #loveandoliveoil.