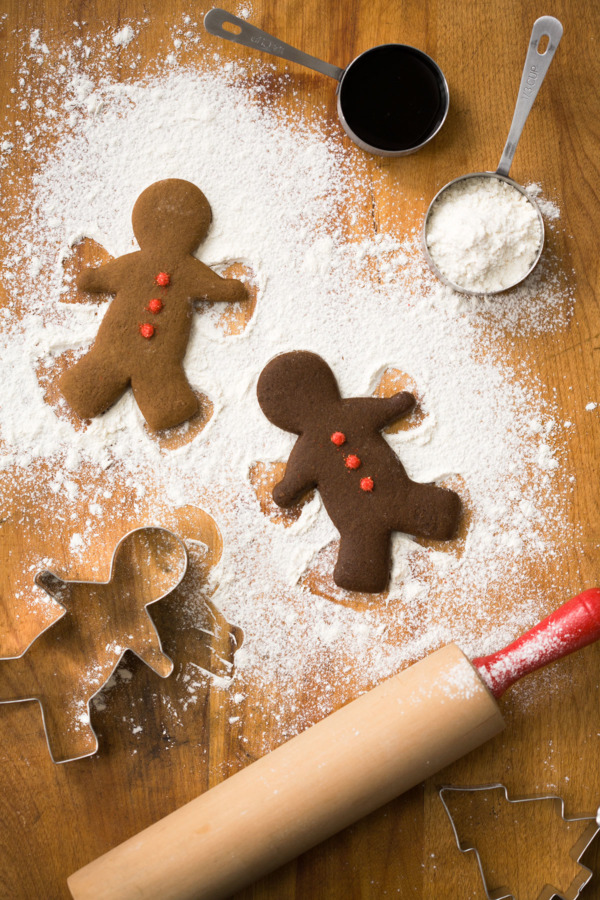 Gingerbread is a holiday tradition around here. Every year I pull out my grandma Bettie's recipe and whip up a big batch to ship to family. And every year I try to figure out a different way to decorate them, seeing as my past attempts at flooded iced cookies were, um, less than perfect.
Last year I got so frustrated that I went all jackson pollock on the suckers, furiously splattering them with three different kinds of chocolate. So this year I kept it simple, with two colors of royal icing and some edible glitter.
Well, mostly simple. I didn't realize quite how intricate my ornate design plan was until I was a few cookies in to it. The results were very pretty, I'll admit, but my hands sure paid for it. I tell you, professional cookie decorators must have incredibly buff right hands.
Now let's pause for a moment and talk about what happens before the cookies even go into the oven. Namely, the molasses. I always knew there were different kinds of molasses, but I never really paid much attention to it. Unsulphured is a word that comes up often, but have you ever seen a sulphured molasses in the store? I haven't.
(And FYI – the plural of molasses is, in fact, molasses. I wish it was something with a bit more flourish, like molassi for example, but whatever).
After I made that delicious Sweet Pototo Cake with Molasses Buttercream, I got to thinking. Especially after someone commented that their buttercream had an odd aftertaste. I thought, maybe it had to do with the type of molasses used? And what is the difference anyway?
Time for some good old fashioned experimentation.
Molasses, you see, is a sweet syrup that comes from the sugar cane, and is a byproduct of the sugar making process. The juice extracted from the sugar cane is boiled until some of the sugars crystallize out, and the juice will often be boiled up to 3 times to extract as much sugar as possible. What's left is a thick, sweet syrup called, you guessed it, molasses.
The main types of molasses are:
Light: The syrup left after the first boil. It's typically the lightest in color, with a mild flavor. Most commercial molasses available in U.S. grocery stores is light molasses. And if it's not labeled otherwise, you can assume this is what it is.
Dark: After a second boil, the molasses gets darker, more robust, and there are less sugars remaining the syrup. Molasses labeled Dark or Robust will have a stronger flavor and darker color.
Blackstrap: The final byproduct left after the third boil. Blackstrap molasses is very concentrated, making it pungent, almost spicy with notes of licorice. It is also the darkest and most viscous of all varieties of molasses. Apparently it is very good for you, high in iron, so it is often sold at health food stores.
Sulphured: Made from young sugarcane, it has a much lighter and milder flavor than even your typical light molasses. The sulpher it is referring to is sulpher dioxide, a preservative. In my searching I was unable to find a true sulphured molasses; I would have loved to test out the differences in flavor!
Unsulphered: Most commercial molasses available in the U.S. is unsulphered, and it is usually labeled as such. Unsulphered molasses is made from more mature sugar cane plants, and thus the preservative is not needed. You can find unsulphured molasses in all three grades (light, dark, and black).
Sorghum: Trick question! Sorghum isn't molasses at all, but rather a similar product made from the sorghum plant. It's much milder in flavor, and probably a bit tough to track down unless you live in the South. I already had way more cookies than I could even think of decorating, but maybe next year I'll test out a batch using sorghum.
But what does this all mean in terms of how they taste? Well, I put it to the test, baking up a batch of my grandma's classic gingerbread using both light and blackstrap varieties. I purchased two bottles of molasses, a classic, light molasses (Brer Rabbit brand, but Grandma's is the most commonly available), and a bottle of Plantation brand Blackstrap molasses.
The color is probably the most distinguishable difference; the blackstrap cookies looking almost like a chocolate gingerbread. They make for a beautiful dark canvas for icing decorations.
In terms of flavor, it's really hard to tell, even considering the sheer amount of molasses that goes into these (you'll need two bottles if you plan to make a full batch!) Blindfolded, I don't think Taylor or I could tell the difference. Maybe if you knew you were eating a blackstrap cookie you could say it was slightly less sweet or slightly more pungeant, but honestly? It's not very discernible. My advice would be to follow your recipe, but if it comes down to it, substituting one for another is not the end of the world.
Another fun fact? Grandma Bettie's gingerbread recipe (before frosting) is totally vegan. Who'da thunk?
Bettie's Classic Gingerbread Cut Outs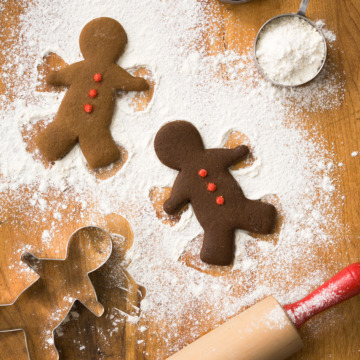 Ingredients:
1/2 cup shortening
1 1/2 cups brown sugar
2 1/4 cups molasses
7-10 cups all-purpose flour*
1 1/2 teaspoons allspice
1 1/2 teaspoons cinnamon
1 1/2 teaspoons salt
2 1/2 teaspoons ground ginger
3/4 + 1/4 cup water
1 tablespoon baking soda

Directions:
Cream shortening and brown sugar. Add molasses and mix well.
Mix spices with 1 cup of the flour and add. Add the rest of flour about 1/2 cup at a time, alternating adding water and flour. Combine baking soda and final 1/4 cup water and add last.
Cover and chill dough for at least an hour before rolling out. (At this point you can also freeze the dough for up to a month. Thaw completely before rolling out.
Preheat oven to 350 degrees F.
On a well-floured surface, roll out dough to desired thickness (I found about 1/4 inch thick makes nice soft yet sturdy cookies) and cut out shapes. Arrange cookies on a parchment or silicone lined baking sheet.
Bake cookies for approximately 10-14 minutes or more (longer cooking times will yield stiffer cookies). Allow to cool a few minutes on cookie sheets, then transfer to cooling racks and cool completely before frosting.
*Use more flour for a stiffer cookie (say, for gingerbread houses), and less flour for softer cookies. The dough is very forgiving. I've found that about 8/8.5 cups is just about perfect for me.
Did you make this recipe?
Let us know what you think!
Leave a Comment below or share a photo and tag me on Instagram with the hashtag #loveandoliveoil.