Ahh, the annual tradition of gingerbread.
AKA: how I spent my Thanksgiving vacation.
All of it.
Tediously cutting. And baking. And piping. And flooding. And cutting out miniature fondant scarves.
But you know what? They turned out so gosh darn cute it was totally worth it. Robin and I are getting better, don't you think?
It was also my first year shipping the fragile boys and girls to relatives. I haven't heard of any casualties, so I am assuming they all made it to their destination with heads and toes in tact.
And because I'm sure people will ask… The cookies were first sealed inside cute cello bags (XL size), which fit perfectly inside these glossy white gift boxes, which in turn were the perfect size to stack (lightly wrapped in bubblewrap) inside the square Priority mail boxes. Each box was tied with either pretty grosgrain ribbon or two colors of baker's twine, and labeled with a printed sticker of my own design. I sent two varieties of cookies, the gingerbeads pictured above and a tasty mocha shortbread cookie (recipe to come). Precious!
(By the way, if you're looking for the gingerbread recipe, it's my grandmother Bettie's. And you can find it right here.)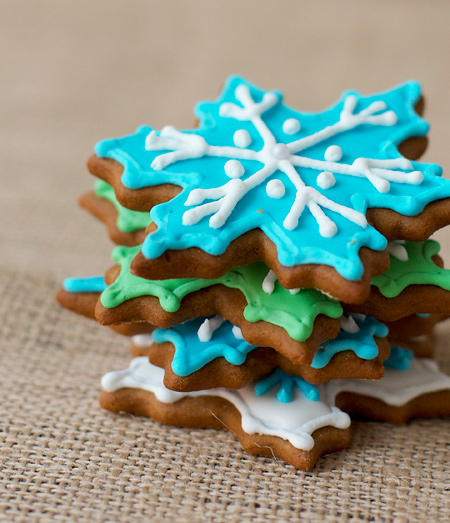 All good things have to come to and end. Such is the case with giveaway week. I thought, what better way to end such a fabulous week than with a homemade gift box? That's right, I'll be giving away not one, but TWO gift boxes filled with homemade goodies from the Love & Olive Oil kitchen. What's inside? Well, I'm not exactly sure yet. Chances are good you'll get some jam, and surely some cookies or other festive sweets. But who knows what else I'll decide to throw in there. It'll be good though, that I can promise you! The boxes will be shipped out on Monday, and should arrive at your doorstep just in time for Christmas. Joy!
****GIVEAWAY IS NOW CLOSED****
To Enter:
Simply leave a comment on this post with the answer to this question:
What is your all time favorite holiday cookie? (And, you know, feel free to link to the recipe in case someone else *cough*like me*cough* wants to try them…)
Entries open through 12/19/10 at 11:59 CST. I'll be randomly selecting the winner the morning of Monday, December 20th. Prize will be shipped to the winner directly from yours truly. Please note that due to the perishable nature of this prize, this contest is open to US residents ONLY (sorry International folks… I'll try to track down a non-perishable giveaway for you soon!)
Want Extra Entries?
Increase your odds of winning! In addition to the main entry comment, leave a separate comment for each bonus entry.
1. Follow @loveandoliveoil on twitter and tweet the following:
I just entered to win a homemade holiday gift box of goodies from @loveandoliveoil! Enter here: http://bit.ly/eDdv43
2. Like Love & Olive Oil on Facebook (or if you are already a fan just say so!)
Be sure you enter a valid email address, because if your name is drawn and I can't get a hold of you within 24 hours, I will choose an alternate winner. You may also want to add me to your address book (lindsay AT loveandoliveoil DOT com), as I'd hate for your congratulatory email to end up in the spam folder.
Disclaimer: The goodies in this giveaway are homemade, made in my own (non commercial) kitchen. I've personally eaten and will sample all the edibles contained in the gift box prior to sending them, however should you win, you consume at your own risk. Please don't sue me. Thanks!