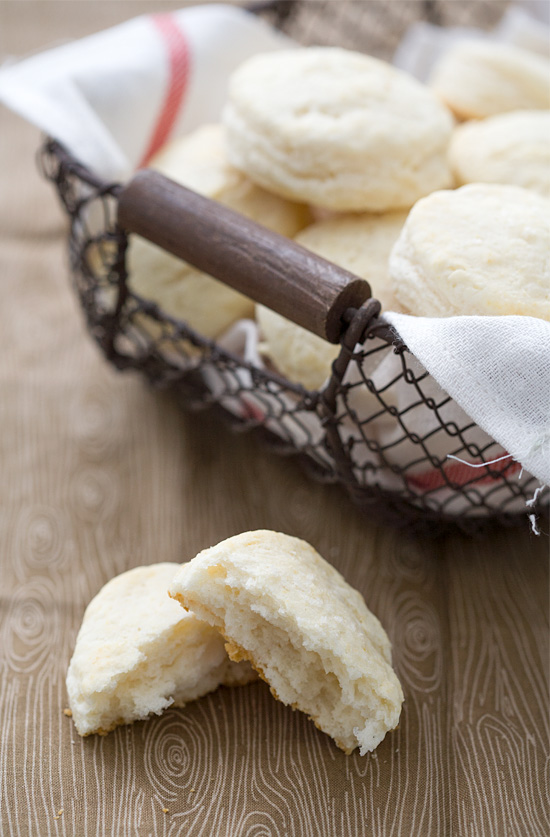 A good biscuit is bliss. A bad biscuit is little more than a glorified hockey puck. But what a lot of people don't realize is just how easy it is to make delicious, flaky biscuits in no time at all.
I've been playing around with the specifics of the recipe (and seeing that there are a total of 4 biscuits or biscuit variations in the new book, I've done a lot of testing), and have realized a few things in the process:
1. Use self-rising flour. White Lily if you can find it. For some reason all-purpose with leavening added just isn't quite as light.
2. Get yourself a pastry blender. For quick-mix jobs like biscuits and pie crust, it's so much easier than lugging out the food processor (which I don't really like to use for this anyway—I find the dough becomes too dry and crumbly).
3. Less is more. When it comes to working the dough, the less you can stir/mix/knead the better, and the lighter and flakier your biscuits will be.

While you can't beat a classic biscuit—and I like to brush mine with butter and sprinkle with sea salt—don't be afraid to experiment. Add a hefty pinch of black pepper for a savory biscuit perfect for your Thanksgiving dinner. Or finely chopped fresh herbs. Add some grated parmesan or cheddar cheese. Replace the buttermilk with cream and sprinkle with some sugar for a lightly sweet dessert biscuit (hello, shortcake!)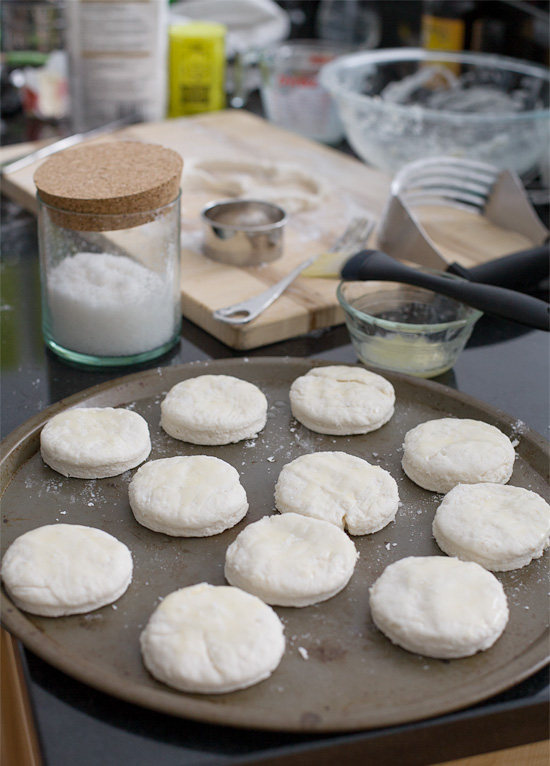 You can also choose to use either butter, shortening, or lard, all with equally good results. Biscuits made with butter will be flaky. Biscuits made with shortening or lard will be more on the fluffy side (and I'll tell you that if you're looking to recreate the authentic, traditional Southern biscuit—like those made at the famous Loveless cafe—you better get over any qualms you have about using lard).
So, as they say at the Loveless cafe: "Praise the lard and pass the biscuits!"
Light & Fluffy Buttermilk Biscuits
Ingredients:
2 cups self-rising flour
1/4 cup butter or lard, chilled and cubed
2/3 cup full-fat buttermilk
2 tablespoons butter, melted
sea salt or flake salt, for sprinkling
Directions:
Preheat oven to 400 degrees F.
Sift flour into a large bowl. Using a fork or pastry cutter, cut in butter until mixture resembles coarse crumbs. With a fork, stir in buttermilk until dough just comes together.
Turn out dough onto a lightly floured surface. Pat dough into a roughly 1-inch-thick rectangle and fold in half. Repeat this patting and folding step two (and only two!) more times; this will create flaky layers in the dough, but be careful not to overwork it or your biscuits will be tough.
Press dough into a 3/4-inch-thick rectangle and cut into rounds with a circle cutter. Reroll scraps only once and cut into rounds (note: these second-roll biscuits will not rise as tall as the first biscuits you cut). Arrange rounds an inch apart on a baking sheet; brush with melted butter and sprinkle with sea salt. Bake until tops are lightly golden brown, about 10 minutes.
Did you make this recipe?
Let us know what you think!
Leave a Comment below or share a photo and tag me on Instagram with the hashtag #loveandoliveoil.