Steamed Buns with Kale and Bok Choy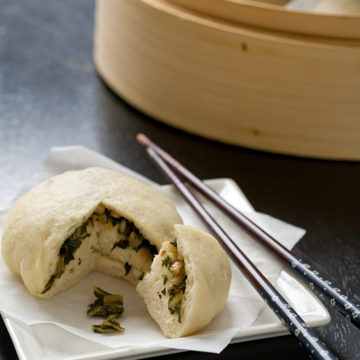 Ingredients:
For Dough:
1/2 cup warm water
1 tablespoon honey
2 1/4 teaspoons active dry yeast
3 1/2 cups all-purpose flour
1/2 teaspoon salt
1 cup plain almond milk or soy milk, at room temperature
For Filling:
1/2 pound trimmed kale or mustard greens
1/4 cup extra-virgin olive oil
10 ounces shiitake mushrooms, stems discarded and caps thinly sliced
6 garlic cloves, minced
2 large shallots, minced
1/2 pound bok choy, cut into 1/2-inch pieces
1/2 cup chopped basil
2 tablespoons soy sauce
2 tablespoons sweet chile sauce
Salt and freshly ground pepper
Sriracha sauce, for serving (optional)
Directions:
In a large bowl, combine the warm water, honey and yeast and let stand until foamy, 10 minutes. In another bowl, whisk the flour with the salt. Stir the almond milk into the yeast mixture, then stir in the flour. Knead the dough gently until smooth but still slightly sticky; transfer to an oiled bowl, cover and let rise until doubled in bulk, 50 minutes.
In a medium saucepan of boiling salted water, cook the greens until just tender, 1 minute. Drain well, let cool and squeeze dry, then coarsely chop.
In a large skillet, heat 3 tablespoons of the olive oil. Add the mushrooms, cover and cook over moderate heat, stirring occasionally, until tender, about 4 minutes. Add the garlic and shallots and the remaining 1 tablespoon of olive oil and cook, stirring, until softened, about 3 minutes. Add the bok choy, cover and cook, stirring occasionally, until tender, about 5 minutes. Stir in the greens, chives, basil, soy sauce and sweet chile sauce and remove from the heat. Season with salt and pepper and let cool.
Cut out sixteen 3 1/2-inch parchment paper squares. Punch down the dough and transfer to a floured work surface. Form it into a rectangle and cut into 16 equal pieces. Using floured hands, roll each piece of dough into a ball. Sprinkle the balls with flour, cover with plastic wrap and let rest for 10 minutes.
Working with 4 pieces of dough at a time, roll the balls out to 4-inch rounds, dusting with flour as needed. Fill each round with about 3 tablespoons of the filling. Bring the edge of the round up and over the filling and pinch the seam closed in pleats. Set the buns seam side down on the parchment squares and transfer to a baking sheet in the refrigerator until all of the buns are filled.
In a deep skillet or wok, bring 1 1/2 inches of water to a boil. Set a bamboo or metal steamer over the water. Arrange 4 buns parchment side down in the steamer. Cover and steam over moderately high heat until the dough is tender and cooked through, about 10 minutes. Steam the remaining buns. Serve plain or with Sriracha.
Did you make this recipe?
Let us know what you think!
Leave a Comment below or share a photo and tag me on Instagram with the hashtag #loveandoliveoil.