Every once and a while we like to treat ourselves to something special. Whether it is a rack of ribs for Valentine's day, lamb chops for Christmas dinner, or an insanely tall chocolate cake for a birthday… food is our way of celebrating.
Sometimes, though, the occasion is much more subdued. The end of a very stressful weak. The beginning of an exciting new project. Or, in this case, just an extraordinarily cheap week at the grocery store. Our reward? We bought ourselves some lobster. To be honest, the $20 we spent on our two little lobster tails was much cheaper than if we had gone out to eat. That's some perspective, I guess. Maybe we should treat ourselves more often!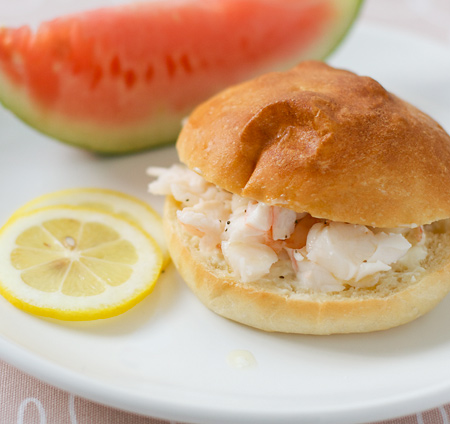 Taylor and I have fond memories of lobster rolls, during a school trip we both took in high school. The trip explored the northeast, particularly Boston and Maine. Yes, the scenery and the history were fantastic and interesting, but the lobster shack on the rocky shores of Maine was the most memorable. It was my first lobster roll, and I knew it would not be my last.
I know that some treat a lobster roll as more of an upscale tuna salad, but to us, the lobster should not be overpowered by mayonnaise. Just a smear on the tender brioche rolls is plenty. Don't even think about adding celery. A little drizzle of butter and lemon and a pinch of celery salt is all you need to finish it off just perfectly.
To top it all off the weather is just starting to cool down enough here in Nashville that we can enjoy dinner outside. Our little patio, albeit lacking any sort of interesting view, is the perfect place for a late summer meal.
Lobster Rolls and Homemade Brioche Buns
Ingredients:
For buns:
3 tablespoons warm milk
2 teaspoons active dry yeast
2 1/2 tablespoons sugar
2 large eggs
3 cups bread flour
1/3 cup all-purpose flour
1 1/2 teaspoons salt
2 1/2 tablespoons unsalted butter, softened
Sesame seeds (optional)
For rolls:
2 pounds cooked lobster meat
1/4 cup mayonnaise
1 lemon
2 tablespoons butter, melted
celery salt, to taste
Directions:
To make buns: in a glass measuring cup, combine one cup warm water, the milk, yeast and sugar. Let stand until foamy, about five minutes. Meanwhile, beat one egg.
In a large bowl, whisk flours with salt. Add butter and rub into flour between your fingers, making crumbs. Using a dough scraper, stir in yeast mixture and beaten egg until a dough forms. Scrape dough onto clean, well-floured counter and knead, scooping dough up, slapping it on counter and turning it, until smooth and elastic, 8 to 10 minutes. The dough will be on the sticky side so it can be a bit messy, but keep in mind that the more flour you knead in, the tougher the buns will get. Try to leave them tackier than you would a round loaf.
Shape dough into a ball and return it to bowl. Cover bowl with plastic wrap and let rise in a warm place until doubled in bulk, one to two hours. (In my freaky, warm apartment this only took an hour.)
Line a baking sheet with parchment paper. Using dough scraper, divide dough into 8 equal parts. Gently roll each into a ball and arrange two to three inches apart on baking sheet. Cover loosely with a piece of plastic wrap lightly coated in nonstick spray and let buns rise in a warm place for one to two hours. (Again, this only took one hour in my apartment and I suspect, you'll also only need an hour for a second rise.)
Set a large shallow pan of water on oven floor. Preheat oven to 400 degrees with rack in center. Beat remaining egg with one tablespoon water and brush some on top of buns. Sprinkle with sesame seeds, if using. Bake, turning sheet halfway through baking, until tops are golden brown, about 15 minutes. Transfer to a rack to cool completely.
Shred or cut cooled lobster meat into bite-size chunks.
Slice buns in half. Lightly toast if desired. Spread a thin layer of mayonnaise on both sides of the bun, and top with a heaping scoop (about 1/4 lb) of lobster meat. Drizzle with melted butter and lemon juice, and sprinkle with a dash of celery salt (or a mixture of celery seed and kosher salt). Serve with lemon wedges.
Did you make this recipe?
Let us know what you think!
Leave a Comment below or share a photo and tag me on Instagram with the hashtag #loveandoliveoil.