Crispy, golden brown roasted potatoes served with a uniquely flavorful and oh-so-versatile black garlic aioli that'll make your tastebuds sing with delight.
Up your side dish game with these crispy roasted potatoes, served with a black garlic aioli (it's savory, I promise I'm not dipping potatoes in chocolate pudding here, despite appearances).
This dish is little bit inspired by Spain's famous Papas Bravas, which is a dish of crispy fried potatoes served with a garlicky aioli (the traditional Catalan version is literally just garlic and oil worked together by hand until creamy, though many modern versions include egg to help with the emulsification).
We've taken some liberties with our recipe, obviously, both by baking our potatoes until golden and crisp and serving them with a simple and delicious shortcut aioli made with Duke's Mayonnaise and both fresh and aged black garlic for a unique and flavorful combination.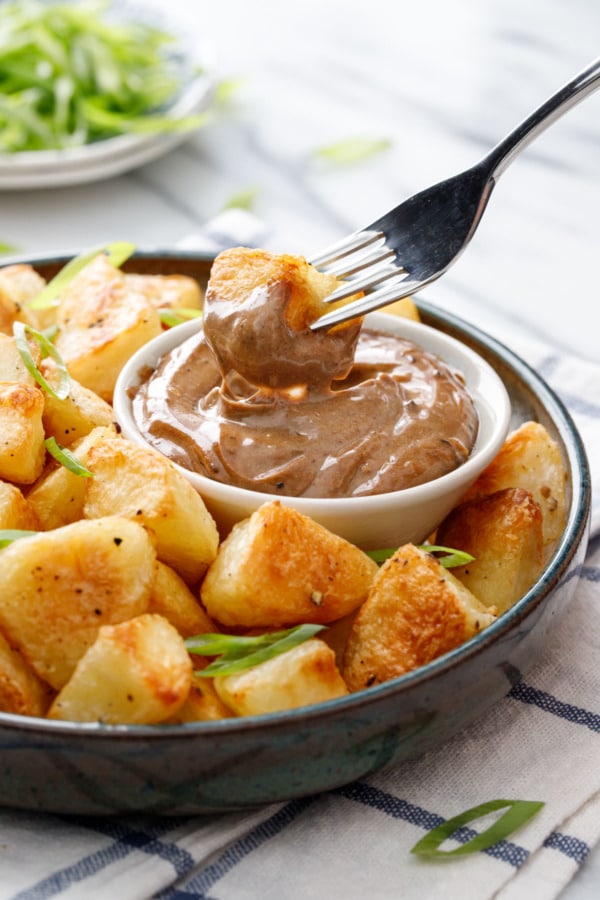 Making aioli from scratch can be tricky if you don't have the right equipment, or the patience. Instead, we've opted for a shortcut aioli, using our favorite Duke's Mayonnaise as the creamy, tangy base, and mixing in both fresh and black garlic—the fresh gives the aioli a perfect bite, while the rich umami notes of the black garlic provide incredible depth of flavor while mellowing out the sharper spice of the fresh garlic.
The result is a delicious and unique side dish that comes together in a jiffy, and perfectly compliments these crispy roasted potatoes (though its versatility certainly doesn't end there).


What is black garlic?
Black garlic is my new obsession.
Black garlic is a type of heat-processed garlic that has been used in Asian cultures for centuries (its origins trace back to Korea and China), both for its incredible unique flavor and its purported health benefits.
It is made by slowly caramelizing whole heads of garlic at precisely controlled heat/humidity levels over the course of several weeks until the cloves themselves are black in color, sticky in texture, and richly flavored. We've all roasted garlic before, but imagine slowing down and stretching out that process over weeks or even months—that's how black garlic is made.
As a result of this slow aging process, black garlic's flavor is wildly different from its fresh counterpart. It doesn't have that pungent bite that fresh garlic does (hooray no garlic breath!) and the flavor is much deeper, richer, and dare I say sweeter, with underlying notes of molasses, balsamic vinegar, caramel, fig, and even dark chocolate.
Basically, it's pure umami.
We've tried black garlic in multiple forms, including whole cloves, peeled, paste, and powder. Any of them will work for this recipe, though we find the whole cloves to be the most robustly flavored. We really like Texas Black Gold brand as well as Balsajo from the UK (this is the brand Ottolenghi uses so I know it's good stuff), but there are plenty of other options readily available online. It's shelf stable and lasts forever so there's no reason not to have a jar in your pantry at all times.
Good quality black garlic cloves should be soft, squishy, and easily smashed with the flat side of a knife to form a paste. If you find yourself with older or lesser-quality black garlic, it may be more of a dried fig-like consistency, which will be quite hard to incorporate into the aioli.
If this is the case, simply put the cloves in a small dish, cover them with boiling water and let them soak for about 30 minutes, then remove from the water and smash into a smooth paste. After a good warm bath the cloves should be much softer and easier to work into the aioli.
Find Duke's Mayonnaise in a store near you by visiting their store locator. You can also order it online and have it shipped right to your door.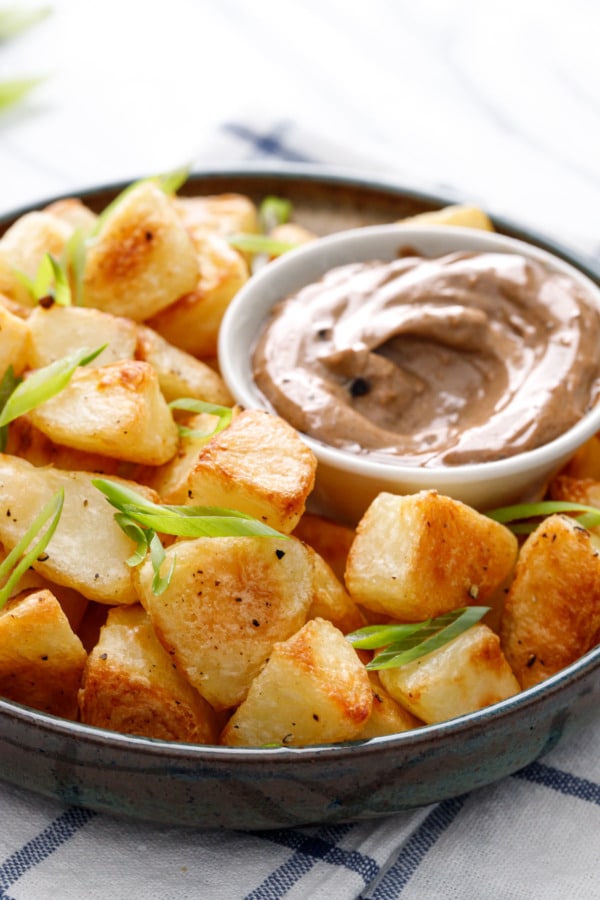 This black garlic aioli is so good you shouldn't limit it to just accompanying potatoes—it goes swimmingly alongside a juicy reverse-sear steak, in place of plain mayo to make a next-level turkey sandwich, dolloped over lightly sautéed green beans, or even drizzled over a savory Japanese okonomiyaki (we had a bunch of aioli left over after testing so I can personally attest to the deliciousness of this pairing).
Crispy Roasted Potatoes with Black Garlic Aioli
Crispy, golden brown roasted potatoes served with a unique and flavorful black garlic aioli.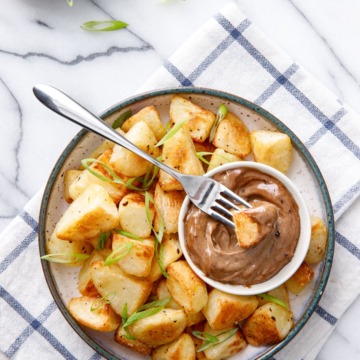 Ingredients:
For potatoes:
1 pound russet potatoes, peeled and cut into 1 to 1 ½-inch chunks
2 tablespoons vegetable oil
salt and freshly ground black pepper, to taste
For aioli:
½ cup Duke's Mayonnaise
1 small garlic clove, peeled (about 1/2 teaspoon once smashed)
pinch kosher salt
4-5 cloves peeled black garlic (about 2-3 teaspoons once smashed)
Directions:
Preheat the oven to 425 degrees F. Line a baking sheet with parchment paper.
Bring a large pot of salted water to a boil. Add potatoes and boil for about 5 minutes. The potatoes won't be fully tender at this point, we just want to get the starches 'preheated' in a sense.
Drain through a colander and return potatoes to the hot pan. Stir them a bit to allow the remaining moisture to evaporate, and also to rough up the edges a bit (the messy layer of loose starch will help the potatoes get crispy). Toss with oil along with a generous pinch of salt and pepper.
Spread out in a single layer on prepared baking sheet. Bake for 20 minutes, then use a large, thin spatula to flip the potatoes. Return to oven and bake for another 20 to 30 minutes, stirring once or twice more, until edges are browned and potatoes are crisp.
While the potatoes are cooking, prepare the aioli. On a cutting board, chop the fresh garlic with a pinch of kosher salt. Alternate chopping with a mashing motion, spreading and smearing the cloves of garlic on the surface of the cutting board, working it with the salt until it forms a paste-like consistency. Add to a small bowl with mayo.
Now do a similar process with the black garlic, chopping and smashing the sticky cloves until smooth and paste-like. Add a teaspoon or two of water and continue to work it (the water will help loosen up the black garlic so it can be stirred into the aioli). Add to bowl with mayo and fresh garlic and stir to combine. Cover and keep refrigerated until ready to use (it will darken slightly the longer it sits).
Serve potatoes while they're still warm and crisp, sprinkled with thinly sliced green onions if desired, with a bowl of aioli on the side.
Did you make this recipe?
Let us know what you think!
Leave a Comment below or share a photo and tag me on Instagram with the hashtag #loveandoliveoil.