With a light and creamy pistachio base, crunchy chopped pistachios, and a luxurious swirl of white chocolate pistachio cream, this homemade pistachio gelato is for serious pistachio lovers only.
This isn't your boring old pistachio ice cream. With triple the pistachio flavor and a delightful contrast of textures from crunchy to creamy, it takes pistachio to a whole new level.
Taylor knows what he likes. When he finds it, he sticks with it (lucky for me, lol).
But this is also true for gelato. All throughout our travels, all the amazing gelato and ice cream shops we've discovered that wow me with their creative flavors, 9 out of 10 times he'll end up with the pistachio.
Needless to say, he's been a happy boy these last few weeks as I was testing this recipe.
I originally decided to make a pistachio gelato to use up the leftover jars of various pistachio creams/butters I had from testing these delicious morsels.
…and ultimately ended up buying way more pistachio stuff because I just can't leave well enough alone.
Not only did I want to make a luscious, creamy pistachio gelato, but I also wanted to add a swirl of pistachio cream AND crunchy candied pistachios. The ultimate pistachio gelato, if you will.
But that basically meant I was testing 3 recipes in one.
I really make things hard on myself, don't I?
(Of course, if Taylor was in charge he would make plain ass pistachio. But we all know that's not how I roll.)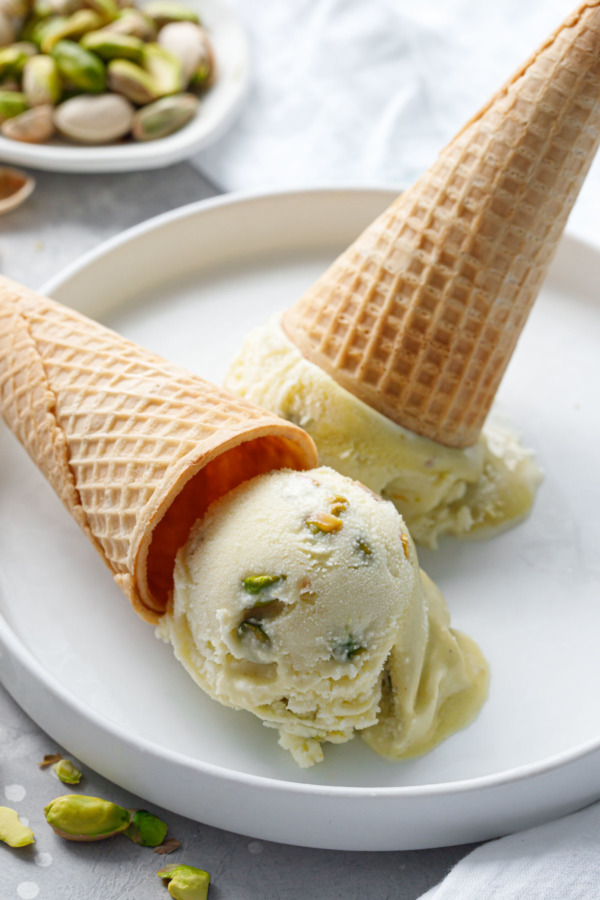 The gelato itself was the easy part – a simple egg-less base in the Sicilian style (thickened with cornstarch), infused overnight with chopped pistachios.
I tested it both ways (with pistachio butter and with finely chopped nuts) and decided that the lighter, fresher flavor achieved by steeping the nuts was nicer than the batch using pistachio butter, which was overall much richer and heavier (the lighter flavor and color provides a better contrast with the pistachio cream swirl). Although if you opt to skip the pistachio cream swirl, you may prefer the more robust pistachio flavor that comes from the pistachio butter.
The decadent pistachio cream swirl was inspired by SuSo gelateria in Venice; their signature flavor, Manet, features a hazelnut base with a thick layer of creamy pistachio gianduja that swirls and suffuses each scoop with a ribbon of rich and creamy goodness.
I first started with a jar of Italian pistachio cream, which is utterly fabulous at room temperature, but it froze up so solid I strained my wrist trying to scoop it. So much for that shortcut.
After freezer-testing numerous additions and variations, from adding pistachio oil to heavy cream to corn syrup, the best batch was basically a sweetened white chocolate ganache infused with pistachio butter. The combination of the extra sugar, full fat cream, and cocoa butter in the white chocolate keeps the swirl soft and scoopable.
I ultimately opted to recycle the pistachios that had been steeped in the ice cream base, blending them into a smooth paste and using that for the pistachio cream instead of jarred pistachio butter. This does require a pretty strong blender to really get it nice and smooth; so you can certainly use pistachio butter instead if you prefer (just note the color will be much darker than mine).
While you can layer swirls of pistachio cream with your gelato base as you spoon it into the freezer container, I opted to imitate Suso once again, and poured a solid layer of the stuff on top of the ice cream in a shallow dish. This, for one, seals in the freshness (like a built in lid), but it also ensures that each and every scoop gets an equal share of the good stuff.
I used a 6-cup glass dish like this one, but an 8-inch round or square cake pan would work well too (you'll just have slightly thinner layers). If you use something deeper like a loaf pan you may want to add another layer of cream in the middle as well.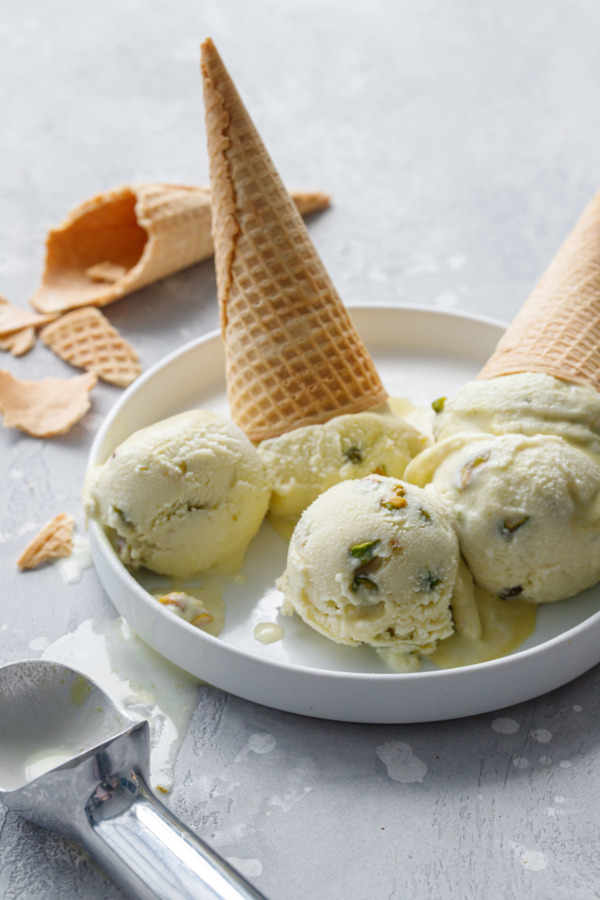 What about the candied pistachios, you ask?
After testing countless batches of candied pistachios to find the perfect balance of sweetness and crunch, I discovered that, when mixed into the ice cream, the delicate crunch of the sugar coating dissolved away, and the resulting texture was no different than if you had just stirred in plain, uncandied nuts.
So, for simplicity's sake, that's how I've written the recipe.
If you really feel like candying the nuts you certainly can (I'll be posting a recipe for spiced candied pistachios in the next few weeks, since the method I discovered is truly snack worthy) but just know that, when mixed into the ice cream, you really won't notice a difference in taste or texture.
To peel or not to peel?
I always recommend purchasing whole, shell on pistachios and shelling them yourself, since the nuts will be much greener looking and fresher tasting than pre-shelled ones.
I know I've previously touted the benefits of blanching and peeling pistachios: and doing so will certainly result in a more vibrantly green paste. However, in this recipe I don't think it's worth the time. Simply dry peeling the pistachios (removing the shells, then rolling the nut between your thumb and forefinger to flake off as much of the thin, papery skin as you can) is sufficient here. You should be able to get most of the skins off with fairly little effort.
You can see above just how varied the color of pistachios can be. The top row are pre-shelled pistachios, right out of the bag on the left, and blanched and peeled on the right. See how yellow they are?
The bottom row is obviously much more visually appealing, starting with whole shell-on pistachios. Dry-peeled on the left, and blanched and peeled on the right. While the blanched nuts are definitely more vibrant in color, they aren't quite as crunchy, and you definitely want the crunch here at least for the 1/2 cup of nuts that get stirred in at the end. Feel free to blanche and peel the other cup though if you really want your gelato to be as green as possible without resorting to added colorants, but it's certainly not necessary.
You'll need a total of 1 1/2 cups (about 7.5 ounces) of shelled pistachios for this recipe; that's just shy of 1 pound of shell-on nuts.
1 cup of the pistachios are coarsely ground and steeped within the warm ice cream base overnight, then strained out and blended to a smooth paste. This paste is then mixed with a white chocolate ganache, essentially, to create the luscious pistachio swirl. The remaining 1/2 cup of nuts are coarsely chopped and folded in to the churned ice cream.
Prefer to use pistachio butter instead?
By all means, you certainly can! You'll need about 1/3 cup of unsweetened pistachio butter in the gelato base and another 1/4 cup for the pistachio cream swirl. Pistachio butter will result in a deeper colored and flavored gelato, with a thicker, more oily mouthfeel not unlike the nut butter itself. Note if your pistachio butter is salted you may want to reduce/eliminate the salt in the gelato base and swirl as well.
This option might be preferable if you don't have a high powered blender or food processor to get that pistachio paste nice and smooth.
Ultimate Pistachio Lover's Gelato
A light and creamy pistachio base, crunchy chopped pistachios, and a luxurious swirl of white chocolate pistachio cream.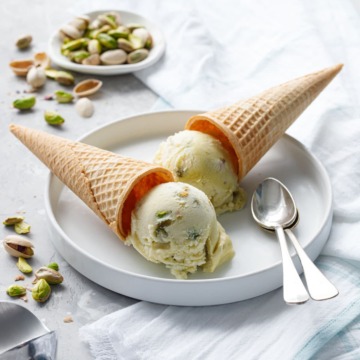 Ingredients:
For ice cream:
4 teaspoons (12g) cornstarch
2 1/2 cups (600g) whole milk
1/2 cup (120g) heavy cream
2/3 cup (133g) granulated sugar
1 tablespoon corn syrup
1/4 teaspoon fine sea salt
1/4 teaspoon pistachio extract (optional)
1 cup (140g) shelled pistachios*, finely chopped in a food processor (alternatively use 1/3 cup or 60g pistachio butter)
1/2 cup (70g) shelled pistachios*, lightly toasted (if desired) and coarsely chopped
For pistachio swirl:
1/2 cup (90g) reserved steeped pistachio paste (alternatively use 1/4 cup or 50g unsweetened pistachio butter)
6 tablespoons (90g) heavy cream
3oz (85g) good quality white chocolate, coarsely chopped
2 tablespoons (25g) granulated sugar
2 teaspoons toasted pistachio oil
1/4 teaspoon pistachio extract (optional)
1/8 teaspoon fine sea salt
Directions:
For ice cream base, in a small bowl whisk cornstarch with 2 tablespoons of milk and set aside.
Combine remaining milk in a medium saucepan along with cream, sugar, corn syrup and salt. Bring to a rolling boil over medium-high heat and boil, stirring occasionally, for 4 minutes.
Remove from heat and whisk in cornstartch. Return to medium heat and let boil for 1 minute more until slightly thickened. Stir in pistachio extract and 1 cup finely chopped pistachios.
Transfer to an ice bath (a heat-proof bowl or 4-cup glass measuring cup set inside a larger bowl of ice water) and let cool to lukewarm, stirring occasionally. Cover tightly, pressing a layer of plastic wrap down on the surface of the mixture, and refrigerate overnight. This cools the base completely (making churning quicker), as well as 'cures' the base, resulting in a thicker and creamier ice cream.
The next day, strain the ice cream base through a fine mesh sieve to remove all the bits of pistachio, pressing out as much of the cream as possible. Re-cover and return to the fridge until you're ready to churn.
To make the pistachio cream, place the strained pistachios in a high powered blender or food processor. (Tip: weigh the empty container before adding the pistachios so you know how much you have; it'll make the next step easier). Process until smooth and paste-like.
Measure out 1/2 cup (90g) of pistachio paste and return to blender. The rest can be reserved for another use.
Place chopped white chocolate in a heat-proof bowl. Warm cream and sugar over medium-low heat until it starts to steam. Pour over white chocolate and let sit for 30 seconds, then gently whisk until melted and smooth. Pour into blender with pistachio paste. Add pistachio oil, pistachio extract and salt and pulse until smooth and creamy. If your blender wasn't able to get the pistachio paste completely smooth, you can strain the final pistachio cream mixture through a fine mesh sieve to make the final product perfectly smooth and creamy.
Place pistachio cream mixture in a bowl; cover tightly and refrigerate until thoroughly chilled (it must be cold otherwise it'll melt the ice cream!)
Pre-freeze your chopped pistachios as well as your ice cream storage container for at least 30 to 60 minutes.
Churn ice cream in an ice cream maker according to manufacturer's instructions. When it reaches the consistency of soft-serve, stir in 1/2 cup of chopped pistachios. Transfer to a shallow, 6 or 8 cup capacity freezer-safe storage dish or an 8-inch cake pan. Spread ice cream into an even later, then place in the freezer for at least 2 hours to firm up. (If you are using a deeper pan like a loaf pan or ice cream pint container, I recommend alternating spooning a bit of the ice cream with a generous drizzle of the pistachio cream; that way each scoop will have a bit of the pistachio cream in it. Save some of the pistachio cream for the final layer on top.)
Once the ice cream has set up fairly firmly, pour the pistachio cream over top and spread into an even layer. Cover and freeze overnight until completely firm before scooping and serving.
*I recommend starting with whole, shell-on pistachios (you'll need just under 1 pound worth) and shell them yourself. As you go, roll the nuts between your thumb and forefinger, using enough pressure to flake off the as much of the thin, papery skin as you can. It's ok if not all the skin comes off, but the more you can peel off the greener and more visually appealing your gelato will be.
Did you make this recipe?
Let us know what you think!
Leave a Comment below or share a photo and tag me on Instagram with the hashtag #loveandoliveoil.