This vibrant poke bowl features soy-marinated tuna atop a bed of fluffy rice, with sweet chunks of mango, shredded carrot, cucumber and a tangy cabbage and snow pea slaw.
Look ma, no heat! Poke is a traditional Hawaiian dish featuring raw fish or seafood with a wide variety of flavorful accoutrements. Basically, if sushi took a Hawaiian vacation (and found a nude beach where it could shed its seaweed wrap, lol) this would be the result.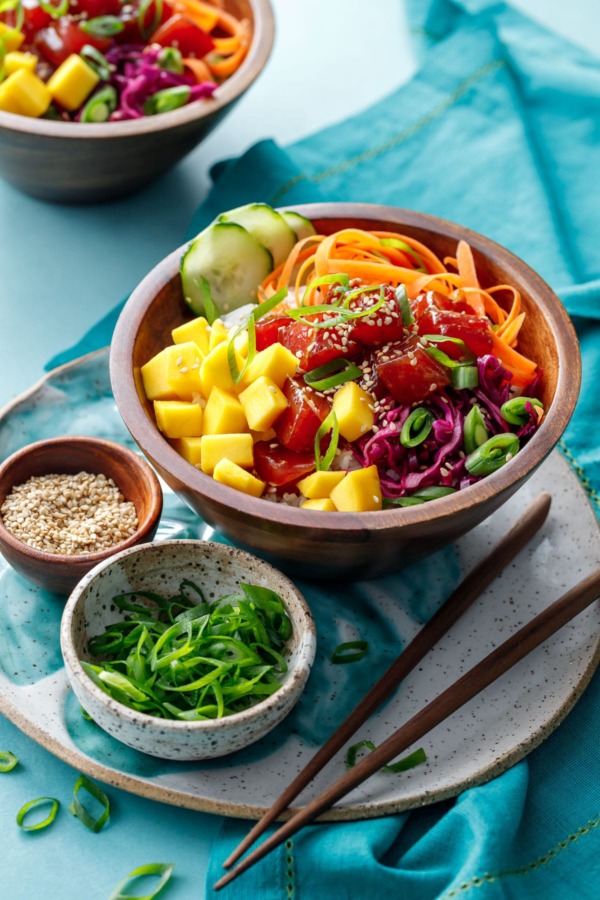 This is a fairly traditional shoyu (soy sauce) poke, we just mixed up the toppings a bit, adding some ripe mango which adds a lovely note of sweetness (dare I say that's my favorite part)?
Serve it as is or make your pricey tuna stretch a little farther and serve it atop a bowl of jasmine rice, quinoa, or even cauliflower rice if you're so inclined.
We also added a tangy cabbage slaw (because, let's face it, raw cabbage is kinda gross) by tossing it with some lime juice, olive oil, salt and pepper. I also added some snow peas, sliced on a diagonal so they look oddly like giant green onions (we added those on top too).
Top it with a bit of sliced/shaved/cubed vegetables and you have yourself an ultra satisfying warm weather meal (although I wouldn't say not to a bowl of this in frigid depths of January, either!)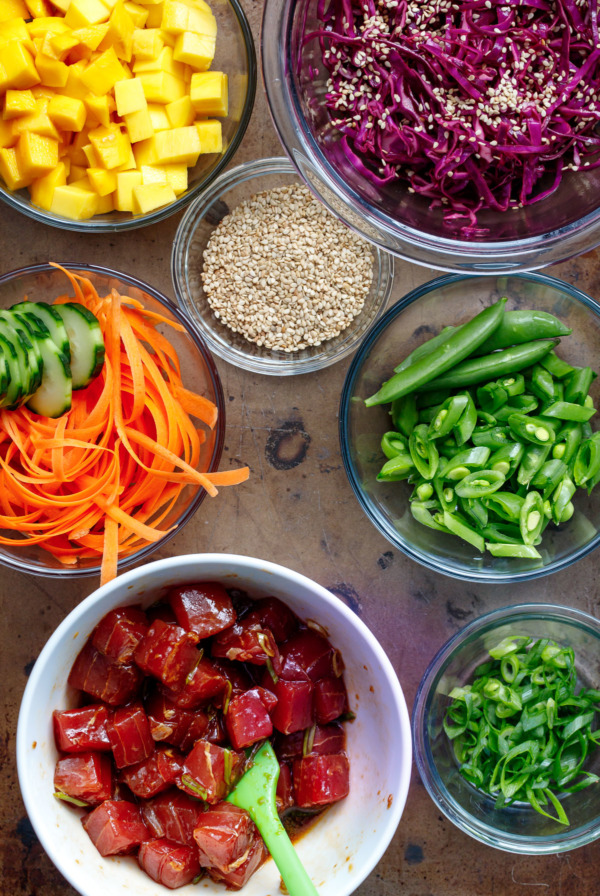 BYOPB – Build Your Own Poke Bowl
As far as poke toppings, the sky's the limit!
While I love the mango here, I think pineapple would be a great substitute for the mango, citrus segments perhaps, or even something more exotic like lychee. But I implore you to keep at least one bright, fruity element – it really offsets the richness of the fatty tuna in a way that will please your palate to no end.
Carrots and cucumber are pretty basic poke toppings, but feel free to add some edamame, avocado, shaved radishes, bean sprouts, pickled ginger or red onions, sliced seaweed or even some salmon roe. Add a bit of crunch with some chopped peanuts or macadamia nuts or even garlic chips or fried shallots.
Or, rather than trying to choose a few of these wonderful options, why not set out a bunch of little bowls of various toppings and let everyone build their own perfect poke bowl. Poke bars are the new taco bars, the perfect crowd-pleasing party spread. (I'm really digging this idea).
Any sushi-grade fish would work here in place of the tuna, including salmon or hamachi, just make sure you get your fish from a trusted source – we recently found a little Japanese market adjoining a sushi restaurant that sells lovely cuts of fresh sushi grade fish for about the same price as Whole Foods (and PSA – most grocery store fish counters (including Whole Foods) are not safe for raw preparations since the fish likely comes in contact with surfaces that have also touched non-sushi-grade fish. Ask your fishmonger before purchasing just to be sure, and also check the freezer case: sometimes stores have frozen sushi-grade options available which are probably fresher than anything in the case).
If raw fish isn't your thing (or maybe not something you just can't find where you live), you could certainly sear the tuna it quickly (and I mean quickly, like 30-60 seconds per side max) so the center is still luxuriously red. Something like salmon you'd want to cook a wee bit more. Or you could also use cooked shrimp or seared tofu here too, the shoyu marinade would be just a delicious.
Ahi Mango Poke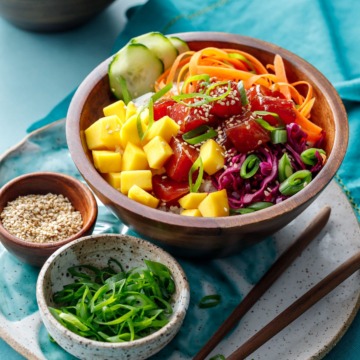 Ingredients:
8 ounces sushi grade tuna, cut into 3/4-inch cubes
2 tablespoons soy sauce
1 teaspoon sesame oil
1/2 teaspoon sriracha or chili garlic paste
1/4 small red cabbage, thinly sliced
1 tablespoon lime juice
1 ripe mango, peeled and cubed
snow peas, sliced on the bias
shaved carrots
thinly sliced cucumber
thinly sliced green onions
toasted sesame seeds, for topping
Directions:
In a medium bowl, toss tuna with soy sauce, sesame oil, and sriracha. Cover and refrigerate until ready to serve (up to 1 day as needed).
Toss sliced cabbage with lime juice and olive oil; season to taste with salt and pepper.
To serve, spoon rice or grain of choice into bowls. Top with marinated tuna, cabbage slaw, and other toppings as desired.
Did you make this recipe?
Let us know what you think!
Leave a Comment below or share a photo and tag me on Instagram with the hashtag #loveandoliveoil.