These baked coconut shrimp come out of the oven crispy and delicious, perfect for dipping in the sauce of your choice (might I suggest a sweet chili sauce?)
Not every fried food can be made in the oven, but in the case of these baked coconut shrimp, the results are just as good as the original preparation (and noticeably healthier). While the color isn't as visibly golden brown as fried shrimp, the crunch is unmistakable (and downright addictive).
Inspired by some, shall we say lackluster (and that's putting it kindly) freezer-aisle coconut shrimp that was less than satisfying, we set about making our own oven-fried version that's just as crispy, and far easier, than its fried counterpart.
Whether you serve them as a crowd-pleasing party appetizer, or eat a whole batch of them yourself for dinner (don't judge, served with a side of crispy broccolini it's totally a well-rounded meal), these oven-fried coconut shrimp are sure to become a fast favorite.
But how do they get so crispy in the oven?!
Well, it's hard to get that satisfying crunch from coconut alone, so I've used a mix of shredded coconut and panko breadcrumbs. The panko ups the crunch factor significantly, no hot oil necessary.
We also found that a light spritz of cooking spray (unflavored please, or if you have an oil mister, even better) gave the shrimp a nicer golden brown color, however it didn't make much difference in the actual crunch.
You also want to be sure you give your baking sheet and/or baking rack a nice layer of spray as well, as these suckers tend to stick. If you find they aren't coming off the baking pan as cleanly as you might like, try wiggling a thin spatula between the shrimp and the rack to release them.
Shrimp Shopping Tips
Look for peeled, deveined, tail-on shrimp (ours were 31/40 in size). Why tail on? The tail serves as a perfect handle, both when you are preparing them (you don't even need to get your fingers dirty for this one), but also when you are eating them. Smaller fully peeled shrimp will result in more of a popcorn-style coconut shrimp (which sounds totally awesome btw).
Unless you live in one of the rare locales where fresh shrimp abound, your shrimp will probably be frozen. In which case, be sure you plan ahead and thaw them first (otherwise they'll waterlog the otherwise crunchy coating).
The best way to thaw frozen shrimp is to put the bag in the refrigerator overnight. But, if you're like us, you probably forgot to do that, in which case the quickest way to do it is to dump them into a bowl of cold water. Set the bowl in the sink, and turn on your faucet to a bare trickle to keep the water circulating. Your shrimp should be thawed in 15 to 20 minutes.
I don't recommend using your microwave unless you absolutely have to; I've never successfully thawed delicate shrimp without partially cooking them at the same time.
Once thawed, pat the little guys dry using paper towels. The dryer your shrimp at this point in the process, the crispier they will be in the end.
The dried, thawed shrimp then get the triple dip treatment: first in a flour/baking soda mixture, then in some lightly whisked egg white, and finally in a mix of shredded coconut and panko breadcrumbs (the thicker the better for this last layer).
After dipping and dredging, arrange the coated crustaceans on a baking rack (you can certainly pack them more closely than I did if you are making a full pound, just don't pile them on top of one another).
We served our shrimp with sweet chili sauce, the kind you get alongside those fried wonton chips at asian restaurants, but it'd also be great dipped in a sweet peanut sauce, warm pineapple preserves, teriyaki sauce, or even a sweet and spicy barbecue sauce.
Now, all you need is a piña colada and a salty sea breeze and you'll be in tropical heaven.
Baked Coconut Shrimp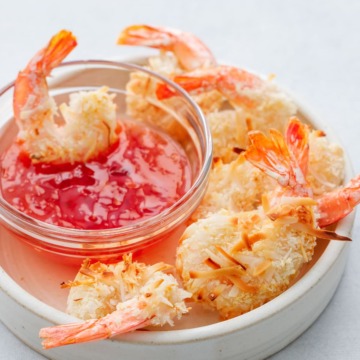 Ingredients:
1/4 cup cornstarch
1/2 teaspoon baking soda
1/4 teaspoon kosher salt
1/4 teaspoon cayenne pepper
3 egg whites
1 cup shredded unsweetened coconut
1/2 cup panko breadcrumbs
1 pound peeled, deveined, tail-on shrimp (31/40 size, approximately 40 shrimp per pound), thawed if frozen
vegetable oil spray
sweet chili sauce, for dipping
Directions:
Preheat oven to 425 degrees F. Line two sheet pans with foil (optional, for easy cleanup). Place an oven-safe wire rack inside each. Spray liberally with cooking spray to prevent sticking.
In a small bowl (big enough to easily dip the shrimp), whisk together cornstarch, baking soda, salt and cayenne.
In another small bowl, whisk egg whites with 1 tablespoon of water.
In a medium bowl, combine coconut and panko and toss until evenly mixed.
Pat shrimp dry. Using the tail as a handle, lightly dip into the cornstarch mixture. Tap off excess (you just want a thin layer coating the whole shrimp other than the tail you are holding).
Dip into egg white, then dredge in coconut mixture, pressing lightly onto both sides of the shrimp to adhere. Place on prepared baking rack.
Repeat with remaining shrimp, arranging them on the baking rack so that they lie flat in an even layer and do not touch one another.
Spray shrimp lightly with cooking spray or spritz with an oil mister filled with vegetable oil (just avoid using a vanilla-scented 'baking' type spray).
Bake for about 15 minutes, rotating pans once half-way through, until shrimp are opaque and coconut is starting to turn golden brown.
Remove from oven. If you find your shrimp sticking a bit, use a thin spatula between the shrimp and the rack to gently release without pulling off the coconut coating.
Serve hot with sweet chili sauce for dipping.
Did you make this recipe?
Let us know what you think!
Leave a Comment below or share a photo and tag me on Instagram with the hashtag #loveandoliveoil.