Brussels sprouts, pancetta and Parmesan are the ultimate flavor trifecta, the perfect combination of tastes and textures together in this easy weeknight pasta dish.
Dinner is solved, at least for tonight! This flavorful fall pasta features savory prosciutto and cheese tortelloni with crispy pancetta, tender Brussels sprouts and a light Parmesan cream sauce.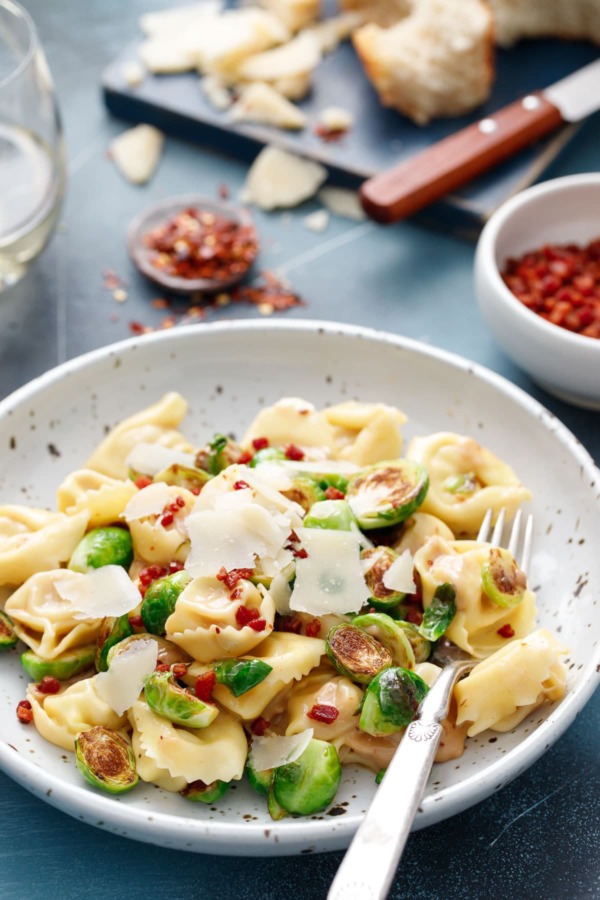 The weeknight dinner dilemma is an issue that faces us all, a neverending search for satisfying meals that don't take hours to prepare.
While I love making homemade pasta whenever I have the extra time, the truth of the matter is that most days that is simply not the case. But while time might be limited, flavor certainly doesn't have to be.
This recipe is proof.
This recipe has it all: golden brown Brussels sprouts, crisp pancetta cubes, and tender prosciutto and cheese tortelloni, enrobed in a thin layer of Parmesan cream sauce (I say cream sauce because it's creamy, although there isn't actually any cream involved). Top it with a bit of shaved Parmesan and you have yourself a feast.
It's quick and easy to prepare with minimal dishes, and it's got all the major food groups accounted for (cured meat, Parmesan, pasta and Brussels sprouts… what more do you need?) And did I mention it's darn delicious?
This recipe features Prosciutto and Cheese Tortelloni from Giovanni Rana, which you can find in the refrigerated section of your neighborhood grocery store. We love this interesting twist on a classic cheese tortellini, with an extra savory note of prosciutto pairing perfectly with the flavors in this dish.
(I should also clarify it's technically tortelloni not tortellini, the later being slightly smaller in size. Tortelloni are a bit more substantial and filling, perfect for this dish!)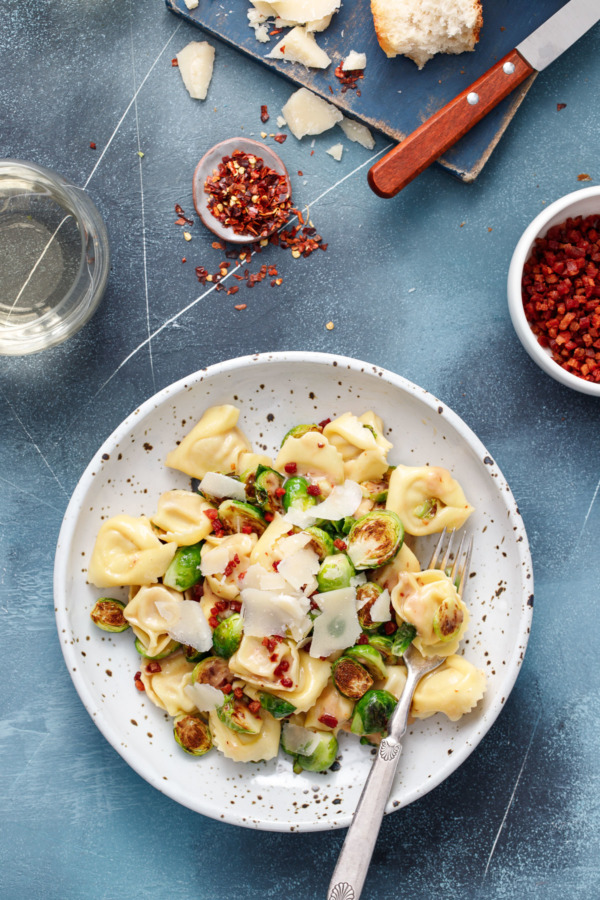 I don't like smothering my pastas in overbearing sauces, especially good pasta like this, which is why we kept this pretty simple with the Parmesan pan sauce, where the 'sauce' comes together with little more than white wine, cheese and pasta water. It's not so much a full coating of sauce as a thin veil of flavorful Parmesan.
Pasta water is the secret ingredient here, which cannot be replaced by regular water (the starches present in the pasta water are what help thicken and emulsify the sauce). I'd recommend getting in the habit of always setting aside a cup or so of pasta water before you drain your pasta. Finishing any pasta in a sauce with a splash of pasta water will help the pasta and the sauce meld together.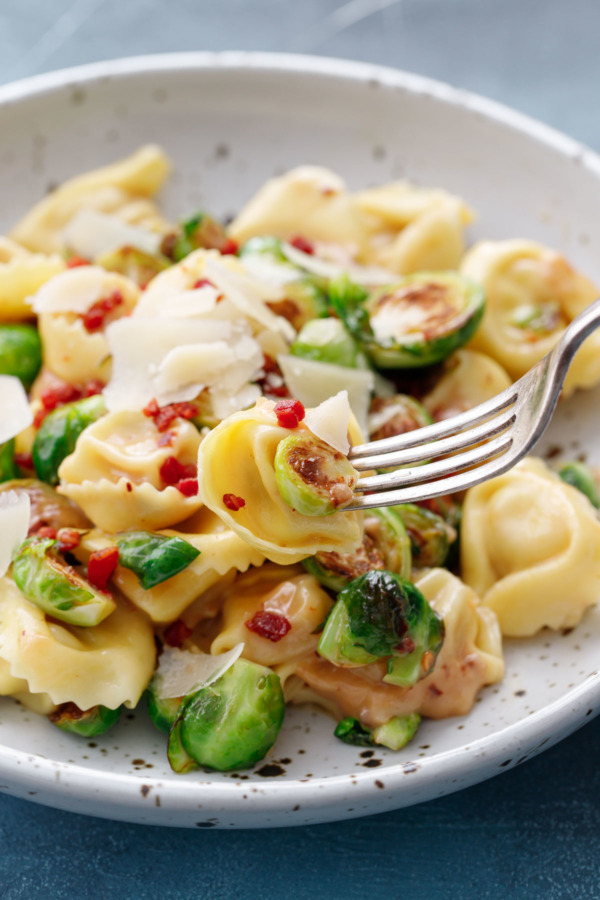 The key to keeping the various elements of this dish crispy is to cook them individually. Not in separate pans though (that'd be far too many dishes), but rather cook the pancetta first then transfer it to a bowl. Then cook the Brussels in the fat left by the pancetta until the cut sides are golden brown and crispy, and transfer those to a bowl too. Then you make your pan sauce, scraping up any residual brown bits from the brussels. Once the sauce is creamy, add it all back to the pan along with the freshly cooked tortelloni and toss until it's all evenly coated.
Serve this dish with a glass of crisp white wine (since you'll need a bit for the recipe you may as well enjoy the rest!) and a chunk of lovely crusty bread.
Parmesan & Brussels Sprout Tortelloni
Brussels sprouts, pancetta and Parmesan are the ultimate flavor trifecta, the perfect combination of tastes and textures together in this easy weeknight pasta dish.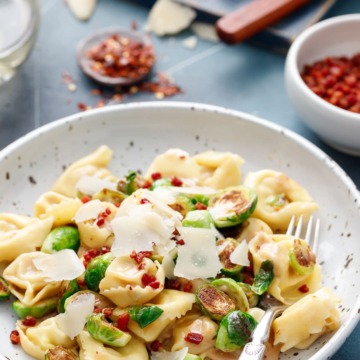 Ingredients:
4 ounces pancetta, cut into small cubes
8 ounces Brussels sprouts, trimmed and halved (quartered if large)
2 tablespoons olive oil
4 garlic cloves, sliced
1/4 teaspoon red pepper flakes
2 ounces Parmesan cheese*, finely grated, plus more for topping
1/2 cup white wine
Directions:
Bring a large pot of salted water to a boil.
Meanwhile, heat a large nonstick skillet over medium-high heat. Add pancetta cubes and cook until crisp, 10-12 minutes. Using a slotted spoon, transfer to a bowl and set aside.
Return skillet to medium-high heat. Add Brussels sprouts and cook, flipping once or twice, until bottoms are golden brown and sprouts are tender, about 8 to 10 minutes. Remove from skillet with a slotted spoon and set aside.
Return skillet to heat along with 2 tablespoons of olive oil. Add garlic and red pepper flakes and sautée until fragrant, about 30 seconds. Add white wine and cook until reduced by about half, about 3 minutes.
At the same time as you add the white wine, add the tortelloni to the pot of salted water. Cook for 3 minutes, then drain, reserving 1 cup of pasta water.
Whisk Parmesan cheese into white wine, a small handful at a time. After you've added about half of the cheese, add 1/4 cup of pasta water and continue whisking until cheese is melted and sauce is smooth and emulsified. Add remaining cheese and stir until smooth and slightly thickened. If necessary, add a bit more pasta water as needed to achieve a nice saucelike consistency.
Add drained tortelloni along with Brussels sprouts and pancetta to skillet with sauce and gently stir to coat. Immediately spoon into serving bowls, sprinkle with additional cheese as desired.
* Use a block of decent quality Parmesan and grate it yourself; the pre-grated stuff won't work well here.
Did you make this recipe?
Let us know what you think!
Leave a Comment below or share a photo and tag me on Instagram with the hashtag #loveandoliveoil.