Golden brown chicken thighs in a sweet and sticky honey sriracha sauce; serve with a side of jasmine rice and top with fresh cilantro, green onion and toasted sesame seeds.
You can never have too many chicken thigh recipes. It's one of the most flavorful cuts of chicken, and economical to boot. Here we've pan-seared it to a golden brown with a honey sriracha sauce that's sweet and savory and salty and spicy, all at the same time. This might just be our favorite chicken thigh recipe yet!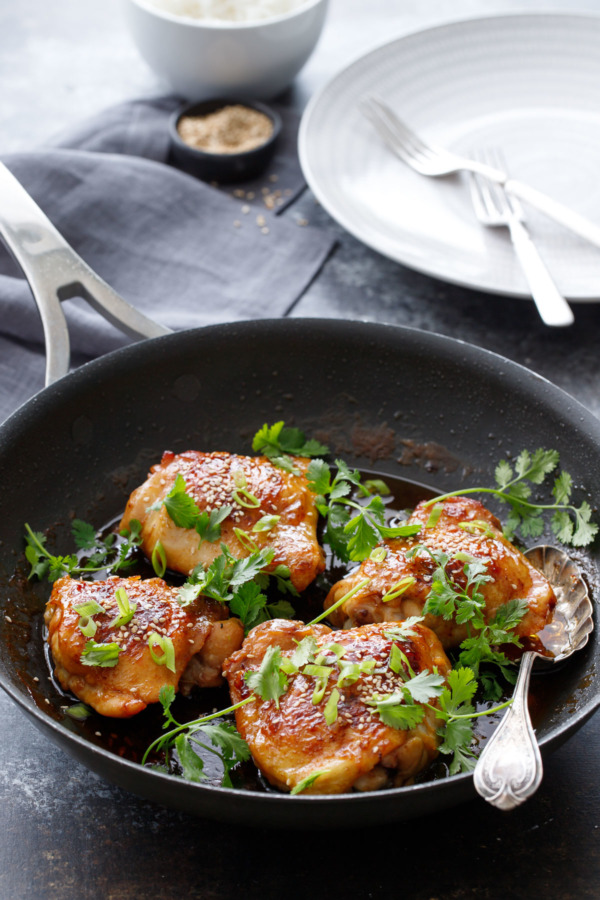 For whatever reason we've always had the hardest time browning chicken. Hot pan, cold pan, low heat or high… our chicken never seems to look as pretty as the pictures. (darn food stylists probably rub the things with motor oil or some shenanigans like that, ha!)
But as we were working on this recipe we unintentionally stumbled upon a fool-proof trick for golden brown pan-fried chicken.
Rub it down with sriracha first.
I assume this works so well because the little bit of sugar in the sriracha sauce helps caramelize the surface of the chicken. But that's just my working theory, I'm no food scientist.
Short story is, it works. And it's delicious to boot.
Topped with a handful of fresh cilantro and served with a side of jasmine rice, this chicken becomes the perfect weeknight dinner.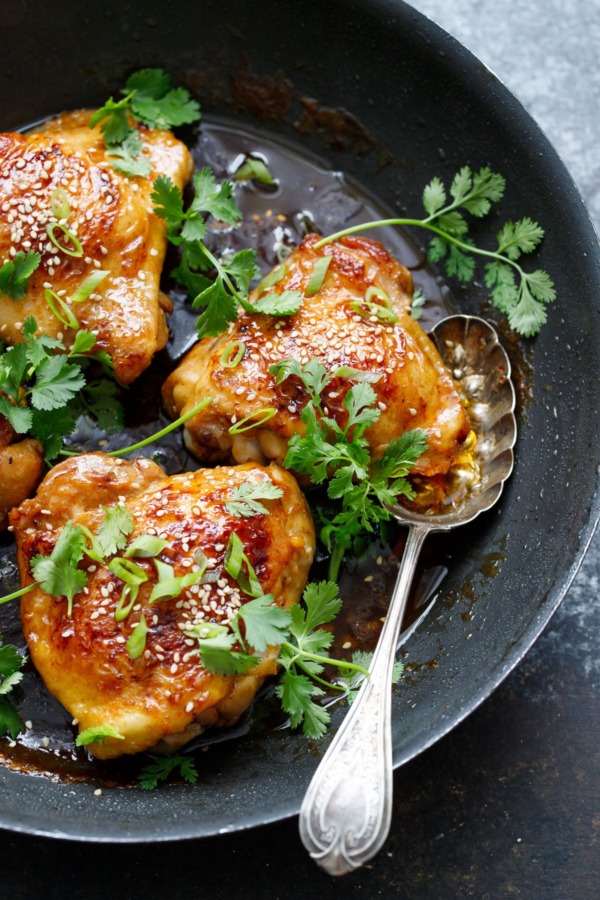 The sauce is the result of Taylor's brilliance: a little bit of honey and sriracha (but not enough that this dish is what I'd consider to be spicy – feel free to up it if you want to feel the heat) plus garlic, ginger, sesame oil and soy sauce. It's lightly sweet and super flavorful.
We've been tempted to cook everything in it lately, from vegetables to tofu, it's really that good!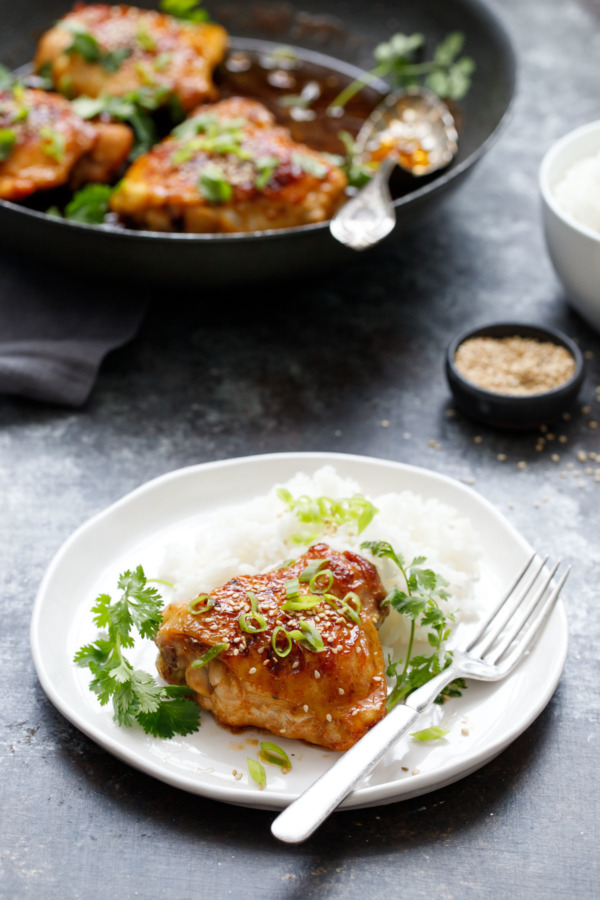 We recommend bone-in, skin-on chicken thighs for this recipe. I know they are a bit more work to eat, but it's worth it in terms of flavor: bone-in is, simply put, better. Not to mention cheaper (more bang for your buck!)
If you do use boneless, skinless thighs they will require less time to cook and will not get quite as golden brown (it's the extra fat in the skin that, along with the sriracha rub, helps the chicken to brown so nicely).
Honey Sriracha Chicken Thighs
Our favorite new chicken thigh recipe, with a sweet and sticky honey sriracha sauce; serve with a side of jasmine rice and top with fresh cilantro, green onion and toasted sesame seeds.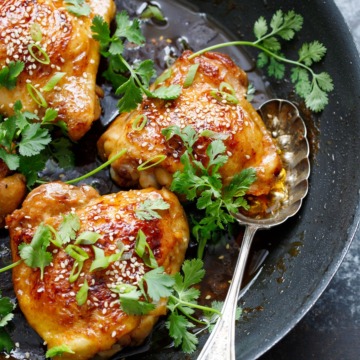 Ingredients:
1/4 cup honey
1 tablespoon soy sauce
1 tablespoon sriracha, divided
1 teaspoon sesame oil
1 garlic glove, finely minced
1/2 teaspoon finely minced ginger
1 tablespoon water
4 bone-in, skin-on chicken thighs
1 tablespoon vegetable oil
fresh cilantro, sliced green onion, and toasted sesame seeds, for garnish
Directions:
In a bowl, whisk together honey, soy sauce, 1 teaspoon sriracha, sesame oil, garlic and ginger. Add 1 tablespoon water and whisk until incorporated. Set aside.
Generously rub both sides of chicken thighs with sriracha.
Heat a large non-stick skillet over medium-high heat. Add vegetable oil and heat until shimmering.
Add chicken thighs, skin side up, and cook for about 5 minutes until bottom is golden brown. Flip and cook another 5 minutes or until skin side is golden brown and starting to crisp.
Add sauce and partially cover; cook for about 10 more minutes until sauce is thickened and bubbly and a thermometer inserted into the thickest part of the largest thigh reads 165 degrees F.
Transfer to serving dishes. Transfer leftover sauce into a small dish and serve alongside chicken. Top with fresh chopped cilantro, green onions, and toasted sesame seeds.
Did you make this recipe?
Let us know what you think!
Leave a Comment below or share a photo and tag me on Instagram with the hashtag #loveandoliveoil.