Classic banana bread gets a bold new 'do, with striking swirls of black sesame-tinted batter and a crispy, sugar crusted top.
It might look like marble rye, but the flavor is banana through and through. The black sesame adds a hint of nuttiness and depth; it's an unexpected pairing with the banana, although if you think about it, peanut butter and banana work so well together, and sesame is just a step away.
I was inspired by some extra ripe bananas and Bon Appetit's Black Sesame Swirl Tea Cake, the main difference here being my cake, er, bread, has bananas in it and thus is perfectly suitable for breakfast (score!)
Ultimately the black sesame swirls are more for dramatic effect, as the sesame flavor is quite subtle in the final product. Although the hint of savory nuttiness adds a little extra something to this recipe, making it more than just an ordinary banana bread.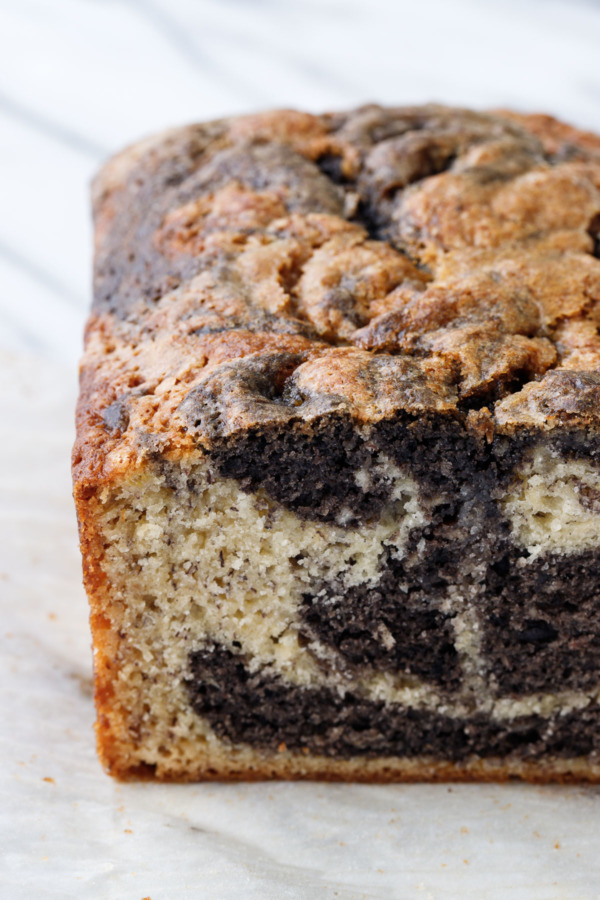 My perfect banana bread is moist but not undercooked, dense and yet still somehow fluffy, with a crunchy top and tender middle and lots of ripe banana flavor.
This one ticks all the boxes and then some.
(Ok, my perfect banana bread usually has chocolate chips in it too, but in this case the sesame swirls are a suitable replacement.)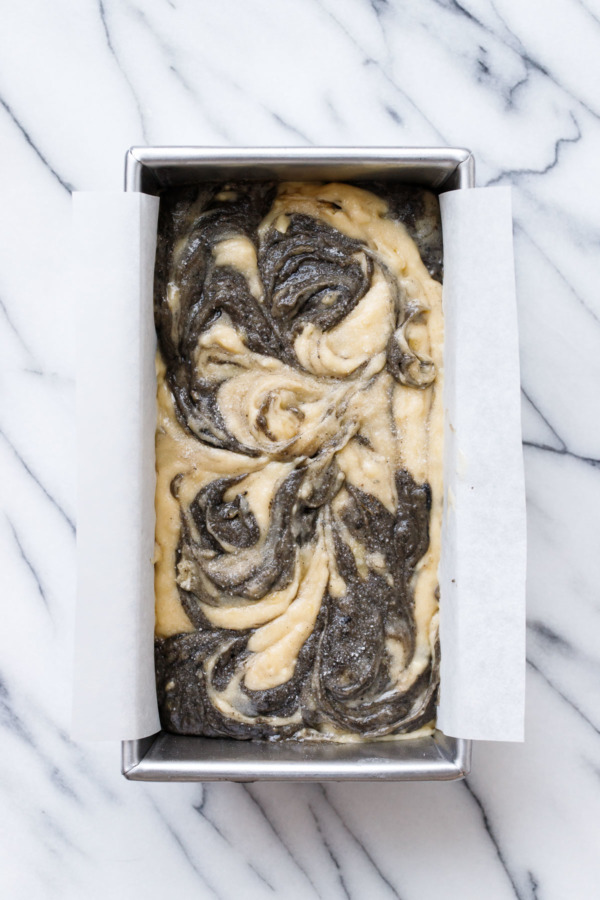 Let's talk about the swirl for a second.
Mine's definitely not perfect, but there are a few tricks to swirling batter.
I used a large cookie scoop to drop dollops of alternating color batter into the pan. Like a checkerboard, essentially.
Then, use a bamboo skewer (a toothpick is too small for this, trust me) to swirl the two colors together. Push the skewer all the way to the bottom of the pan, then make a figure 8 pattern through the batter. Do this only 3 or 4 times, any more than that and the colors will start to get muddled. Less is more.
Sprinkle a bit of sugar on top (and in hindsight, I should've sprinkled some white and black sesame seeds on top as well) and pop her in the oven.
Start testing for doneness after about 35-40 minutes by sticking a skewer or cake tester in the center of the bread – you're looking for moist crumbs clinging to the skewer: not raw batter, but not an entirely clean stick either. The top of the cake will be deep golden brown and quite crunchy, so don't judge doneness by the top alone as it almost looks overdone while the center could still be raw.
Actual bake time may be more or less depending on the pan you use (darker finishes will cook more quickly than lighter ones) as well as the nuances of your particular oven, climate, alignment of the planets, etc.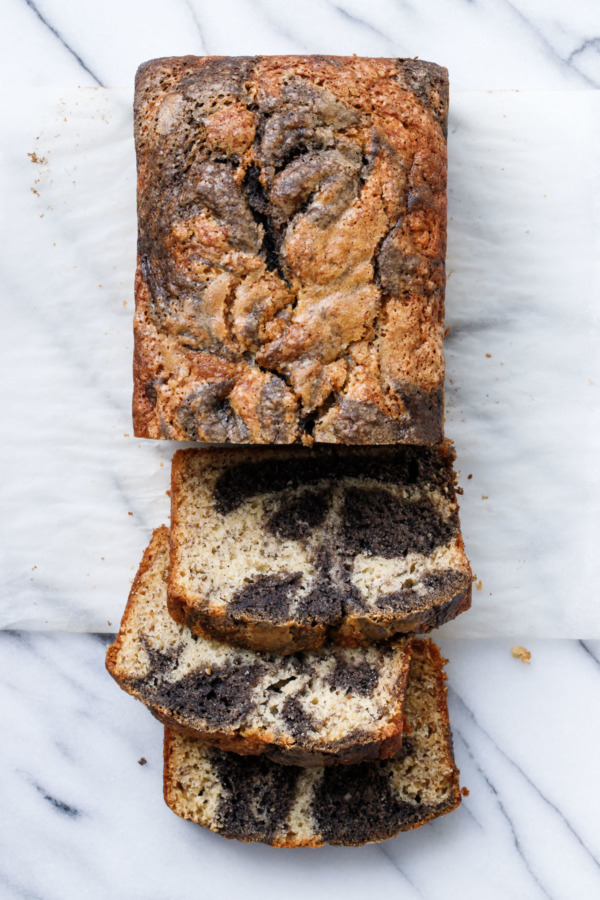 This recipe calls for black sesame tahini or black sesame paste.
You can use regular tahini instead of black tahini which can be tricky to find. But once you mix in the black sesame powder (or finely ground black sesame seeds) the swirls will still be a lovely contrast with the virgin batter, just note quite as deep in color as mine.
Black Sesame Swirl Banana Bread
The perfect classic banana bread with a striking twist: black sesame swirls for a look that's as dramatic as it is delicious.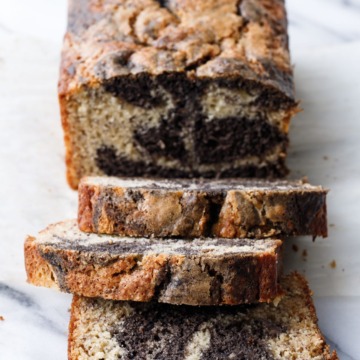 Ingredients:
1 3/4 cups all-purpose flour
1 teaspoon baking powder
1/2 teaspoon baking soda
1/4 teaspoon salt
2 large ripe bananas, mashed
2 large eggs
1/2 cup granulated sugar, plus more for sprinkling on top
1/2 cup packed light brown sugar
1 teaspoon vanilla extract
1/2 cup (1 stick) unsalted butter, melted and slightly cooled
2 tablespoons black sesame tahini
2 tablespoons black sesame powder or finely ground black sesame seeds
Directions:
Preheat oven to 350 degrees F. Butter and line a 9-by-5-inch loaf pan with parchment paper (cut a 9-inch wide strip of parchment and press it into the pan, covering  the bottom and sides, leaving at least a 1-inch overhang on the long edges; it's ok if the short ends are left unlined so long as they are buttered).
In a large bowl, sift or whisk together flour, baking powder, baking soda, and salt and set aside.
Mash bananas in a bowl until mostly smooth (the riper your bananas, the easier they will be to mash). You should have about 3/4 cup. Whisk in eggs, then add sugar, brown sugar, and vanilla and whisk to combine. Finally whisk in butter.
Pour wet ingredients into bowl with dry ingredients and whisk until just incorporated and no streaks of dry ingredients remain. Transfer about half of batter to another bowl; mix in black sesame paste and powder until evenly incorporated.
Drop alternating scoops of batter into prepared pan; swirl with a bamboo skewer 3 or 4 times (don't swirl too much or you'll lose the nice definition between the colors). Sprinkle with granulated sugar.
Bake for about 50 minutes or until a bamboo skewer inserted near the center comes out mostly clean with a few moist crumbs attached. Place pan on a wire cooling rack and let cool. To remove, run a thin metal spatula along the short (unlined) sides of the pan. Use the overhanging parchment to gently lift the entire loaf out of the pan and place on a cutting board to slice and serve. Store in an airtight container at room temperature for up to 3 days.
Did you make this recipe?
Let us know what you think!
Leave a Comment below or share a photo and tag me on Instagram with the hashtag #loveandoliveoil.