These rich and fudgy brownies are swirled with caramelized white chocolate, a miracle of baking science (and, let's face it, part magic) that will please even the white chocolate haters that walk among us.
Buttery, nutty and almost toasty in flavor, the white chocolate swirl becomes delicately crispy on the top of a soft and fudgy brownie, a delightful textural contrast that'll have you reaching for another.
Let me tell you the story of goldilocks and the three brownies. Excuse me, four brownies. And goldilocks in this case is a lovely golden white chocolate that's been caramelized low and slow in the oven.
Anyway, the story. So I probably should have just let well enough alone and used my go-to brownie recipe (a downright perfect brownie recipe that works equally well with melted butter or olive oil), but instead I decided I would try to improve on perfect and started tweaking.
Four batches of tweaking later, we're pretty much back at the beginning.
The first batch was too dense (too fudgy, which I would've said doesn't exist but it turns out it does). Don't worry, I still ate them.
The second batch I went way rogue and mixed in some cream cheese to the white chocolate, going for a filled and swirled effect. Bad idea – the brownie was way too thick and underbaked as a result, though the top was probably the shiniest, crinkliest brownie I've ever made. Oh well. I ate these too.
The third batch was too thin (see: overcompensation for the last batch). But getting closer. You can bet I didn't waste these either.
Finally on the fourth try I managed to produce a thick (but not too thick) and fudgy (but not too fudgy) brownie with a beautifully crackled and swirled top. These brownies rise and fall a bit more than my go-to recipe, likely because of the air that is whipped into the eggs. But you know what that means? The edges are even more delightfully crispy (for you edge lovers) while the center pieces stay decadently dense and fudgy (back off, those pieces are mine).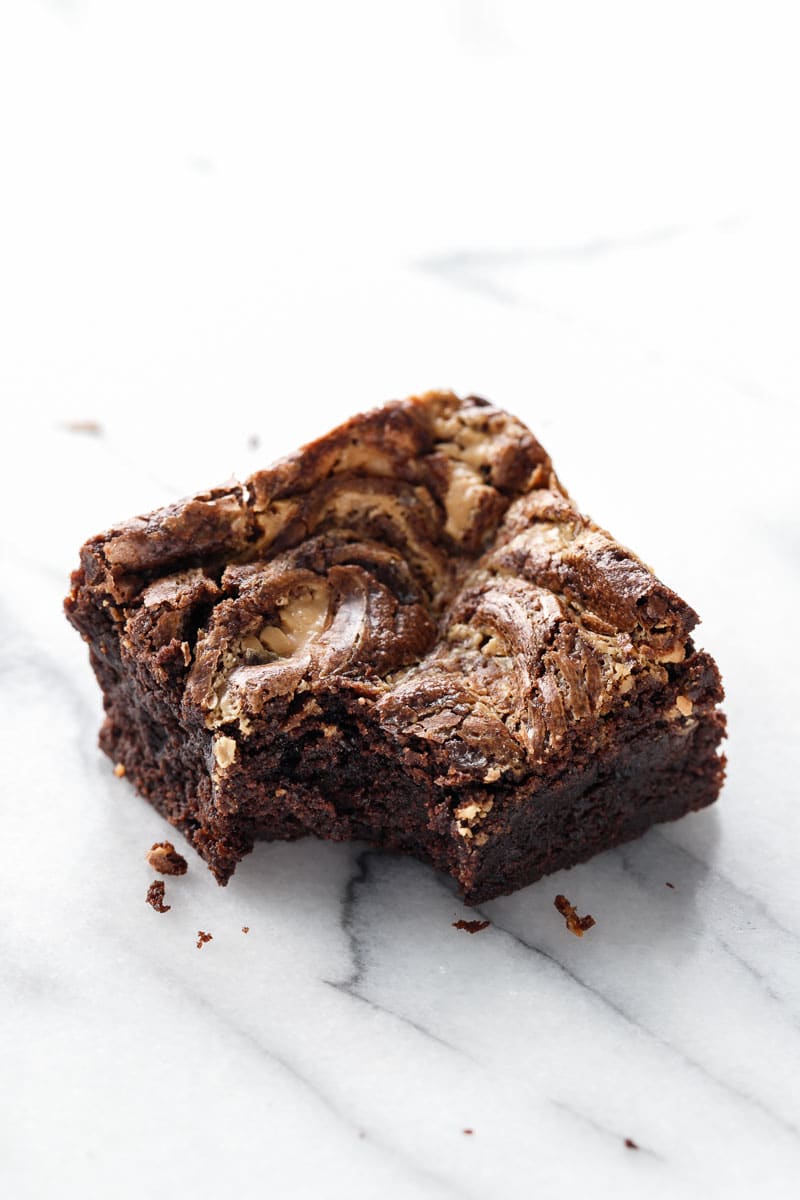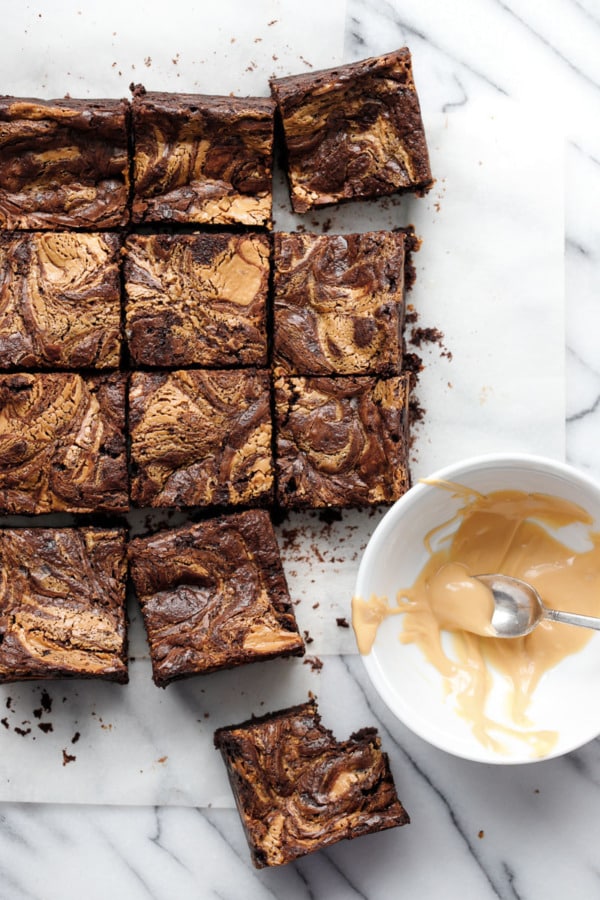 Sure, they look like peanut butter swirled brownies, but don't be deceived. These beauties are swirled with caramelized white chocolate (cue *hearteyes).
I've waxed poetic about caramelized white chocolate before, but just recently 'rediscovered' it. How I managed to forget about it for 3+ years I have no idea, but this time it's here to stay.
It's not a quick process (it takes about 2 hours) but the result is sweet and buttery, slightly nutty and almost toasty in flavor. It's nothing like the boring white chocolate that you so love to hate. Trust me on this one.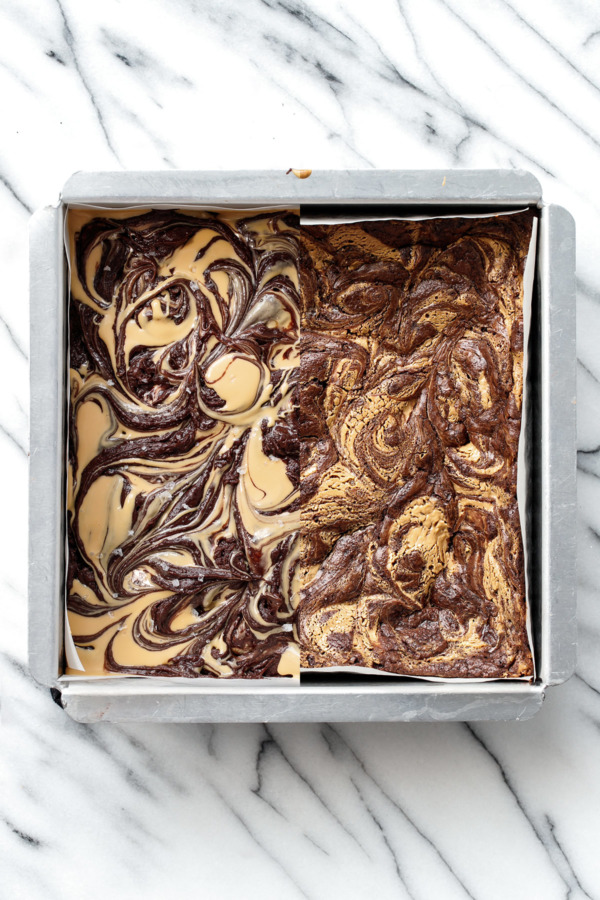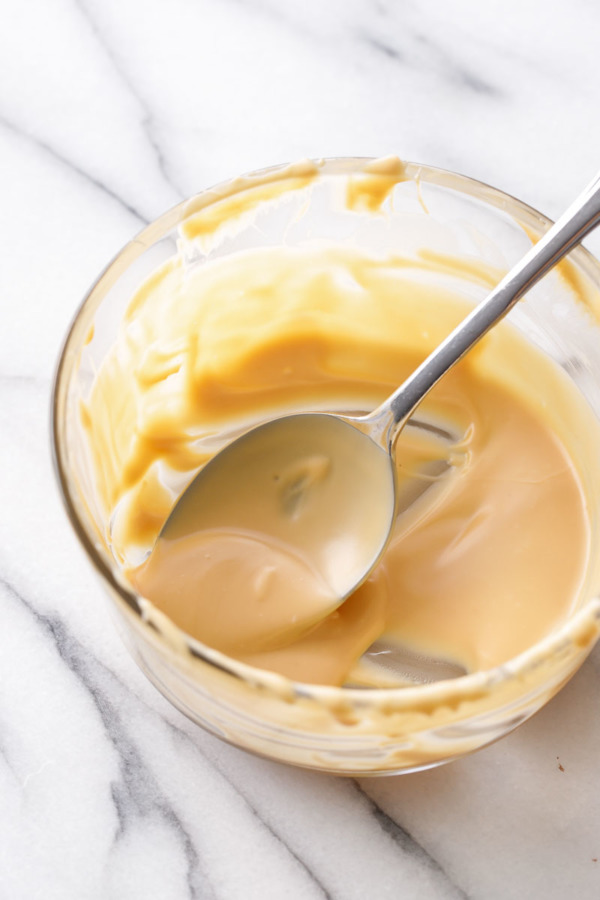 To make it, you cook it low and slow in the oven until the sugars and fats present in the white chocolate caramelize (just like when you caramelize sugar, basically). You can take it as dark as you like, from pale peanut butter to the color of toffee even, but in this case I left it on the lighter side since it'll be going back in the oven with the brownies (I like to describe it as the color of peanut butter frosting).
Note that you MUST use high quality, REAL white chocolate here (I used Callebaut which come in handy callets). The higher the percentage of cocoa butter the smoother it'll melt. Don't try this with 'white baking chips' or any other fake white chocolate coating, it will not work. Look for cocoa butter as one of the first two ingredients, some milk powder and not a whole lot else.
The caramelized white chocolate can easily be made ahead of time. The 3rd batch I made I used a 2 quart glass casserole dish instead of the baking sheet (which turned out to be easier to stir than the cookie sheet, though the total bake time was slightly longer). I did this the night before, it set up overnight, and then in the morning I remelted it in a warm oven until it was smooth once again (I put it in the cold oven, turned it on to 225, and by the time it was fully preheated the chocolate was almost perfectly melted. Then I just bumped the temperature up to 350 to start preheating for the brownies themselves.
Of course, nowadays you can also buy already caramelized white chocolate (Valrhona makes a 'Dulcey' chocolate that is basically the same as what I've made here). If you happen to have some on hand, you're golden (literally). Simply melt 6 ounces worth and proceed with the recipe.
Could you do this with regular old, un-caramelized white chocolate too? Sure. And actually, you'd probably get a bit of caramelization going just by baking it in the oven with the brownies.
When swirled on top of the brownie batter, the caramelized white chocolate bakes into an almost crispy swirl that provides a delightful crunchy contrast to the chewy brownie – an unexpected bonus that I didn't plan on, but most definitely enjoyed.
Can I say, I got impatient here and cut into these brownies about 4 hours after I had baked them. And they were really good. But you know what? They were even better the next day after they had chilled overnight – the texture settles into a rich, fudgy goodness that is really my favorite kind of brownie.
Call me a perfectionist for not being happy with the first batch (or the second or the third for that matter), but I think you'll agree that it was well worth the effort once you taste the final product. :)
Caramelized White Chocolate Swirl Brownies
Rich and fudgy brownies swirled with caramelized white chocolate, providing a toasty and buttery flavor and delicately crispy contrast that'll have you reaching for another.
Ingredients:
6 ounces good quality white chocolate, disks or finely chopped
2 large eggs
1 cup granulated sugar
1 stick (8 tablespoons) unsalted butter
3 ounces dark chocolate (60-70%), finely chopped
1/3 cup (1.5 ounces) all-purpose flour
1/2 cup (1.75 ounces) dutch-process cocoa powder, sifted
1/4 teaspoon salt
1/4 teaspoon baking powder
1 teaspoon vanilla extract
1 tablespoon buttermilk
Directions:
To make caramelized white chocolate, preheat oven to 225 degrees F. Spread white chocolate on an ungreased quarter sheet pan or oven-safe baking pan or casserole dish. Put chocolate in oven for 10 minutes. Remove, and stir. The chocolate might not be completely melted yet buy you want to stir it well to ensure it caramelizes evenly.
Return to the oven for another 10 minutes, then stir again. The chocolate might seem thick or seized when you first start to stir, but it will get smoother and smoother the longer it bakes and the more you stir it.
Continue to bake in 10 minute intervals, stirring well after each, until chocolate is smooth and has caramelized to the color of peanut butter frosting (slightly lighter than straight out of the jar peanut butter). Let cool slightly while you prepare the brownies. (You can make the caramelized white chocolate ahead of time; let cool on the baking sheet (it will set up like chocolate). When ready to use, rewarm in a 225 degree oven for 7 to 10 minutes or just until melted.)
Preheat oven to 350 degrees F. Line an 8-by-8 square baking pan with lightly buttered parchment paper.
In a mixing bowl or the bowl of stand mixer fitted with the paddle attachment, beat eggs together with sugar until thick and pale and falls from the beater in ribbons.
Melt butter gently in the microwave or in a double boiler over low heat. Remove from heat and add chocolate; stir until melted (if necessary you can put it back on the heat for short intervals if the chocolate doesn't completely melt with just the residual heat). Mixture should be slightly warm, not hot to the touch (you don't want to cook the eggs).
In a bowl, whisk together flour, cocoa powder, salt and baking powder.
Mix in beaten egg mixture (no need to be gentle here, we're not after the air, just the shiny meringue that will help make our top shiny and crackly). Stir in buttermilk and vanilla. Sprinkle over dry ingredients and fold until just incorporated.
Pour brownie batter into prepared pan. Drop dollops of caramelized white chocolate over top, then swirl using a bamboo skewer (something a bit larger than a toothpick works well).
Bake for 35 to 40 minutes or until a toothpick inserted near the center comes out with a few moist crumbs attached.
Remove from oven and place on a wire rack; let cool completely (or, even better, let chill overnight for even fudgier brownies) before cutting into squares and serving. Keep covered in the refrigerator for up to 1 week.
Did you make this recipe?
Let us know what you think!
Leave a Comment below or share a photo and tag me on Instagram with the hashtag #loveandoliveoil.