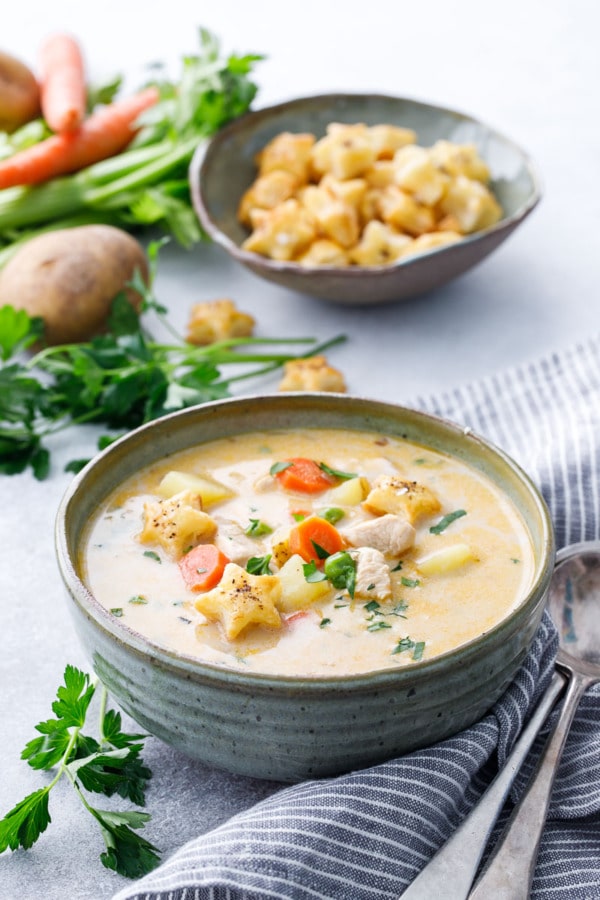 Imagine your favorite chicken pot pie: creamy, rich, and chock full of cubed chicken breast, tender potatoes, carrots and green peas. Now imagine it out of the ramekin and in a soup bowl, slightly thinner but no less creamy, in soup form. Sounds good right?
Trust me, it tastes even better.
Of course, the best part of chicken pot pie is the crust (obviously), which is why I topped this soup with buttery salt and pepper pie crust crackers. They turned out so good I'm giving them their own post… stay tuned later this week for the recipe (plus other flavor variations for sweet AND savory applications!)
(Also, excuse me for a second while I toot my own horn but that bowl up there? I MADE IT. Like, with my hands and a lump of clay. Ok, so out of 30 some odd pieces I made during the 9-week ceramics class I took last term, it was one of the 3 or so that are actually usable, but I'm so dang proud of it and the fact that it was actually usable in a photo I couldn't not say anything.)
Anyway, more about this soup…
How do you keep creamy soups from separating? Pretend like you're making ice cream. Make sure your dairy is at room temperature and your soup base is hot but not quite simmering. And then? Temper your dairy: whisk a bit of the hot soup liquid into the dairy, a spoonful at a time, until it is warm to the touch, then whisk it into the pot with the rest of the soup. This also brings the soup down to a perfect consumption temperature almost instantly, so you don't even need to reheat it (or if you do, just be sure you don't let it boil or the dairy fat might separate).
While there will still be a little bit of fat that will rise to the surface (that's unavoidable), it's a heck of a lot more homogenized than if you added cold dairy directly to hot soup. Trust me on this one and don't skip this step.
The flavor of this soup comes mainly from the stock. Notice I said stock, not broth. If you have homemade chicken stock, you're golden, otherwise, pick up a good quality chicken stock like Kitchen Basics brand or Trader Joe's new chicken stock (which is what we used here, and I was pleasantly surprised with how good it was.).
The soup itself has so much flavor and a lovely thick mouthfeel that you could also leave out the cream if you wanted just a damn good chicken soup without the extra fat. Of course, the cream is what makes it chicken pot pie soup, but it'd still be a lovely soup without it (I just might recommend using 5 cups of chicken stock instead to make up the volume).
Creamy Chicken Pot Pie Soup
This thick and creamy chicken pot pie soup recipe is loaded with chunks of chicken breast, potatoes, carrots and peas and topped with crispy pie crust crackers – it's the soup version of your favorite chicken pot pie!
Ingredients:
2 tablespoons olive oil
2 tablespoons unsalted butter
1 medium onion, finely chopped (about 1 cup chopped)
3 skinny carrots, peeled and sliced into 1/4-inch thick coins (about 3/4 cup sliced)
1 stalk celery, finely chopped (about 1/4 cup chopped)
3 garlic cloves, minced (about 1 tablespoon minced)
1/4 cup all purpose flour
1/2 teaspoon paprika
1 quart chicken stock
1 bay leaf
2 boneless skinless chicken breasts, cut into bite sized cubes
2 medium yukon gold potatoes, cut into 1/2-inch cubes (about 1 cup cubed)
1/2 cup fresh or frozen English peas
1 cup whole milk, at room temperature
1/4 cup heavy cream, at room temperature
1 tablespoon chopped fresh parsley
1 teaspoon chopped fresh thyme or 1/2 teaspoon dried thyme
salt and freshly ground black pepper, to taste
pie crust crackers or oyster crackers, optional for topping
Directions:
If you haven't already, measure out your milk and cream in a 2-cup glass measuring cup or bowl and set aside to come to room temperature.
In a large soup pot or heavy dutch oven, heat butter and olive oil over medium heat until melted and sizzling. Add onion, carrot, celery and garlic and a hearty pinch of salt and pepper and sauté, stirring occasionally, until veggies are softened and onions are starting to brown, about 15 minutes.
Add flour and paprika and stir until flour thickens and evenly coats veggies in a paste-like consistency.
Add broth and bay leaf and bring to a simmer.
Add chicken, cubed potatoes and peas and gently simmer for about 20 minutes or until chicken is cooked through and potatoes are fork tender. Remove from heat.
Temper the milk and cream mixture by ladling about 1/4 cup of hot soup liquid into measuring cup with milk, whisking constantly. Continue to ladle hot liquid, 1/4 cup at a time, until you've added about 1 to 1 1/2 cups and milk mixture is warmed to the touch. Pour into pot with remaining soup and stir to combine.
Stir in parsley and thyme. Taste and adjust salt and pepper as necessary before ladling into soup bowls to serve. Top with pie crust crackers or oyster crackers, if desired. Soup will also keep in the refrigerator for 2 to 3 days or frozen for up to 1 month. Reheat in a saucepan until heated through without letting it simmer.
Did you make this recipe?
Let us know what you think!
Leave a Comment below or share a photo and tag me on Instagram with the hashtag #loveandoliveoil.