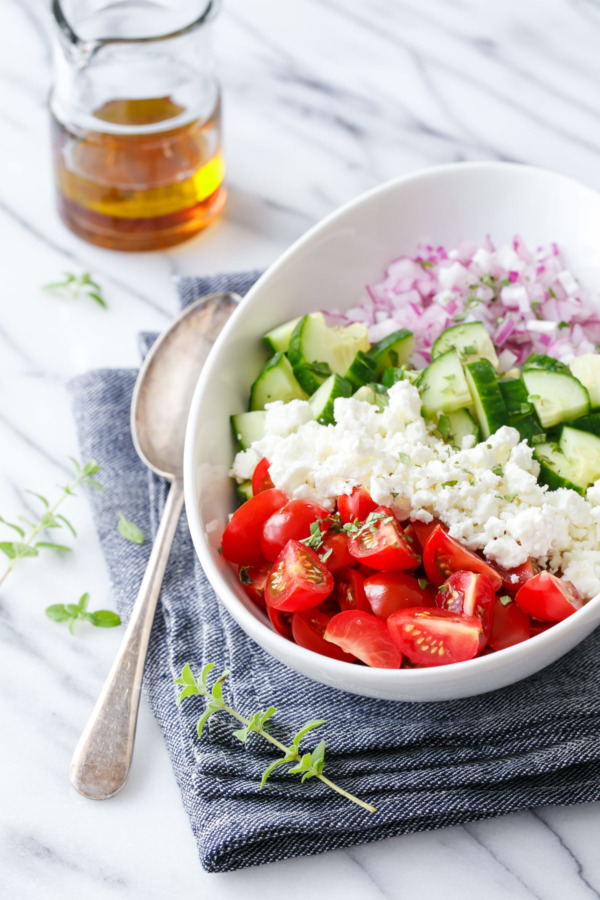 What defines a salad, anyway? Certainly not lettuce, because potato salad, pasta salad, and fruit salad are all most definitely salads.
I was going to say a salad is a cold bowl of "plant matter", which is broad enough to encompass lettuce, fruit, potatoes, and even arguably pasta. But what about tuna and chicken salad? Scratch that.
So, is the dressing the only thing that defines a salad? It must be, because that's the only uniting factor in all these dishes we like to call salads. Of course, there is probably a salad out there that doesn't have a dressing, but at the moment I can't seem to think of one. So we'll go with that. A cold bowl of something with a dressing = a salad.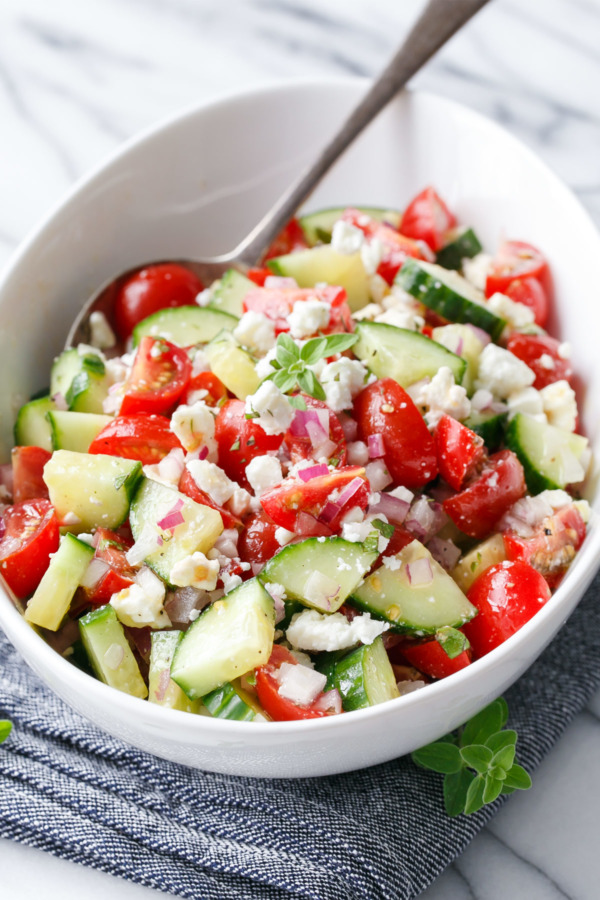 Whatever the official definition, I think even Webster would agree that this is most definitely a salad, despite the lack of lettuce.
Ripe cherry tomatoes, seedless cucumber, thinly sliced red onion, fresh oregano, and a generous sprinkle of crumbled feta cheese, piled into a bowl and tossed with red wine vinegar and olive oil.
A beautifully simple summer salad if I ever saw one!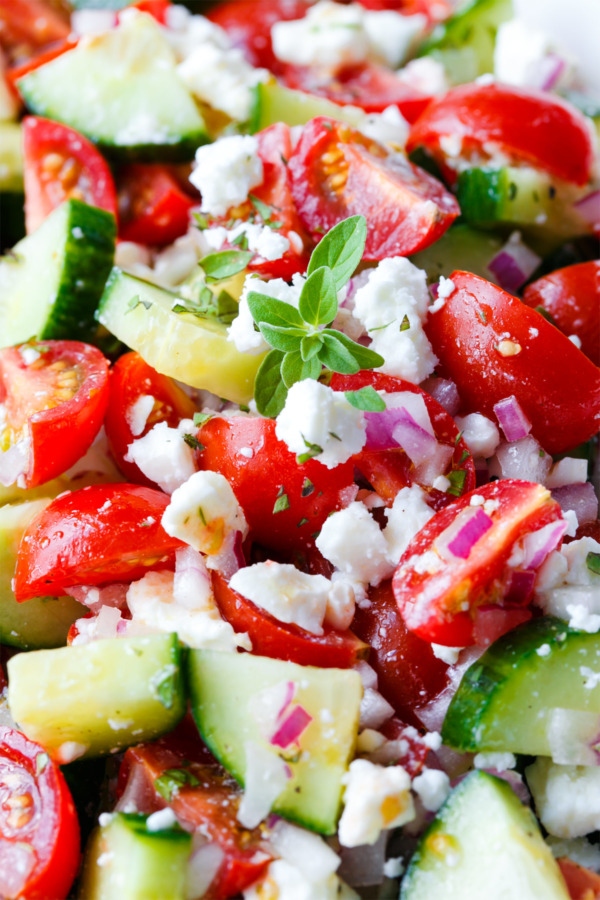 Taylor threw this together based on a salad he remembers eating as a kid. I think we all remember something similar, with only minor differences (onions or no onions? Peppers? I seem to remember peppers in here too).
We served it alongside homemade pizza, but it'd also be great with hot dogs or burgers or sandwiches. Basically, all your summer cookout staples.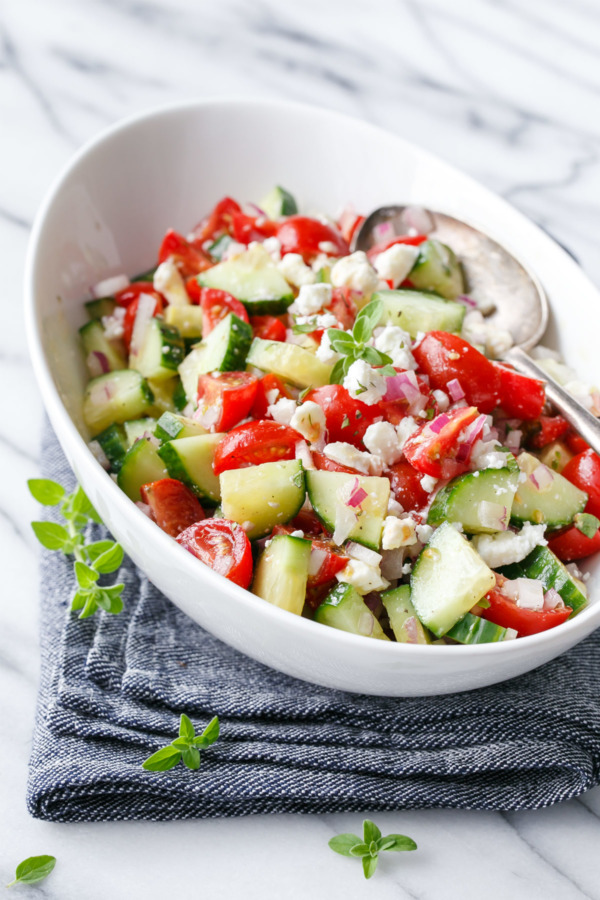 This recipe is perfect for summer cookouts, picnics, or dinners on those hot days where you just don't want to turn on the oven. It comes together in minutes, and can be made ahead of time and refrigerated for 1-2 days before serving (it will get juicer the longer it sits, but the flavors will also further develop and meld, which some might argue is better to begin with).
Tomato & Cucumber Salad
This quick summer salad recipe comes together in minutes, with ripe cherry tomatoes, cucumber, red onion, oregano, and feta cheese.
Ingredients:
8 ounces (1 pint) cherry tomatoes, halved or quartered
1 medium seedless cucumber, sliced and quartered
1/4 red onion, diced or very thinly sliced
1 teaspoon finely chopped fresh oregano
2 tablespoons olive oil
1 tablespoon red wine vinegar
salt and freshly ground black pepper, to taste
2 ounces (1/4 cup) feta cheese, crumbled
Directions:
Combine cherry tomatoes, cucumber, red onion, and oregano in a serving bowl. Pour over olive oil and red wine vinegar, gently toss to coat and evenly distribute ingredients. Season to taste with salt and pepper; sprinkle with feta cheese.
Refrigerate until ready to serve. Salad will keep for up to 2 days, though it does tend to get waterier the longer it sits.
Did you make this recipe?
Let us know what you think!
Leave a Comment below or share a photo and tag me on Instagram with the hashtag #loveandoliveoil.