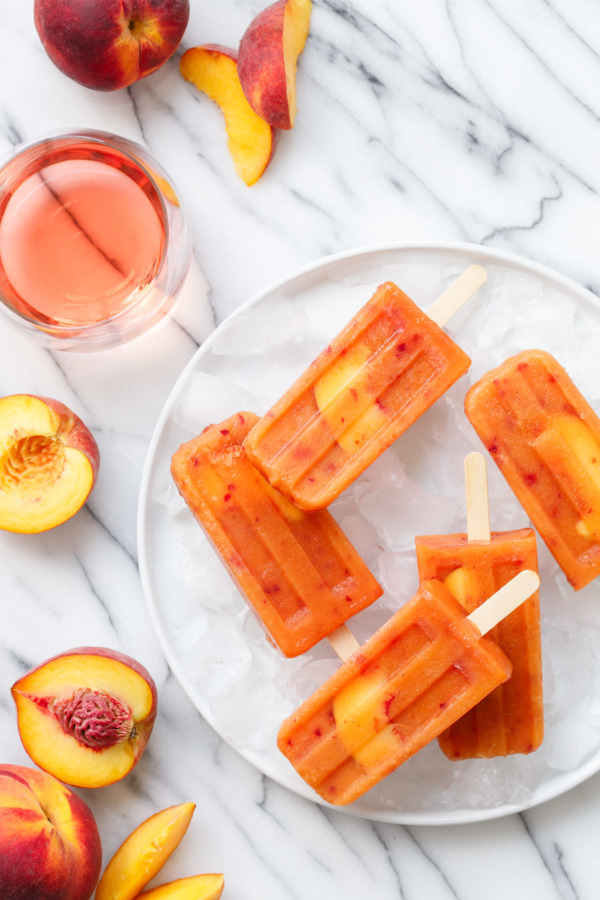 Summertime means peaches, popsicles, and refreshing rosé. I mean, really, those are the only things that make this oppressive heat bearable.
So when the temperature pushes 90 you feel like you need a snorkel just to go outside, well, you best take precautionary measures and indulge in all 3. At once. Preferably while sitting next to a swimming pool. Or sitting inside in the glory of the AC (your choice).
These whole-fruit peach pops taste like a ripe summer peach took a swim in a chilled glass of rosé. With just a touch of sugar to bring out the peach's natural sweetness, and a splash of lemon juice for tartness, you are 4 ingredients away from summertime bliss.
I love my popsicle mold, but the metal lid is basically useless. Sure, it'll 'hold' the sticks in place but it does nothing whatsoever to keep them straight. Instead, I find the best way to get straight sticks is to forget the lid entirely and let the pops freeze for about an hour until the liquid is slightly frozen and thicker than when it started, then position the stick.
Same for the slice of peach: if you put it in at the beginning it'll just sink to the bottom. But once you've basically got a peach slushy, it's thick enough to suspend the fruit fancifully in the middle of the pop.
Just be sure you set a timer, because 2 or 3 hours later… well, what good is a popsicle without a stick? Yeah, pretty useless.
I don't know about you, but I don't have time to peel peaches. Even though it only takes, like, 30 seconds, it's still another step that I just don't feel like doing today.
Especially since it's just a good (if not better) to use the whole dang fruit.
Well, technically it's not the *whole* peach, since I removed the pit.
Technicalities.
Still, I love how these pops look and taste with the skins: the blender pulverizes them enough so they are not a nuisance, but rather just an aesthetic touch on an otherwise solid-orange popsicle. I mean, don't they look just like peach jelly beans? Those speckles are everything.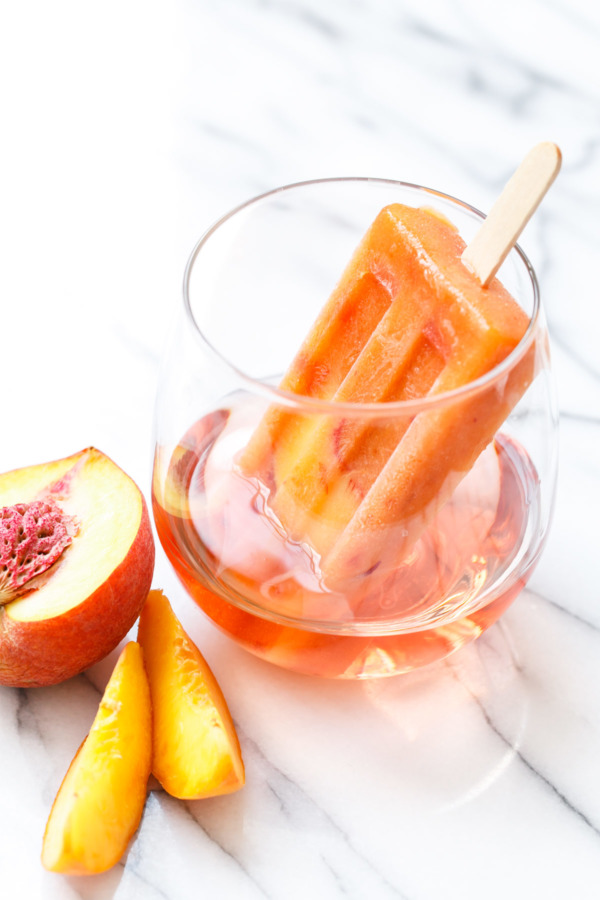 The best way to store your finished popsicles is to wrap them individually in parchment or waxed paper, and then put the wrapped pops in a zip-top bag. This will prevent freezer burn and keep the pops from absorbing the flavors floating around the freezer and keep your pops tasting fresher, longer.
Not that these will last that long, anyway, but still. Good to know.
Peach Rosé Popsicles
Boozy whole fruit peach popsicles made with rosé wine – the ultimate frozen summer treat!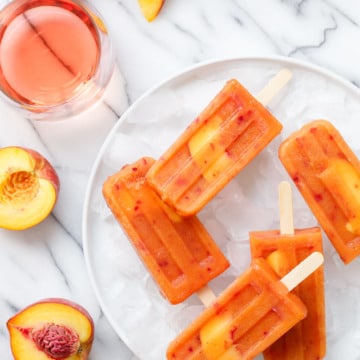 Ingredients:
4 medium peaches (about 1 1/4 pounds), pitted and coarsely chopped (about 4 cups chopped)
1 tablespoon lemon juice
2 tablespoons granulated sugar
1 cup rosé wine
1 medium peach, pitted and sliced, for garnish (optional)
Directions:
In a blender, combine peaches, lemon juice, and sugar. Pulse until smooth and no large chunks remain. You should end up with approximately 2 1/2 to 2 3/4 cup of peach puree.
Add rosé and blend until smooth.
Pour into pop molds, leaving about 1/2-inch of free space at the top for expansion. Freeze for 1 hour (set a timer so you don't forget).
After 1 hour, pop should be thickened and slightly slushy, but not completely frozen. At this point you can place a slice or two of peach down into the pop, positioning it against the side and towards the bottom with a stick. Insert sticks; the liquid should be thick enough the sticks should stay in position on their own.
Freeze overnight until solid.
Run molds under warm water until pops slide free. Arrange on a parchment-lined baking sheet, or wrap pops individually in parchment or waxed paper and place in a zip-top bag for frost-free storage.
Did you make this recipe?
Let us know what you think!
Leave a Comment below or share a photo and tag me on Instagram with the hashtag #loveandoliveoil.