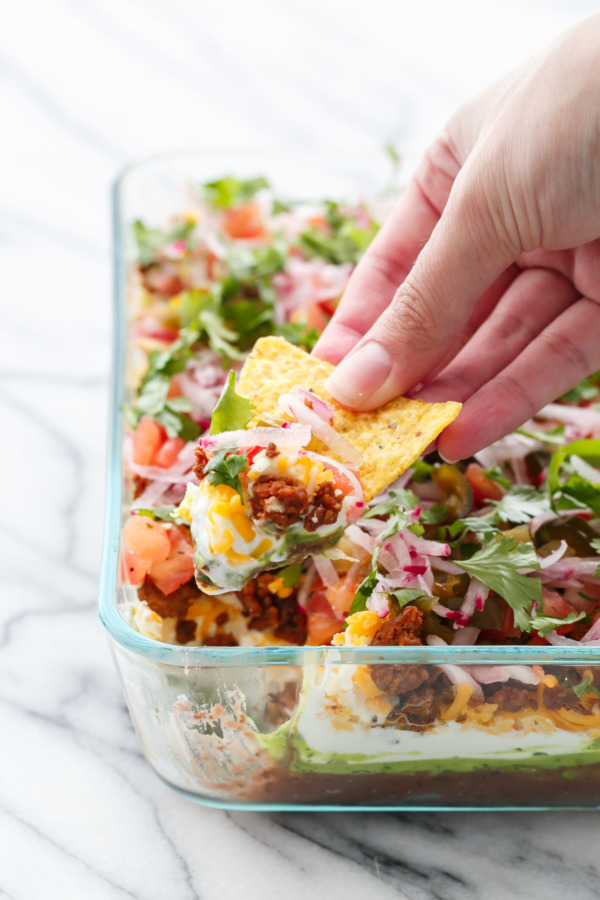 What's a party without dip? Not a very good party, if we're being honest.
If you think about it, every culture has contributed their own version of chips and dip to the American culinary playbook, from Italian artichoke dip to Middle Eastern hummus and pita. But I'd argue that Mexico has definitely given us our all-time favorite dips, from salsa to guacamole to bean dip. And this party-friendly recipe combines them all into a single, beautifully layered pan of awesome.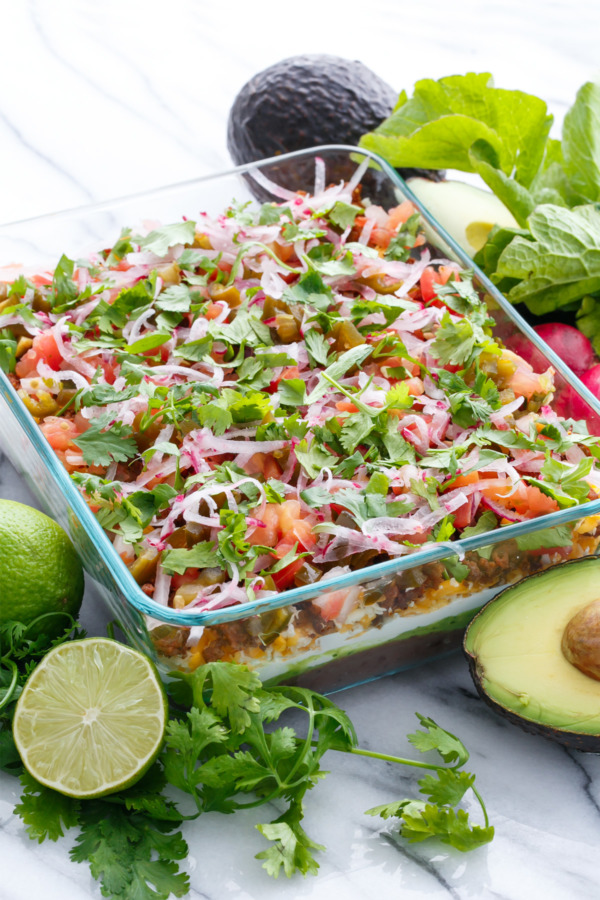 We created this summery twist on a party favorite featuring KitchenAid's newest attachment: the Fresh Prep Slicer/Shredder. Because, let's admit it, pre-shredded cheese is kind of gross, and shredding it yourself in large quantities is a royal pain. But this attachment is, quite simply, beautiful. To put it in perspective, I shredded about a cup of cheese using this attachment in, oh, 15 seconds, without sacrificing my knuckles in the process. It also crumbled the cotija cheese AND shredded the radish using the same blade. Brilliant!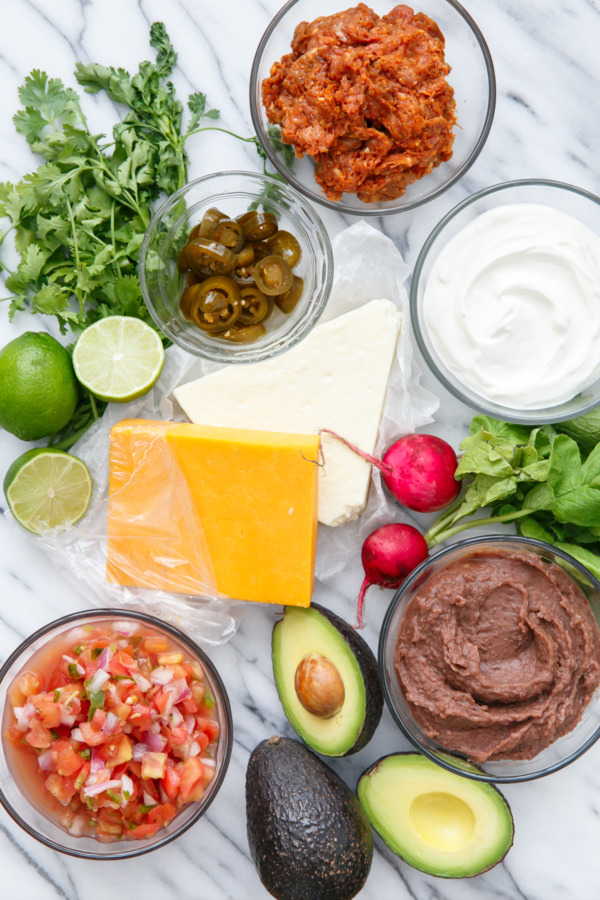 Technically, if you counted each and every ingredient here as a layer, it's actually 9-layer dip; 10 if you counted the two varieties of cheese as separate layers. But 10 Layer Dip just sounds pretentious, so we're going to stick to 7 and call it a day. A delicious, dip-filled day.
Look at those beautiful layers!
Beans. Guacamole. Sour cream. Two kinds of cheese. Chorizo. Pico de Gallo. And garnished with pickled jalapeño, fresh cilantro, and shredded radish.
Which layer is YOUR favorite?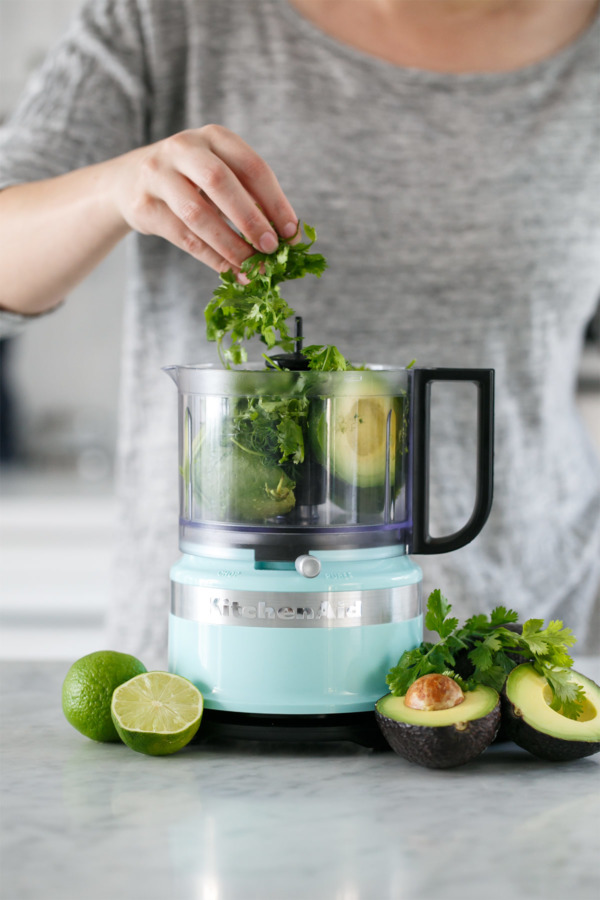 Me, well, I'm partial to the guacamole, which we've packed full of tangy cilantro and a generous squeeze of lime. It's tangier than the kind of guacamole I'd make to serve with chips, but in the dip the tanginess is the perfect compliment to the other flavors and textures.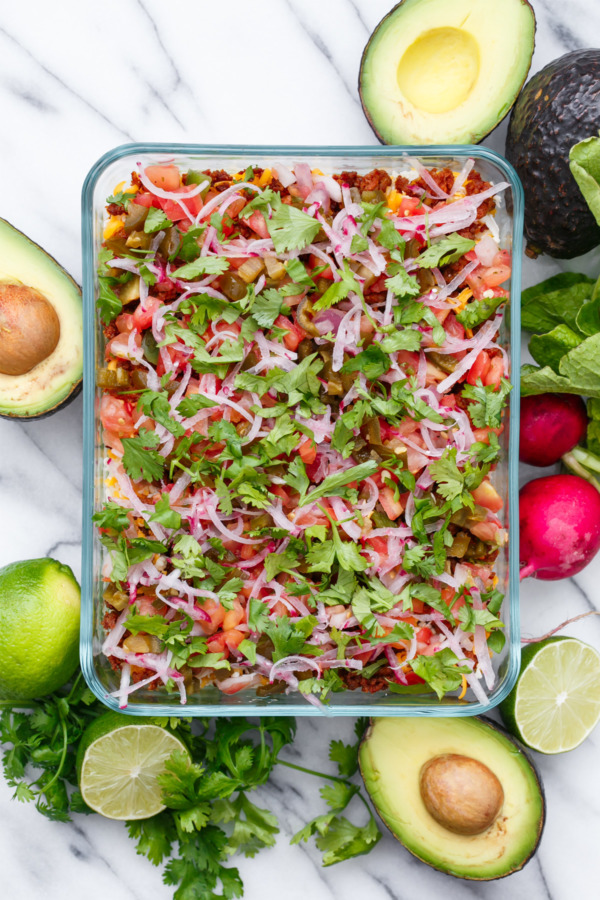 I've seen more than one recipe for 7 Layer Dip served in deep bowls or glass trifle dishes. While, sure, it makes for a pretty presentation, to me the best part of this recipe is when you get that perfect scoop with a little bit of each ingredient on a single chip… something that's simply impossible with a deeper dish. For that reason I recommend using a shallow glass dish so you can see all the pretty layers and actually scoop up all those layers without having to dunk your hand up to your knuckle.
I used a 2-quart casserole here (about 6-8 servings worth), but you can easily double the recipe and make a full 13-by-9-inch pan instead.

This recipe was originally created in partnership with KitchenAid®. All opinions are my own.
Mexican 7 Layer Dip
Layered with 7 (ok, 10) delicious layers including cilantro lime guacamole, two kinds of shredded cheese, and spicy chorizo, this dip is sure to be your new party favorite!
Ingredients:
1/3 pound fresh pork chorizo
2 ripe avocados, pitted
1/3 cup packed fresh cilantro, plus more for garnish
1 tablespoon lime juice
pinch of salt, to taste
2 ounces cheddar cheese (1/2 cup shredded)
2 ounces cotija cheese (1/2 cup crumbled)
3/4 cup refried black beans
1 radish, shredded
3/4 cup sour cream
3/4 cup pico de gallo, drained if watery
1/4 cup chopped pickled jalapeños
Directions:
Cook chorizo in a skillet over medium-high heat until browned and slightly crispy, breaking up the meat into small crumbles. If your chorizo is particularly dry, it may help to add a tablespoon or so of vegetable oil to help it get nice and crisp. Set aside and let cool.
To prepare guacamole, place avocados in a food processor along with cilantro, lime juice and salt. Pulse until smooth and creamy.
Shred cheeses using your KitchenAid® Fresh Prep Slicer/Shredder attachment and the coarse shredding blade. Clean out any stray bits of cheese, then shred radish using the same blade. Spread radish out on a paper towel to drain.
To assemble dip, spread black beans in the bottom of a 2 quart casserole dish (approximately 11×7" in size). I recommend using a glass dish so you can see all the pretty layers.
Spread guacamole on top, followed by sour cream.
Sprinkle with shredded cheeses, then top with cooled chorizo and drained pico de gallo. Finally, top with chopped pickled jalapeños, shredded radish, and additional chopped cilantro for garnish.
Dip can be covered and refrigerated for up to a day before serving. Serve cool or at room temperature.
Did you make this recipe?
Let us know what you think!
Leave a Comment below or share a photo and tag me on Instagram with the hashtag #loveandoliveoil.