Way back in 2011 I made some "Stanley Cup-cakes" to celebrate the Nashville Predators making it to the 2nd round of the playoffs for the first time in franchise history. I was a bit premature in my excitement, however, as we lost shortly thereafter and didn't make it to the conference finals. Nor did we ever make it past the 2nd round in the years that followed, either.
Until now.
Indeed, the Nashville Predators, ranked 8th in our conference and 16th overall (we made it to the playoffs by the skin of our necks, essentially), the team that not one of the experts predicted would make it past the first round… not only did we make it to the conference finals, but we won the conference finals, and now we're 4 wins away from the Stanley Cup coming home to Nashville. I mean, we've already beaten the Blackhawks, the Blue(bird)s, and the Ducks… what's one more bird to a saber-toothed tiger? Ha! (Also, I find it pretty awesome and perfect that my home team's mascot is basically a big cat.)
Needless to say, I think now is an appropriate time to bust out the Stanley Cupcakes, don't you agree?
Nashville has gone hockey crazy. For the first time this season, every home game was sold out, the stands packed to capacity with insanely loud, gold-garbed, catfish-throwing fans. Tickets for the finals are so in demand that Bridgestone arena could hold 50,000 people and still sell out. It's insanity. Let's just say if you're not a season ticket holder you better have deep pockets because those things are not easy to come by (it'd be cheaper to fly to see the Preds play in Pittsburgh than shell out thousands for a home game). Crazy, yes, and frustrating that local fans can't get reasonably priced tickets, but also kind of awesome that this hot and humid football-loving town has embraced hockey so fully. I love it.
But let's talk about these cupcakes for a bit (because I'm sure many of you could care less about hockey or, worse, are rooting for the Penguins) but I think we can agree that we're all on the same page when it comes to cupcakes.
I knew I'd be decorating these cupcakes in Preds gold, and wanted a flavor to match the color. I did lemon-blueberry before; this time, banana seemed like a good choice. Nay, a great choice.
But not just any banana… double banana. Banana cake with a fluffy banana mousse hidden inside. I guess I could have done banana buttercream too but I think there is, believe it or not, such a thing as too much banana.
The cake itself isn't dense like many banana cakes. I used bleached AP flour and just enough banana to infuse it with flavor, but not enough to make it dense like banana bread. This is most definitely cake. Not bread, not muffin… tender, delicate banana cake.
I filled them with an equally light banana mousse that is super easy to make (simply fold whipped cream into some pureed banana… though I added a bit of gelatin for stability, if your cupcakes won't be sitting out for a long time you can certainly leave that part out). I considered doing banana pudding, but the time to make homemade pudding filling and my tragic lack of vanilla wafers steered me in a different direction.


When filling the cupcakes, I found a 1″ round cookie cutter to be the perfect tool. Twist and press the cutter down into the cupcake, then twist and pull to remove the plug. You may need to dig out a bit with a knife, as the cake is so tender it often doesn't come out in one piece.
Those plugs make great husband snacks, btw, so don't throw them away!
From there you fill the cavities with the banana mousse, then chill while you make the buttercream.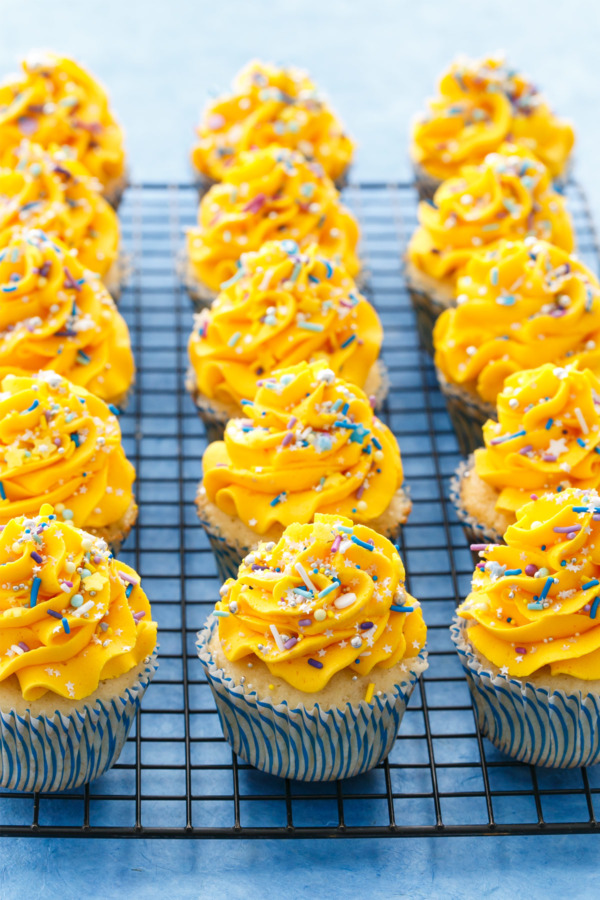 As for specific supplies, I used these blue striped cupcake wrappers. The frosting is colored with Americolor Lemon Yellow with a few drops of orange, plus some yellow powdered food color I got in France (I wanted a really rich yellow color and liquid food coloring just doesn't quite cut it on its own) and piped with a Wilton 1B tip. The gorgeous sprinkles are from Sweetapolita.
Preds fans: I'm thinking the more of us that make these cupcakes, the sweeter our luck will be. You don't even have to make these cupcakes specifically, any flavor will do as long as they are good and gold! (Be sure to share with me if you do make them!) Let's win this thing! GO PREDS!
Banana Cupcakes with Banana Mousse Filling
Light and tender banana cupcakes filled with a cloud-like banana mousse, topped with fluffy vanilla buttercream.
Ingredients:
For Cupcakes:
1 1/2 cups (6 3/8 ounces) all-purpose flour
1 teaspoon baking powder
1/4 teaspoon kosher salt
1/2 cup (1 stick) unsalted butter, room temperature
3/4 cup granulated sugar
2 large eggs, at room temperature
1 large ripe banana, mashed (about 1/2 cup mashed)
1 teaspoon vanilla extract
1/2 cup whole milk
For Banana Mousse Filling:
1/4 teaspoon unflavored gelatin
1/2 cup heavy whipping cream
2 tablespoons granulated sugar
1 large ripe banana, mashed (about 1/2 cup mashed)
For Frosting:
1 cup (2 sticks) unsalted butter, preferably cultured, at cool room temperature (in warmer months I'd recommend substituting at least 1/4 cup of butter with vegetable shortening for stability).
2 to 3 cups powdered sugar, or as needed
1 to 3 tablespoons heavy cream, as needed
1/2 teaspoon vanilla extract
food coloring (optional)
Directions:
Preheat oven to 350 degrees F. Line a muffin pan with paper liners.
In a bowl, whisk together flour, baking powder and salt and set aside.
In a large mixing bowl or the bowl of a stand mixer, beat buttter and sugar on medium/medium-high speed until light and fluffy, 2 to 3 minutes. Add eggs, one at a time, mixing well after each addition. Mix in mashed banana and vanilla and mix until combined, scraping down the sides of the bowl as needed.
Add half of dry ingredients to mixing bowl, mixing on low speed until almost incorporated. Drizzle in half of milk while the mixer is going on low speed. Add remaining dry ingredients, followed by remaining milk, mixing until just combined and no streaks of flour remain. Scoop a scant 1/4 cup (or use a large cookie scoop) into cupcake liners, filling each cavity about 2/3 full.
Bake for 18 to 20 minutes, until edges are lightly golden and a toothpick inserted near the center comes out clean. Transfer pans to a wire cooling rack for 10 minutes, then remove cupcakes from pans to cool completely. Once cool, use a 1-inch circle cutter to core the cupcakes about 1″ deep in the middle. Discard cores (chef's snack!)
To prepare mousse, sprinkle gelatin over 1 tablespoon cold water in a small dish and set aside to soften.
In a chilled mixing bowl or a metal bowl of a stand mixer fitted with the whisk attachment, beat cream until frothy and thick. Slowly sprinkle in sugar and continue beating until cream holds  medium-stiff peaks (careful not to overbeat it or you'll end up with butter).
Puree banana in a blender or food processor or, if it is really ripe, just mash well until no large chunks remain. Just don't do this until the very last minute to prevent the banana from browning.
Briefly warm gelatin in the microwave (cook for about 5 seconds on high speed) until melted, then combine with banana in a mixing bowl. Add about half of whipped cream and fold to lighten mixture. Add remaining whipped cream and fold until evenly incorporated. Transfer to a piping bag fitted with a large round tip and pipe filling into centers of cupcakes until it is flush with the top. Refrigerate cupcakes while you prepare the buttercream.
For frosting, in a large mixing bowl, beat butter on medium-high speed until smooth and fluffy, 2 to 3 minutes. Add powdered sugar, 1/2 cup at a time, mixing well after each addition. As frosting thickens, add a few tablespoons of cream if needed. Depending on the temperature and consistency of your frosting, continue alternating additions of cream and powdered sugar, until frosting is light and fluffy. In warmer months you may not need any cream at all, just use your judgement here. Add vanilla and food coloring and beat until evenly incorporated. Spread or pipe onto cooled cupcakes; top with sprinkles, banana chips, or other decorations, as desired.
Did you make this recipe?
Let us know what you think!
Leave a Comment below or share a photo and tag me on Instagram with the hashtag #loveandoliveoil.