Holiday baking season is upon us, and that means the eternal search for recipes that meet a specific set of criteria (the holy trinity, if you will). In short, the best holiday baking recipes are:
Simple.
Portable.
Make-ahead-able.
Think about your favorite holiday dessert recipes, cookies or otherwise. Are they best fresh out of the oven? Do they start to go dry the next day? Do they involve multiple parts and pieces and layers? Will they sink or shatter or smush with a single bump in the road? I know many of my favorite recipes fall into one or more of these pitfalls, which are surprisingly hard to avoid.
This is not one of those recipes.
Instead, this recipe is dead easy. You don't even have to dollop out individual cookie balls. It travels well, being flat in shape and sturdy in nature. And it is just as good, just as soft and tender and flavorful, days later, or even frozen weeks ahead of time (that is the definition of make-ahead-able).
Indeed, these Cranberry Almond Shortbread bars are everything you've ever wanted in a cookie, and more.
Soft and buttery.
Bright and fruity.
Sweet and zesty.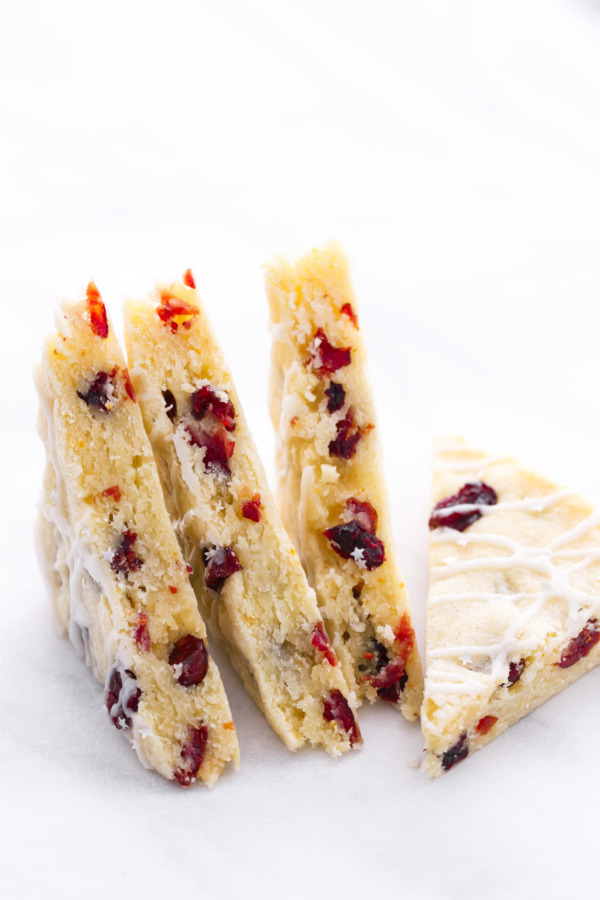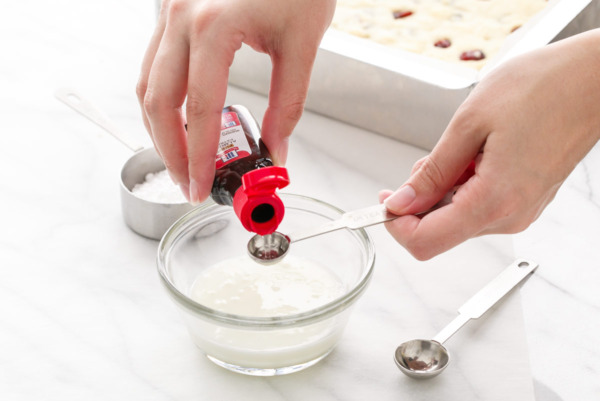 The tender shortbread cookie is scented with McCormick® Pure Almond Extract as is the glaze (so almond lovers, rejoice). There's also some vanilla in there too (and almond haters, know that you can simply swap the almond extract for even more vanilla if you'd prefer).


This shortbread's other secret is that it is made with dried Valencia Orange Peel. Again, simplicity rules here, you don't even have to zest an orange. The dried orange peel gives the final cookie a subtle citrus zing that helps cut the sweetness and accent the acidity of the cranberries (we all know that cranberry and orange are a natural pairing).
When it comes to dried orange peel, just make sure your bottle is fresh. If it's more than a year old, it will have lost much of the volatile oils that give the orange it's flavor. You may as well be putting ground up bits of corn for all the flavor you'll get. But a fresh bottle of dried orange peel, especially a good quality orange peel like McCormick Gourmet™, is nearly as aromatic as a freshly zested orange, robust and fragrant and vibrantly orange in color.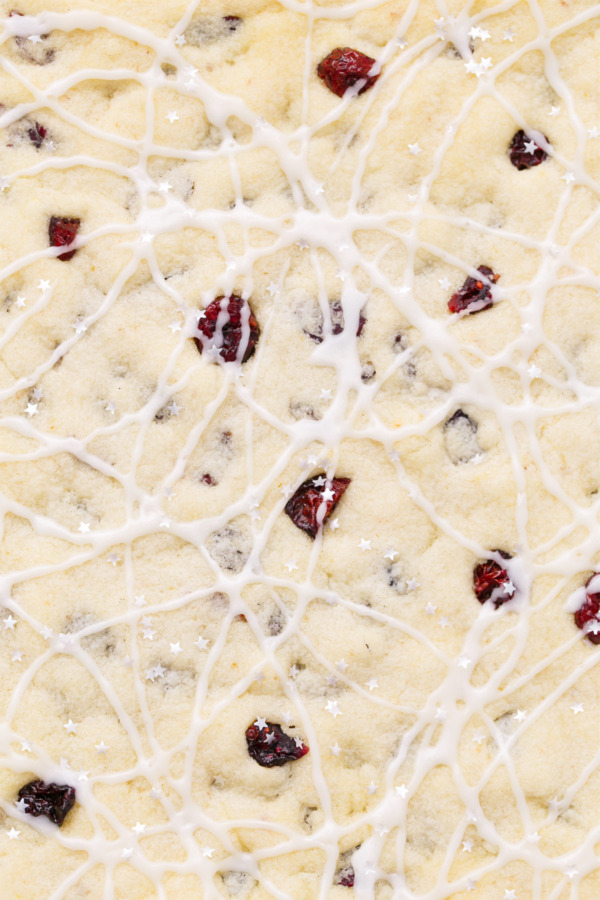 While I added an artful drizzle of glaze, the shortbread cookie stands strongly on its own as well, so feel free to make it without the glaze if you prefer. But I thought the glaze made the bars even more festive looking, especially with the addition of the edible silver glitter stars (because you can never have too much glitter).
Cranberry Almond Shortbread Bars
Tender orange and almond scented shortbread studded with cranberries.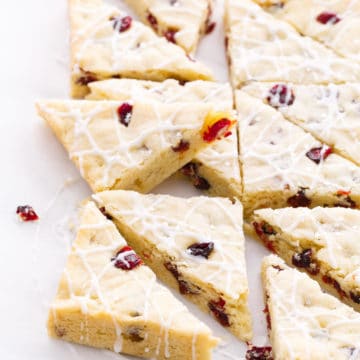 Ingredients:
For Shortbread:
1/2 cup (1 stick) unsalted butter, room temperature
3/4 cup granulated sugar
1 large egg
1 teaspoon dried Valencia orange peel (or use 2 teaspoons finely grated fresh orange peel)
1/2 teaspoon pure vanilla extract
1/2 teaspoon pure almond extract
1/2 teaspoon kosher salt
1 1/2 cups (6.75 oz) all-purpose flour
3/4 cup dried cranberries, coarsely chopped
For Glaze:
1 cup powdered sugar, sifted
2 teaspoons milk or cream
1/4 teaspoon pure almond extract
Directions:
Preheat oven to 350 degrees F. Line an 8-by-8-inch baking pan with parchment paper.
In a large mixing bowl or the bowl of stand mixer, beat butter and sugar together until light and fluffy. Beat in egg, followed by orange peel, almond and vanilla extracts, and salt, scraping down the sides of the bowl as needed. Add flour and mix on low speed until mostly incorporated, then add cranberries and mix until evenly distributed.
Press dough into prepared baking pan in an even layer. The dough is quite sticky, so it might help to lightly flour your fingertips so they don't stick to the dough; you can also use a piece of plastic wrap to help you press the dough into an even layer in the bottom of the pan.
Bake for 28 to 30 minutes or until top is puffed and matte in finish and the edges are just starting to turn a very light golden brown. Remove from oven and place on a wire rack to cool.
For glaze,  sift powdered sugar into a bowl. Add milk or cream and whisk until smooth; whisk in almond extract. If necessary you can add a bit more cream or powdered sugar as needed to acheive desired consistency. Drizzle over top of shortbread, then cut into squares or triangles. Cookies will keep in an airtight container for up to 5 days.
Did you make this recipe?
Let us know what you think!
Leave a Comment below or share a photo and tag me on Instagram with the hashtag #loveandoliveoil.
Disclosure: This recipe was created in partnership with McCormick®/McCormick Gourmet™. As always, all opinions written are purely our own. We're incredibly grateful for opportunities like these that allow us to continue sharing delicious recipes with you, so thank you for supporting us and the brands we love.