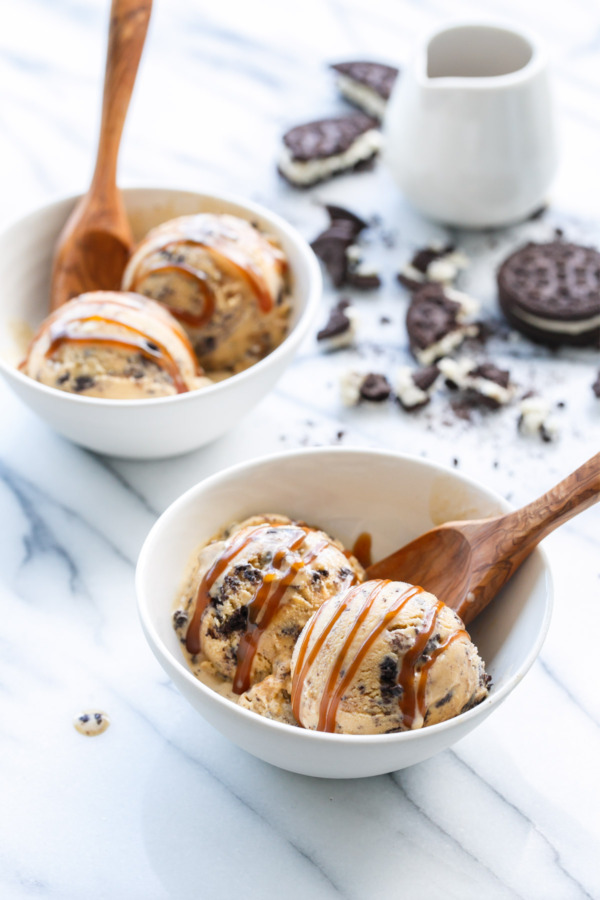 Salted caramel meets cookies and cream.
For those times when you simply can't decide (which is me, like, every day).
No, really, though. I feel like I'm getting worse about making decisions the older I get (am I getting pickier? I must be). For example, 10 years ago we pretty much decided to move across the country on a whim after Taylor heard a really good country song at the gym. It was barely even a decision. Now? I'll spend two weeks deciding on a new duvet cover. It's bad, you guys. I hate this about myself but I'm not quite sure what to do about it.
For now, however, I'll put my pending-decisions aside and dig into this ice cream.
Because to ice cream or not to ice cream is not a question that warrants a decision.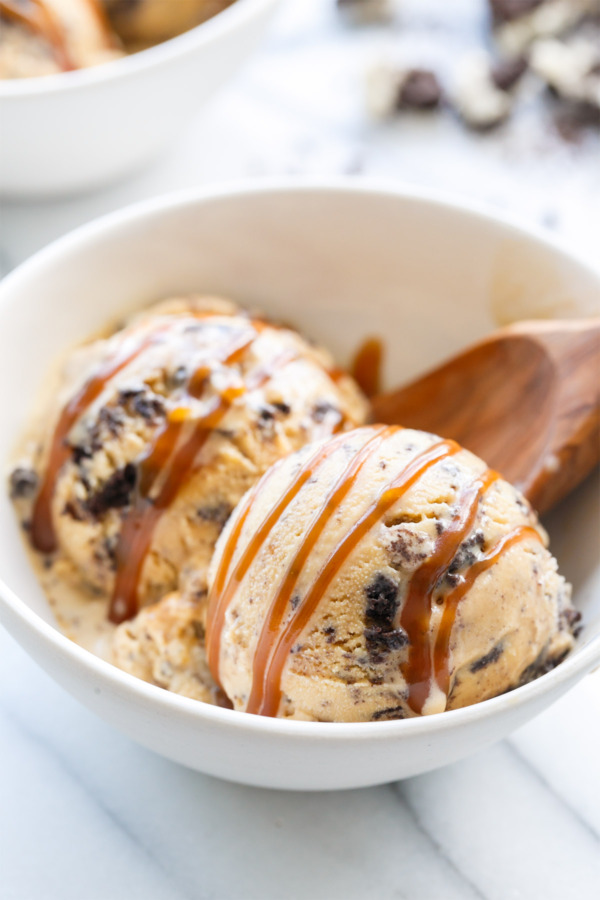 I debated whether I wanted a caramel ice cream with cookies, or a vanilla ice cream with caramel swirls and cookies.
Ultimately, I decided (once again, my decision-making disability does not apply in cases that involve ice cream, apparently) to do both: caramel ice cream with caramel swirls AND cookies.
You start by making a homemade salted caramel sauce, lots of it. Set some of this aside (for swirling/drizzling/devouring later) and the rest gets thinned with milk and tempered with eggs, transforming into the base of the ice cream.
That alone would make for an awesome salty caramel ice cream, but I went one step further and mixed in crushed up chocolate sandwich cookies too. Ok, two steps, if you count the extra caramel swirl.
Because why not?
I feel like this ice cream was a different texture, despite the added egg yolks, and I couldn't tell if that was just the nature of the caramel base, or if my sugar crystallized in the process of making the caramel, or if my freezer just wasn't quite cold enough to really get the ice cream maker as cold as it needed to be. I wouldn't call it icy necessarily, but it definitely had a 'grain' to it, though it wasn't at all unpleasant (as noted by the fact that it disappeared in a matter of days).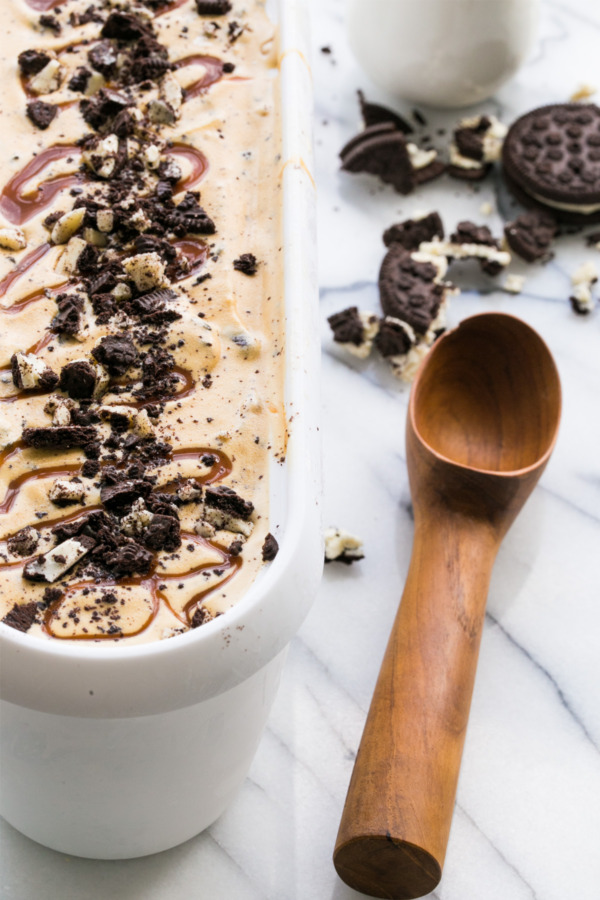 Maybe, from now on, when I'm faced with tough decisions in the future (or even trivial ones, because, let's be honest, they are the worst), I simply need to scoop myself a nice big bowl of this ice cream and make a decision before the last bite is gone. It'll be my own personal decision-making aid. In the form of ice cream, of course.
Caramel Cookie Crunch Ice Cream
Salted caramel meets cookies and cream: this ice cream is off-the-charts delicious.
Ingredients:
2 cups heavy cream, divided
2 cups granulated sugar
1/4 cup water
1 tablespoon corn syrup
1/4 cup salted butter, cut into cubes
1/2 teaspoon sea salt (increase to 3/4 teaspoon if using unsalted butter)
1 1/2 cups whole milk
4 large egg yolks
1/2 teaspoon vanilla bean paste or extract
1 1/2 cups crushed chocolate sandwich cookies (about 12 cookies)
Directions:
Prepare an ice bath by nesting a smaller bowl inside a larger bowl filled with ice water. You can also use a zip-top freezer bag set inside a bowl of ice water. Place 1 cup of cream in bowl or zip-top bag and set aside.
Warm remaining 1 cup cream in a small saucepan until warm to the touch (do not boil). Reduce heat to keep warm while you prepare the caramel.
Place sugar, water, and corn syrup in a large heavy saucepan set over medium heat. Stir until sugar is dissolved, brushing down any stray crystals on the side of the pan with a moistened pastry brush. Once the sugar begins to boil, stop stirring, and cook, swirling the pan occasionally to ensure even browning, until sugar turns golden brown. The final caramel should have a faintly burnt smell and deep amber color. Watch this carefully as caramel can go from underdone to burnt in a matter of seconds.
Remove caramel from heat and slowly pour in warm cream, whisking vigorously the entire time (caramel will bubble up so be careful as it is VERY hot). Continue to whisk, scraping the sides and corners of the pan, until no hard chunks remain. If necessary, return to medium-low heat and whisk until any remaining chunks are dissolved. Add butter and whisk until smooth and butter is melted. Whisk in salt.
Measure out 1 cup of caramel and set aside (this is for swirling into/drizzling on the ice cream later).
Whisk milk into remaining caramel; return saucepan to medium heat until it just starts to steam (do not let it come back to a boil).
In a small bowl, whisk egg yolks. Slowly ladle in some of the warm caramel mixture, about 1/4 cup at a time, until about half of the caramel mixture has been incorporated and yolks are warm to the touch. You want to do this gradually; doing so will temper the egg yolks rather than cook them.
Pour entire yolk mixture back into the saucepan and return to medium heat, stirring constantly and scraping the bottom of the pan as you do, until the mixture thickens slightly and coats the back of a spoon, about 5 to 7 minutes (it will measure approximately 170ºF on a thermometer). Do not let it to boil.
Stir in vanilla extract. Pour through a fine mesh sieve (to catch any undesirable chunks) into prepared ice bath with remaining cream, and let sit, stirring occasionally, for 15 to 20 minutes or until cooled to room temperature. Cover tightly with plastic wrap and refrigerate for at least 3 hours or preferably overnight.
When custard base is completely chilled, churn ice cream according to manufacturer's instructions until the ice cream is the consistency of soft serve. When the ice cream is almost done, drizzle in a little of the leftover caramel as desired to create caramel swirls. Stir in crushed cookies and spoon a into a freezer safe container. Top with a drizzle of caramel and a few crushed cookies (for decoration, totally optional) and freeze overnight until firm. Scoop and serve drizzled with even more caramel.
Did you make this recipe?
Let us know what you think!
Leave a Comment below or share a photo and tag me on Instagram with the hashtag #loveandoliveoil.