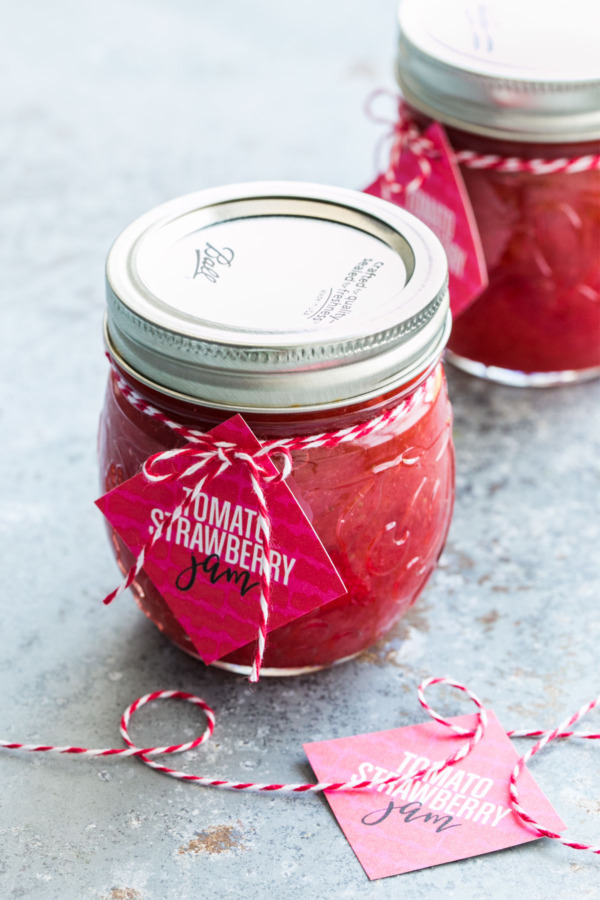 I'm all about canning it forward: spreading the love and joy of canning and preserving in any way I can (can). That's why I'm excited to be sharing this recipe in advance of Can-It-Forward day on July 22nd, sponsored by Ball® brand. Read on for more information about how you, too, can #CanItForward!
Sometimes I think we forget the fact that the tomato is actually a fruit.
Which is why it works so beautifully when paired with fruit, like say, for instance, with blueberries in a blueberry caprese salad or watermelon in this summery watermelon gazpacho. The same is true when you mash tomato together with strawberries: the strawberry enhances the tomato's sweetness and fruit-like characteristics in delicious and unexpected ways.
The Johnny Cash of preserves, this jam walks the line between sweet and savory and back again. Use it anywhere you'd use ketchup for a touch of sweetness and fresh fruit flavor, or replace your boring old strawberry jam with this for a subtle savory flair. It'd make a fabulous cheese pairing, burger topping, or grilled cheese addition, not to mention simply sinful smeared on a breakfast biscuit with bacon and egg.
Have I convinced you yet?
Of course, my favorite way to eat it might just be straight up on a flaky, fluffy buttermilk biscuit. Then again, that's true of most of the jams I make.
It's like something off a cheeky greeting card: You are the jam to my biscuit, the biscuit to my jam. Or, if it's not on a greeting card yet, maybe I need to design one, and give it to Taylor for Valentine's day every year from here to eternity (or alternate every other year with the Sriracha one I made him this past February, because what else to describe true love than biscuits and jam and sriracha?)
For this recipe I had a chance to play with Ball's new FreshTech Harvest Pro Sauce Maker. While it's marketed for tomato sauces, it's surprisingly versatile, and can be used for any number of other fruits or vegetables as well as tomatoes.
There are a lot of parts and pieces to wash, however they are all (with the exception of the base itself) dishwasher safe, which certainly helps. Still, it's a pretty nifty little gadget. Basically an electric food mill, and I can see myself using it for large-scale batches of applesauce or plum or blackberry jam (when I want to remove skins or seeds or achieve a more uniform texture throughout).
The machine comes with two screens, one coarse and one fine. I made a batch of this jam with both just to compare, as I wasn't quite sure which one would be best for a recipe such as this. The coarse screen produces a rougher texture that is perfect for jam, however it is not ideal for tomatoes as it does not remove all the bits of skin and seeds. The fine screen produced a smoother consistency than I typically prefer in a jam, but seeing as I don't care for tough bits of tomato skin mucking up my mouthfeel, it was the ultimate winner in this situation. If you wanted to use the coarse screen, I'd recommend peeling your tomatoes first (but in my mind that defeats the point of such a gadget, which is supposed to make the process easier with less prep time).
Did you know that July 22nd is Can-It-Forward day? Sponsored by Ball®, Can-it-Forward day is all about sharing the joy and benefits of canning, bringing together canners, gardeners, and food enthusiasts alike. Additionally, for every like, share, reaction and comment on the Can-It-Forward Day Facebook Live videos on July 22, a $1 donation will be made to one of five regional food-related charities.
Are you ready to #CanItForward? Sign the pledge and share with your friends, then tune in at 10am ET on July 22 to watch canning demonstrations and win prizes via Facebook Live (remember, every time you like/share/comment, $1 will be donated to charity!)
This is also a perfect chance to get answers to your canning conundrums. Jarden Home Brands canning experts will be available to answer your most pressing questions via Twitter on July 22nd from 10am to 5pm, hashtag #canitforward.
(And psst! If you're looking for more canning inspiration, check out my new ebook series: That's My Jam. The Summer edition is now available and is full of unique seasonal jam recipes and printable labels for each and every one, it's full of recipes and resources perfect for new and experienced canners alike.)
Happy canning!
Strawberry Tomato Jam
Tomatoes are a fruit, after all, so why not treat them as such in this ultra versatile jam that walks the line between sweet and savory.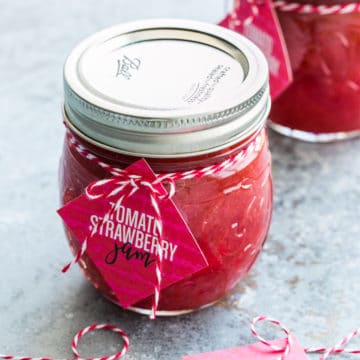 Ingredients:
3/4 cup granulated sugar
1 1/2 teaspoons Pomona's Universal Pectin
1 pound roma tomatoes, cored and quartered
1/2 pound (8 oz) hulled strawberries, thawed if frozen
2 tablespoons lemon juice
1 1/2 teaspoons calcium water* (included with the pectin)
Directions:
Fill a large stock pot or canning pot 2/3 full with water; place a rack of some sort in the bottom and place over medium-high heat. Wash/sterilize 3 half-pint (8oz) mason jars (or equivalent) and submerge in water bath as it heats. The pot should be just about boiling by the time the jam is ready to go. Keep jars in hot (not boiling) water until ready to use.
In a bowl, whisk together sugar and pectin until evenly distributed.
Run strawberries through your Ball® FreshTech Harvest Pro Sauce Maker fitted with the fine screen. Scrape out excess from extender tube (there is nothing that needs to be discarded with the strawberries, so this will add a bit of texture to the jam). Run tomatoes through the sauce maker next, this time discarding the contents of the extender tube (skins and seeds mostly). You should have about 2 1/4 to 2 1/2 cups of mostly smooth fruit puree. (Alternatively, you can run fruit through a food mill for a similar texture. Or, for a chunkier jam, peel and dice tomatoes and coarsely chop strawberries, then mash together with a wire potato masher).
In a large, heavy saucepan, combine fruit with lemon juice and calcium water. Cook over medium-high heat until mixture comes to a full rolling boil. Add sugar and pectin, stirring vigorously until completely dissolved. Continue to stir until jam returns to a full boil, which shouldn't take more than 1 to 2 minutes. Remove from heat and skim off foam.
Ladle jam into jars, leaving 1/4-inch of headspace. Wipe jar rims and threads. Screw on lids and rings. Process in a boiling water bath for 10 minutes. Remove from water and let cool completely, 12 to 24 hours. Check seals. Any unsealed jars should be refrigerated and used within 3 weeks.
*Note: calcium powder to make calcium water is included with the Pomona's brand pectin. If you are substituting another pectin brand/type, please follow the instructions inside your pectin package, paying attention to the process and the proportion of fruit to sugar required by that type of pectin (different kinds of pectin will require different amounts of sugar to properly set).
Did you make this recipe?
Let us know what you think!
Leave a Comment below or share a photo and tag me on Instagram with the hashtag #loveandoliveoil.
Bonus Printable Labels
In addition to spreading the joy of canning, canning it forward also means passing along your canned creations to others. And these printable tags are the cherry on top, transforming a plain jar into a beautifully packaged gift.
Round jars like these Elite Jam Jars from Ball® don't lend themselves well to the typical labels, being that there is no flat surface on the jar (other than the lid) to hold one. So I opted for tags instead, tied with decorative twine to the neck of the jar. Of course, if you use different jars you could certainly print these onto label paper and use them that way as well.
The downloadable PDF file contains 15 tags per page, including a decorative front and informational back design with made/opened date design that can be optionally printed on the back side or as a secondary tag (useful if you are giving your jam away as gifts and want the recipient to know when it was made).
To use, simply download the printable file by completing the form below. Print your labels onto cardstock, cut out shapes, and tie onto your jars with decorative ribbon or twine.
Disclosure: This post contains affiliate links. I received a Ball® FreshTech Harvest Pro Sauce Maker for review. As always, all opinions written are purely our own. We're incredibly grateful for opportunities like these that allow us to continue sharing delicious recipes with you, so thank you for supporting us and the brands we love.