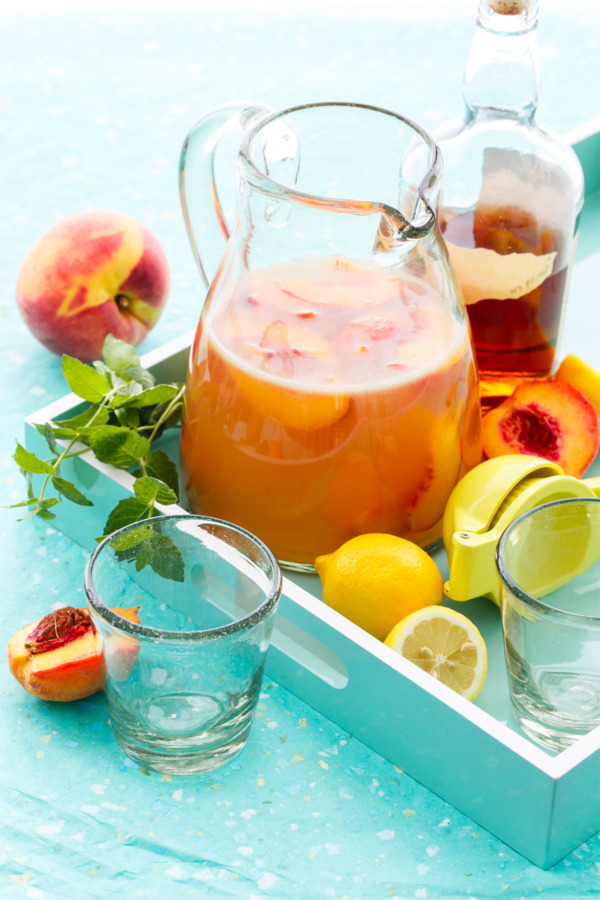 This perfect summertime cocktail recipe is inspired by a similar concoction I enjoyed last summer at Husk restaurant. Unfortunately it was right at the tail end of peach season and I wasn't able to recreate it then (because using anything other than the sweetest of peaches would have done it a grave injustice). So I stashed it away in my mental file of recipe ideas to make once the peaches were back with a vengeance.
Which is now.
Every year, right around the time we all start complaining about the humidity, the peaches arrive amidst celebration and fanfare and promises of pies and pastries and perfect yellow flesh, every bite bursting with flavor and happiness. It's just enough to make us forget the oppressive heat, eager to dive in for another juicy bite, and leave us longing once again for summer once it's over.
To me, peaches and tomatoes are what make summer in the South worthwhile.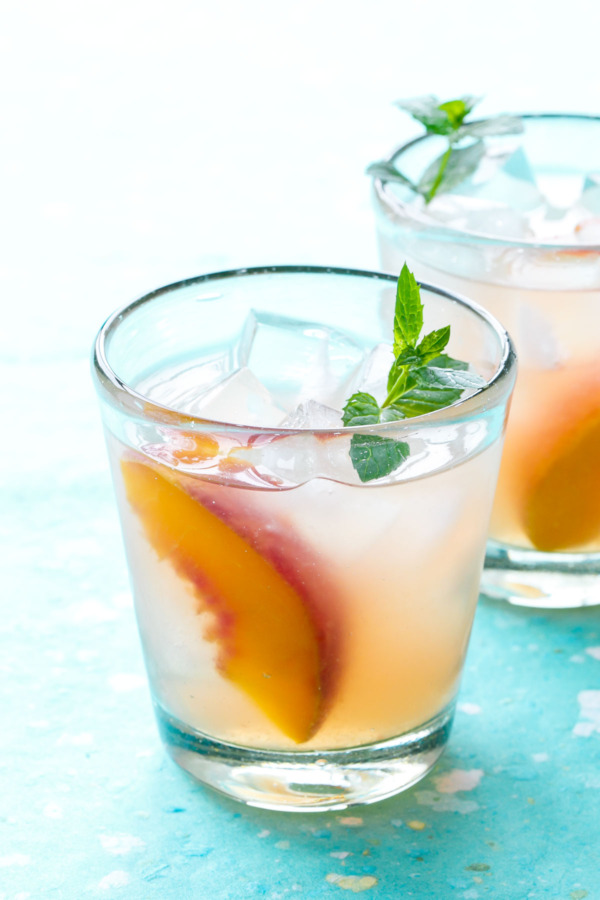 This is the definition of a perfect party punch: a punch being different from a cocktail in that it can be prepared in big batches ahead of time, whereas cocktails are best made lovingly one at a time (delicious, but tedious when you're serving more than a few people).
And in fact, that make-ahead-factor works in its favor, time for the sweetness and fragrance of the peaches to infuse the entire punch with flavor (and likewise allowing the deliciously boozy bourbon to permeate the cut slices… dare I say they are the best part of this punch?)
A hearty dose of bourbon is just enough to make it fun but not sloppy, and compliment the tartness of the lemon and the lingering notes of ripe peach that only get stronger with time. I'd recommend a solid middle-shelf bourbon here, one that maybe you wouldn't drink straight up but still has plenty of velvety vanilla notes and subtle sweetness to play off the peaches. Don't waste your best stuff in this recipe, as you just might cry when you see how much is required. We used Buffalo Trace, which at around $25 a bottle is a great everyday bourbon.
Cheers to the best of summer!
Bourbon Peach Lemonade Punch
This fresh and summery punch recipe is perfect for a crowd, and can be made ahead of time (in fact, it's better that way!) Serve with a garnish of fresh mint.
Ingredients:
3 cups filtered water
1/3 cup granulated sugar
1 cup freshly squeezed lemon juice
2-3 ripe peaches, pitted and sliced
3/4 cup (6 ounces) bourbon or whiskey
3 sprigs fresh mint, plus more for garnish
Directions:
Combine water and sugar in a microwave safe bowl or glass measuring cup and microwave on high for 2 minutes or until water is hot. Stir until sugar is dissolved. You can also heat the water and sugar in a saucepan over medium-high heat until sugar is dissolved.
Pour sugar water into a pitcher along with lemon juice. Add sliced peaches, bourbon, and mint. Cover and refrigerate overnight or until ready to serve.
To serve, scoop out a slice or two of peaches with a slotted spoon and place in glass with ice. Fill with punch and garnish with fresh mint.
Did you make this recipe?
Let us know what you think!
Leave a Comment below or share a photo and tag me on Instagram with the hashtag #loveandoliveoil.