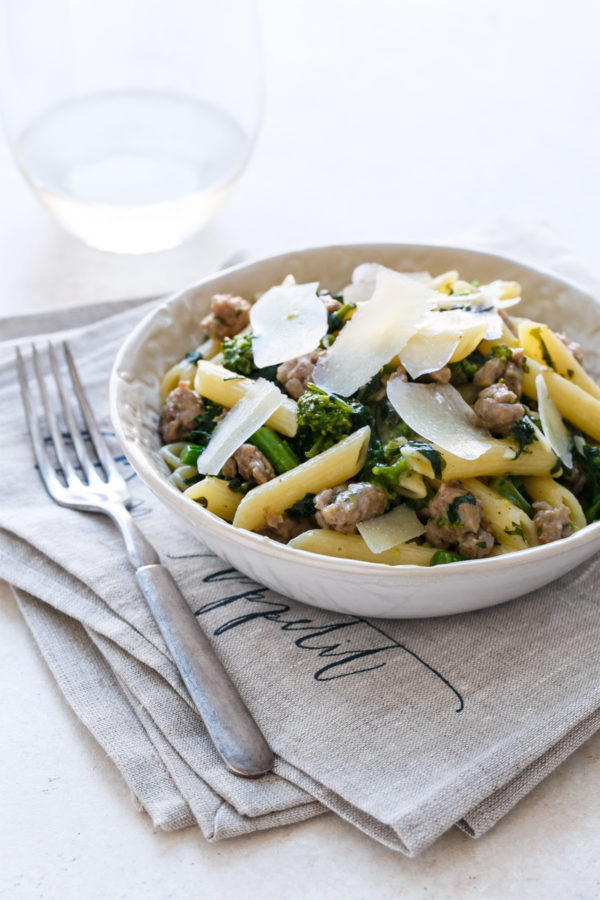 On busy weeks, we'll test recipes well into evening, which means we're often in the kitchen for a two, three, even four hours at a time. When all you want to do is park your butt on the sofa and bury your nose in a book, cooking can certainly seem like a major inconvenience. When it's work, it's justified, it's something that simply has to be done (and does). But on the other nights, the nights when there is no recipe to test or photograph, the last thing we want is a time-consuming and complicated meal (just because we love to cook doesn't mean we want to spend our entire evening doing it). We want to cook, eat, and get on with our night.
In that vein, this penne pasta recipe has become one of our staples. Taylor loves it, maybe because he invented it, but it's also downright delicious. And seeing as how it comes together in under 45 minutes (less if both of us are working together efficiently), it fits our definition of a quick and easy weeknight dinner. And unlike some of our other quick dinners (yes, we've been known to eat boxed mac 'n cheese for dinner when we don't feel like cooking, don't think we're above that), this one is hearty and satisfying and flavorful. Quick while still being made from scratch. With pasta and meat and green vegetables, it's like it's own side dish, which makes it all the easier to prepare because you don't have to think about what to serve with it.
I figured the fact that we'd made it 4 weeks in a row meant that it was high time I shared it with you.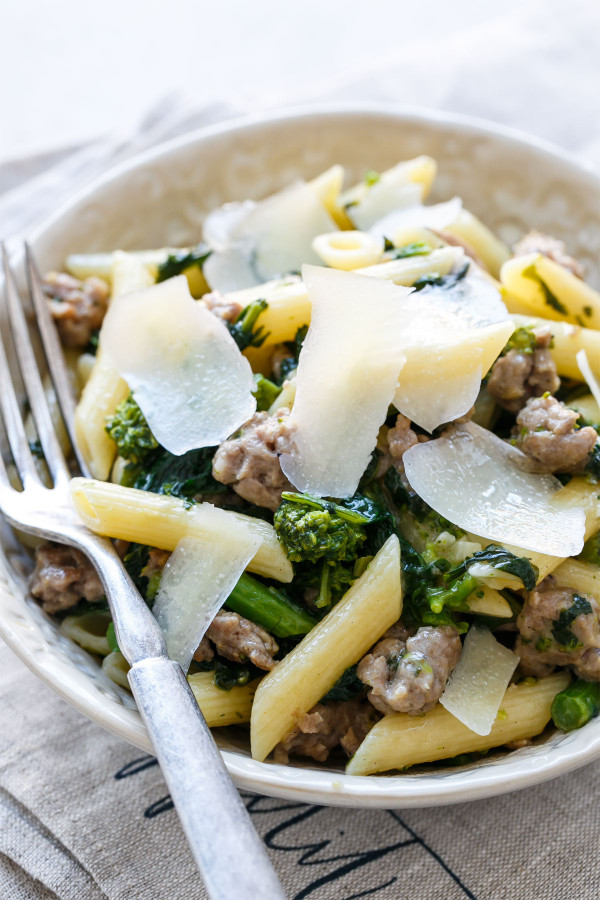 Broccoli raab/rabe/rapini is a hearty, nutritious green that looks like a cross between broccoli and kale, although genetically is most closely related to the turnip (go figure). It's has small, tender florets without the thick, woody stems of broccoli, and substantial hearty leaves that carry all the same nutritional benefits of other dark leafy greens. If you can't find it (look for tied up bunches of greens in the produce aisle), you can certainly substitute kale or turnip greens instead, and the cooking process will be much the same.
Broccoli raab can be bitter if it's not prepared right, and that's probably the reason you don't see it used more often, no one wants a bitter dinner. We find that briefly blanching it beforehand reduces any undesirable bitterness, leaving only a healthy, hearty, and satisfying green.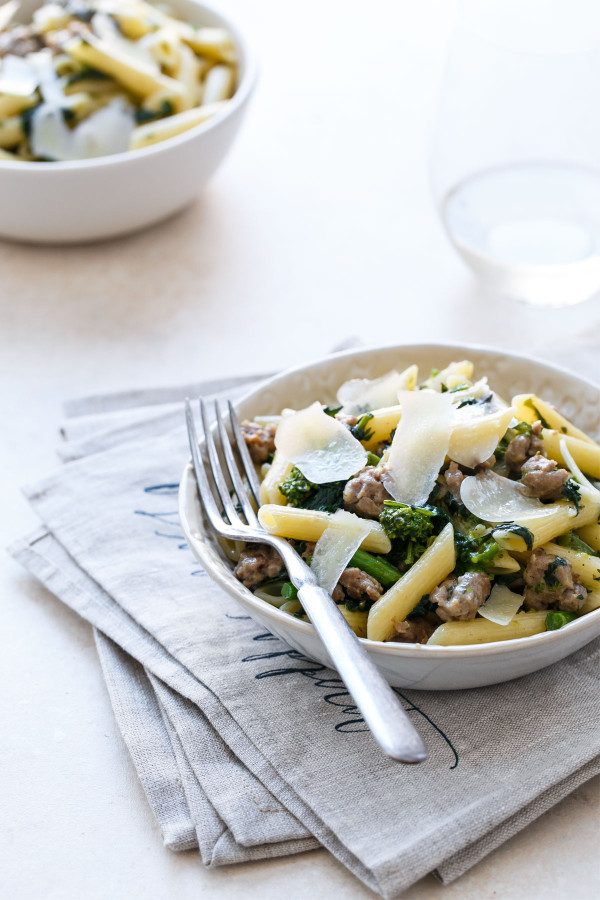 We used a mild Italian sausage here, purchased in bulk (you can also buy whole uncooked sausages and remove the casings). You can also go with a spicy Italian sausage if you like it hot.
While Pecorino is our favorite topping (for, let's face it, just about everything), we've also made it with burrata (divine) and even ricotta mixed with a little lemon zest and black pepper.
Finishing it off with a pat of butter is optional, yes, but trust me on this one. That little bit of butter at the end is the secret between good pasta and great pasta; it brings the whole dish together with a creaminess that you wouldn't have otherwise. Call it our little secret. :)
Italian Sausage and Broccoli Raab Pasta
One of our favorite weeknight dinners combines penne pasta, flavorful Italian sausage, and hearty broccoli raab in a savory and satisfying dinner recipe.
Ingredients:
1 bunch broccoli raab (rapini), coarse ends trimmed
1 lb penne pasta
3 tablespoons olive oil
3/4 lb bulk Italian pork sausage (mild or spicy, your preference)
3 cloves garlic, minced
1/4 cup white wine
2 tablespoons butter
salt and pepper, to taste
shaved or grated Pecorino cheese, for topping
Directions:
Bring a large pot of salted water to a boil.
Trim off coarse ends of broccoli raab. Blanche for 2 minutes, then transfer immediately to an ice water bath to stop the cooking. Once cool, drain fully and squeeze out excess water. Coarsely chop.
In the same pot of water, cook penne according to package instructions until just barely al-dente (1-2 minutes less than the package instructs). Reserve 1/2 cup of pasta water.
Meanwhile, heat olive oil in a large skillet over medium heat. Add sausage and cook until starting to brown, 5-7 minutes, breaking up large pieces with a wooden spoon as you go.
Add garlic and saute until fragrant, about 30 seconds. Add white wine and stir for another 30 seconds, scraping off any meaty bits stuck to the bottom of the pan. Add broccoli raab and stir until coated and warmed through.
Add pasta and 1/2 cup reserved pasta water. Continue to stir for 1-2 minutes until liquid is thickened and pasta is al dente. Finish with butter, stirring until just melted and pasta is evenly coated.
Divide pasta among serving bowls; top with cheese and serve warm.
Did you make this recipe?
Let us know what you think!
Leave a Comment below or share a photo and tag me on Instagram with the hashtag #loveandoliveoil.