I really wanted to make persimmon jam.
But, as it turns out, it's very hard to find persimmon canning recipes. I researched the heck out of it and found very few recipes, none in any of my go-to trusted sources, which led me to believe that maybe these glorious orange fruits were not safe for canning.
Marisa confirmed my suspicions, saying that a persimmon has a pH value right on the cusp of being unsafe for water bath canning, and suggesting that I try combining persimmons with another more acidic fruit plus a whole bunch of lemon juice.
So that's exactly what I did, combining two winter fruits into a delightful little jam with a clever name to match.
Pear + Persimmon = Pearsimmon.
I mean, right? Clearly these two were meant to be together. In a jar. Then in my mouth.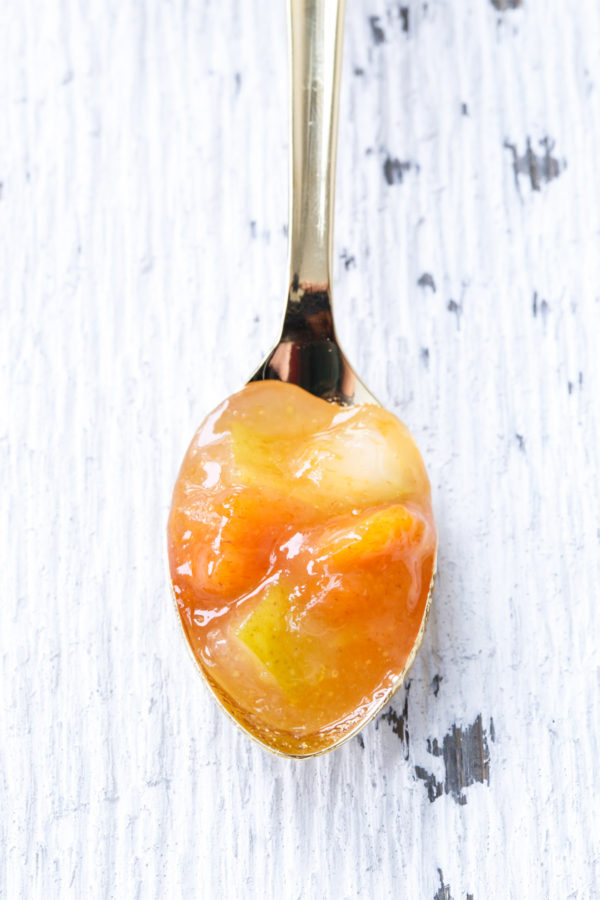 Granted, it's not the prettiest jam I've ever made.
Taylor says it looks a bit like Thanksgiving in a jar. Celery and carrots. Well, that's not quite what he said, but let's just all agree to not speak of what it really looks like. Because that would be a disservice to this surprisingly tasty jam.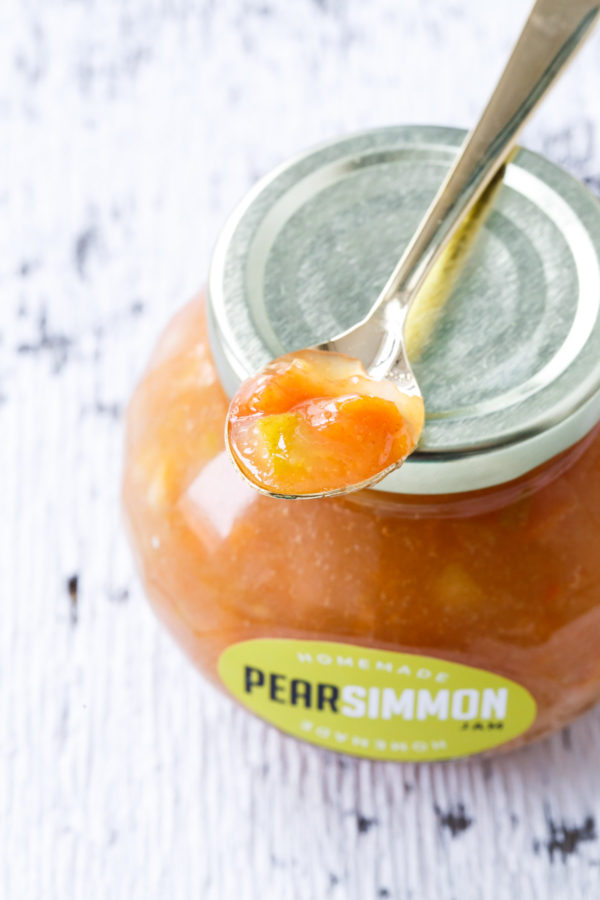 I will say that knowing that persimmons had a less-acidic pH made me nervous. I wanted to be sure this jam was safe before I went sending it out to friends and family.
So I bought myself a little pH meter, just for piece of mind.
(If you're curious, the USDA/National Center for Home Preservation guidelines state that any food with a pH higher than 4.6 [I've also seen it listed as 4.2] is not safe for water bath canning. Anything more acidic than that, or a lower number, would be presumed safe assuming proper sealing and canning practices. Here's a useful post with some more information as to why.)
So my jam's final pH of 3.6 is well within that definition. The addition of the pears and (probably more than) enough lemon juice took this jam from sketchy to well within the safe zone. Gave it a nice little zing, too.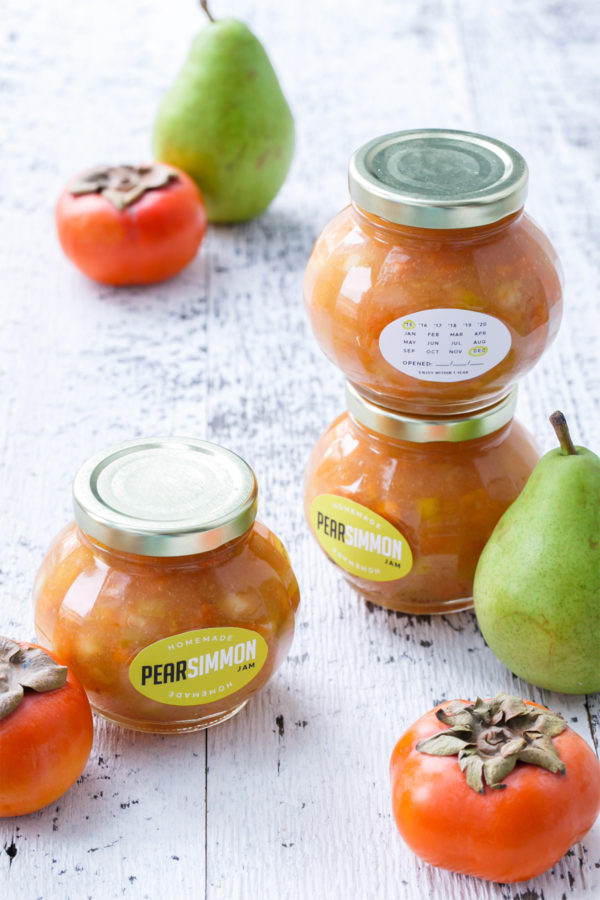 I have a small problem when it comes to jam (well, condiments in general), and that's a short term memory and a fridge that's too deep. There's probably 6 jars of opened jam in our fridge right now, and I can't for the life of me remember when I made or opened them. They'll sit there for a few more weeks until we throw them away. It's wasteful and I hate it.
So, I've started to design my jam labels with this in mind, including space to fill in a "canned on" date as well as an "opened on" date. In the case of this jam, these bulb jars happened to have smooth spots for labels on both the front and back, so I designed a second informative date label for the back side. All you need to do is circle the month and year during which the jam was made, and then when you open the jam, fill in the blank below. Tada! No more wasted jams.
As far as how long homemade jams keep… properly sealed, I think it's safe to say the jams are good for a year. Once opened, keep them refrigerated and consume within a month.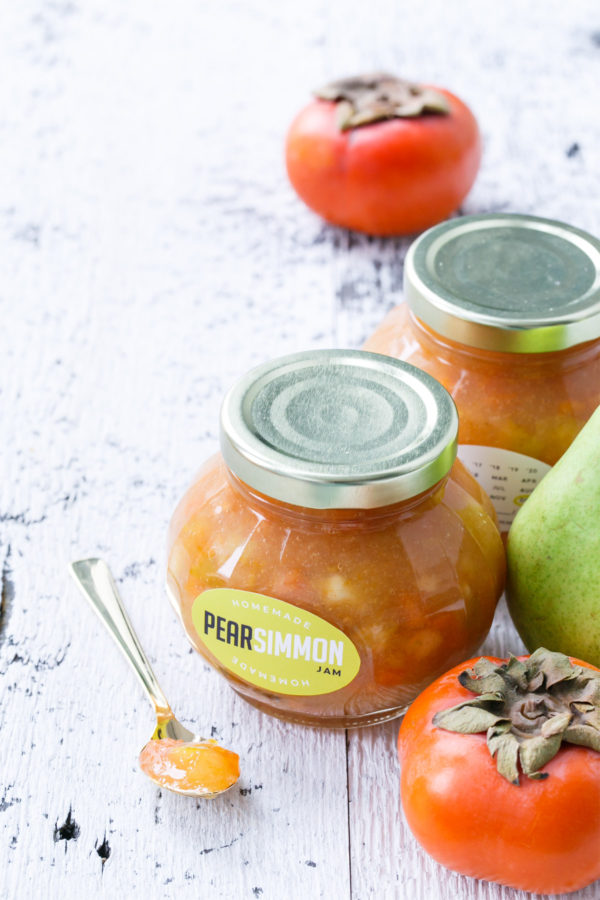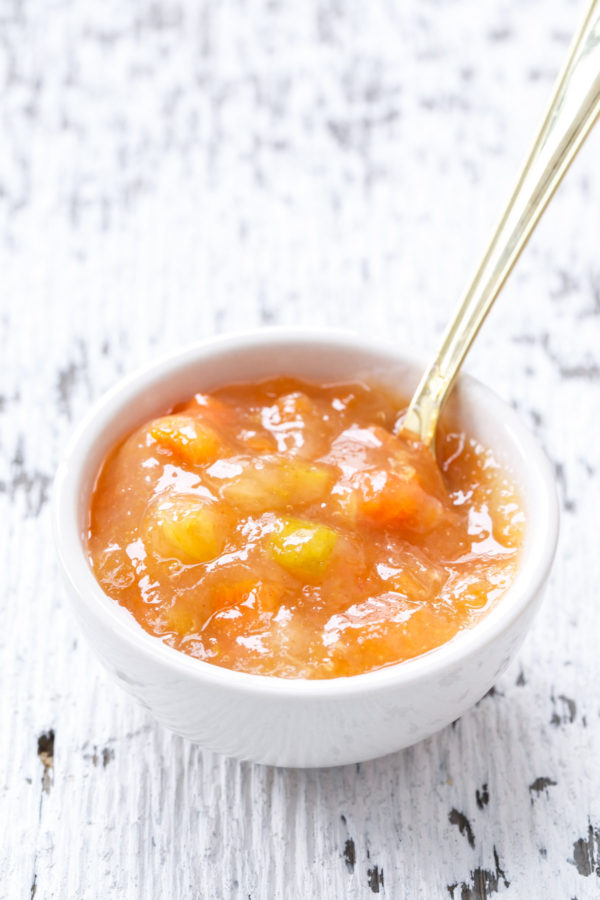 Can I just add that winter canning is entirely underrated? I've been doing quite a bit of it lately, exactly why you will find out soon enough, but it's quite pleasant really, surrounding yourself in warm steam while the rest of the house is borderline frigid. You actually want to stand by the canning pot, as opposed to summertime canning, when you're literally sweating buckets trying to churn out a few jars of precious jam. I truly think we should take better advantage of the fresh produce available to us during the winter months, from pears and persimmons to citrus and pomegranates… they all make for fabulous preserving (well, I'm still trying to figure out the pomegranates, but we'll save that for another day).
Happy canning!
Pearsimmon Jam
Pear + Persimmon = one surprisingly delicious winter jam.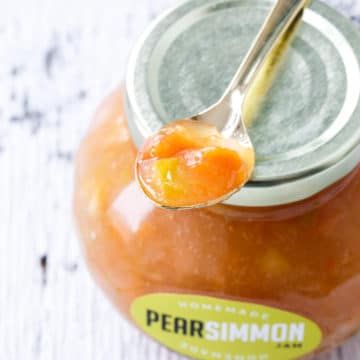 Ingredients:
1 1/2 cups granulated sugar
2 1/2 teaspoons Pomona's Universal Pectin
1 pound (about 5) ripe Fuyu persimmons, peeled and diced
20 ounces (3-4) firm ripe green Anjou pears, cored and diced
1/4 cup plus 2 tablespoons lemon juice (from about 3 lemons)
4 teaspoons calcium water* (included with the pectin)
Directions:
Prepare canner and wash/sterilize 4 half-pint mason (or equivalent) jars. Keep jars in hot (not boiling) water until ready to use. Warm lids in hot (not boiling) water to sterilize and soften seal.
In a bowl, whisk together sugar and pectin until evenly distributed.
Place pears and persimmons (you should have about3 cups worth of diced fruit) in a large, heavy saucepan along with lemon juice and calcium water. Simmer over medium-high heat, stirring occasionally, until fruit has softened a bit, about 10 to 15 minutes.
When fruit mixture reach a full rolling boil, pour sugar and pectin into saucepan, stirring vigorously until completely dissolved. Continue to stir until mixture returns to a full rolling boil, 1 to 2 minutes. Remove from heat and let sit for 5 minutes, stirring occasionally and skimming off any foam that may have formed.
Ladle jam into jars, leaving 1/4-inch of headspace. Wipe jar rims and threads. Screw on lids and rings. Process in a boiling water bath for 10 minutes. Remove from water and let cool completely, 12 to 24 hours. Check seals. Any unsealed jars should be refrigerated and used within 3 weeks.
Did you make this recipe?
Let us know what you think!
Leave a Comment below or share a photo and tag me on Instagram with the hashtag #loveandoliveoil.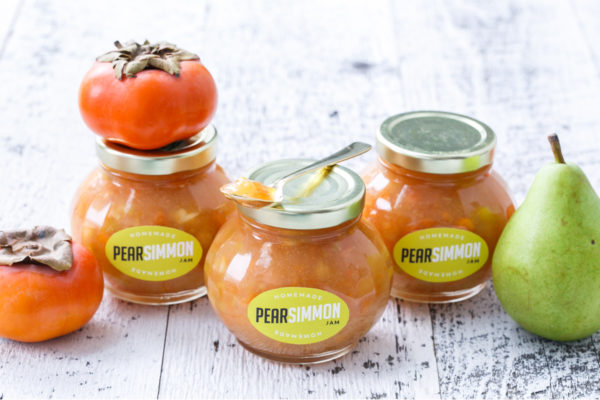 Bonus Printable Labels
Speaking of labels… what fun would it be if I didn't share? :) Lately I've been printing my labels on weatherproof matte label paper, which has a professional satin-like finish and the print won't bleed if it happens to get a smudge of jam on it (which, let's face it, it always does).
The downloadable PDF file includes 16 each of the front and back date labels (back labels are generic so they can be used on any jam), perfectly sized to fit on these 7 ounce bulb jars, but can also be used on any other smooth-sided jar or jar lid.
To use, simply download the printable file by completing the form below. Print your labels onto full-sheet sticker paper, cut out shapes, and apply directly to the (canned and cooled) jars.