If you do a google search for Gingerbread Brownies, they've been done before (hasn't everything, at this point?) but what you find are not what I'd consider brownies. Maybe blondies at best, but the pale brunette bars seem to be far too light in color and seemingly cakey in texture to be considered true brownies in my mind.
No, what I wanted was a rich, fudgy brownie (the only kind of brownie in my mind), deeply chocolate but laced with molasses and gingerbread spices.
At first glance you think you're just eating a nice fudgy brownie. But close your eyes and let your mind (and mouth) be blown. It's a brownie, but it's also gingerbread. It's both. At the same time. Like woah.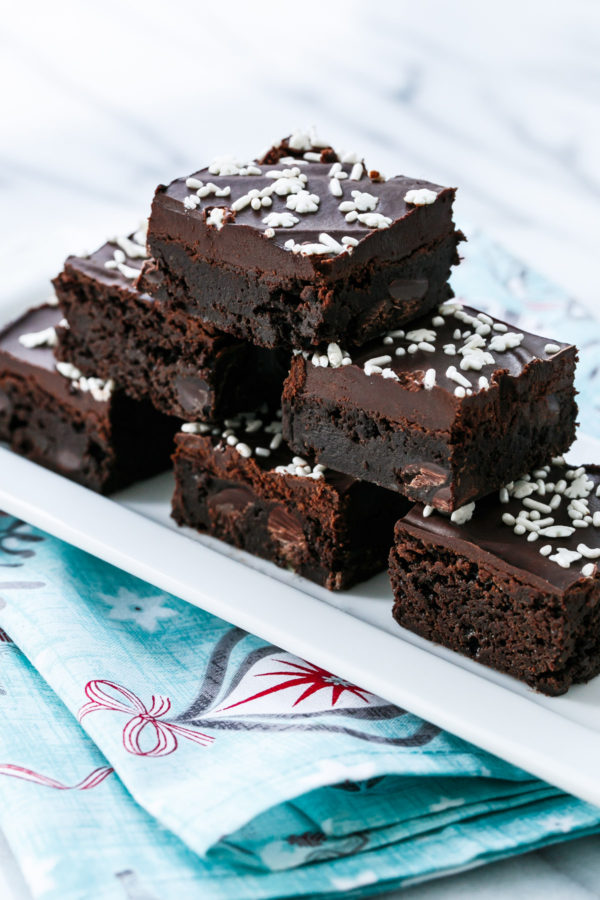 I topped the brownies with a thick layer of chocolate ganache (because if a little chocolate is good, more is better) and a flurry of snowflake sprinkles to add to the seasonal cheer.
It may be the closest we're going to get to a white Christmas this year, but I'm totally cool with that.
I was worried when I first took these out of the oven that they were a failure, because the top looked like a weirdly dense chocolate spongecake, not the typical shiny crackly top that classic brownies have. And I think that's due to the extra sugar and moisture content in the molasses (at least, that's my best guess). However not wanting to give up and waste a full pan of brownies, I went ahead with the glaze and let them chill for a few hours before slicing them… and, surprise surprise, would you look at those perfectly fudge brownies?
See, folks, there's always a lesson to be learned in the kitchen. This time, it's to never judge a brownie by it's crackly top (or lack-thereof). Because you just might miss out on the amazingly fudgy goodness underneath.
Gingerbread Brownies
Rich, dark chocolate brownies with a hint of molasses and gingerbread spices and dark chocolate ganache glaze.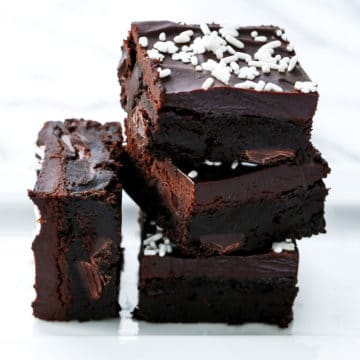 Ingredients:
1/4 cup all-purpose flour
1/3 cup dark or Dutch-processed cocoa powder, sifted
1 1/2 teaspoons ground ginger
1 teaspoon ground cinnamon
1 teaspoon ground allspice
1/4 teaspoon ground cloves
1/4 teaspoon baking powder
1/4 teaspoon fine sea salt
1/2 cup (1 stick) unsalted butter, cut into cubes
5 ounces dark or bittersweet chocolate (70-75%), chopped
2/3 cup granulated sugar
1/4 cup unsulpured light/mild molasses
2 large eggs, room temperature
1 teaspoon vanilla extract
1/3 cup semisweet chocolate chips or chunks
For Glaze:
4 ounces dark or bittersweet chocolate, finely chopped
1/3 cup heavy cream
1 tablespoon butter, cut into cubes
Directions:
Preheat oven to 350 degrees F. Line an 8-by-8-inch baking pan with parchment paper; lightly butter parchment.
Whisk or sift together flour, cocoa powder, spices, baking powder, and salt. Set aside.
Combine butter and chopped chocolate in a saucepan. Stir over low heat until chocolate is almost melted. Remove from heat and continue to gently stir until smooth; the residual heat from the pan should be enough to melt the last few bits of chocolate.
Whisk in granulated sugar until incorporated; batter will be slightly grainy and paste-like.
Whisk in molasses, followed by eggs, one at a time, whisking completely after each one, until batter is smooth and shiny. Whisk in vanilla.
Sprinkle dry ingredients over top of melted chocolate mixture and stir until just incorporated. Fold in chocolate chips. Spread into prepared pan, using an offsest spatula to smooth batter into corners.
Bake for 30 to 35 minutes or until a toothpick inserted near the center comes out mostly clean. Let cool on a wire rack.
For glaze, place chopped chocolate in a medium heat-proof bowl. Warm cream in a small saucepan over low  heat until it just starts to bubble around the edges, swirling occasionally to keep a skin from forming (do not let it boil). Pour over chopped chocolate and let sit for 30 seconds, then slowly start whisking in concentric circles starting in the center and moving outwards until the chocolate is completely melted. Whisk in butter, one cube at a time, until melted and smooth.
Pour glaze over cooled brownies, spreading into a smooth even layer on top. Refrigerate until glaze is set, at least 1 to 2 hours, before slicing into squares. Brownies will keep in an airtight container for up to 5 days.
Did you make this recipe?
Let us know what you think!
Leave a Comment below or share a photo and tag me on Instagram with the hashtag #loveandoliveoil.