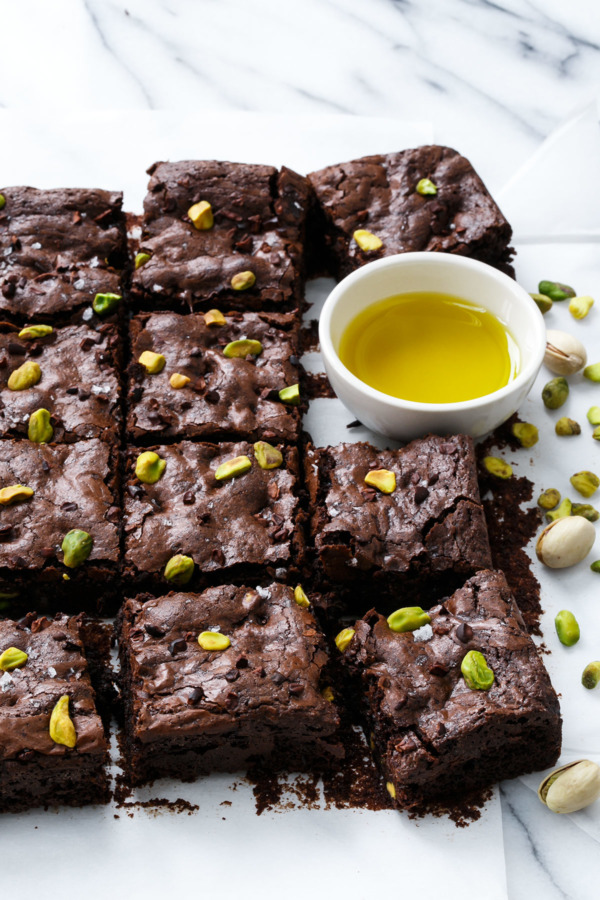 Have you ever wondered what would happen if you simply swapped the butter in a basic brownie recipe for olive oil?
Amazing things, that's what.
Honestly, I'm surprised I haven't made olive oil brownies before. For a blog called Love & Olive Oil, I feel like I've failed you (and myself) in that respect.
Luckily, these here brownies more than make up for the delay. Seriously. You should stop what you're doing and make them, immediately.
The olive oil flavor is an amazing twist to an otherwise basic brownie. It shines through, subtly, at first, but with a nutty undertone that compliments the rich dark chocolate perfectly. You may not be able to identify this secret ingredient after your first bite, all you'll know is that this is unlike any brownie you've ever had before.
Nutty, fudgy, dairy-free perfection.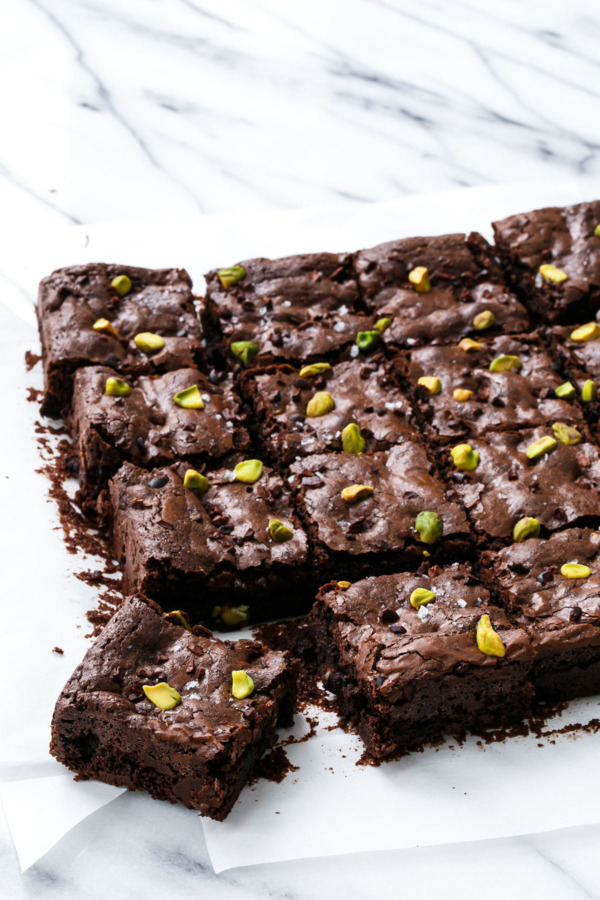 I added some chocolate chunks (duh) and chopped pistachios (olive oil is green, pistachios are green… it just seemed logical to me) and topped them with cacao nibs for crunch and a sprinkle of flake sea salt (my favorite finishing touch for any brownie recipe).
As far as what olive oil to use here… I'd suggest a solid everyday extra virgin olive oil. Don't use your top-shelf stuff here, save that for drizzling on salads and dipping your bread, as the heat of the oven will break down some of the more refined flavor notes that distinguishes a good olive oil from a mediocre one. Plus you need like 1/3 cup of it for one batch and, well, that's too rich for my blood.
You could also use a pure or light olive oil if you preferred a more delicate and subtle olive oil flavor in the final brownie.
Seriously, these brownies have it all: a triple dose of chocolate, a sumptuously fudgy texture, a perfect crackly top crust, a bit of crunch from the nuts and cacao nibs, and a hint of salt that puts them over the top.
I may never make another brownie recipe ever again.
Ok, maybe I will (didn't mean to scare you), but that's how good these are.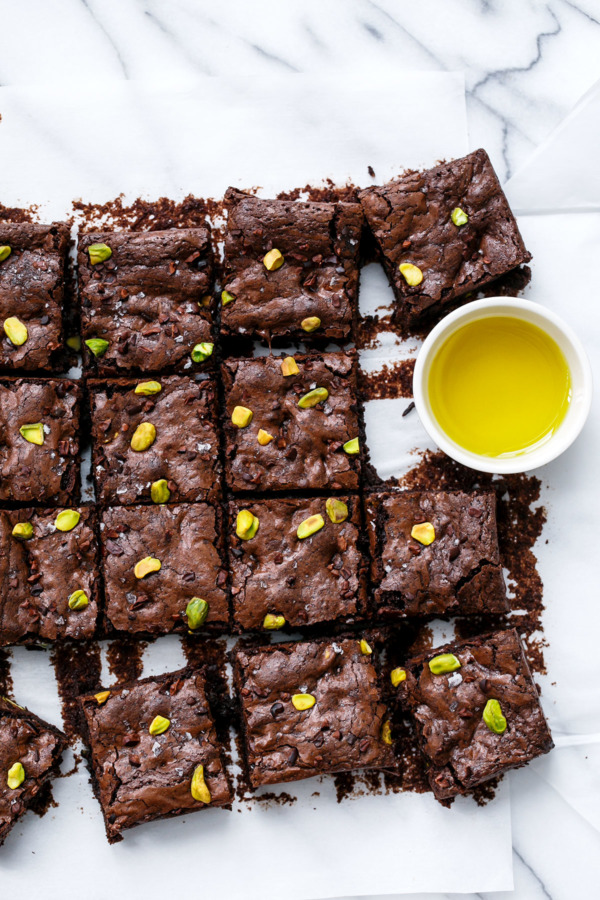 Olive Oil & Pistachio Brownies
This fudgy dairy-free brownie recipe is made with olive oil instead of butter (!!) and studded with chocolate chips, cocao nibs and bright green pistachios and finished with a sprinkle of sea salt.
Ingredients:
1/4 cup all-purpose flour
1/3 cup dark or Dutch-processed cocoa powder, sifted
1/4 teaspoon baking powder
1/4 teaspoon instant espresso powder
1/4 teaspoon fine sea salt
1/3 cup extra virgin olive oil
5 ounces dark or bittersweet chocolate (70-75%), finely chopped
1 cup granulated sugar
2 large eggs, room temperature
1 teaspoon vanilla extract
1/3 cup semisweet chocolate chips or chunks
1/3 cup shelled pistachios, coarsely chopped
1 tablespoon cacao nibs, optional, for topping
flake sea salt, for topping
Directions:
Preheat oven to 350 degrees F. Line an 8-by-8-inch baking pan with parchment paper; lightly butter parchment.
Whisk or sift together flour, cocoa powder, baking powder, espresso powder, and salt. Set aside.
Combine olive oil and chopped chocolate in a saucepan. Stir over low heat until chocolate is almost melted. Remove from heat and continue to gently stir until smooth; the residual heat from the pan should be enough to melt the last few bits of chocolate.
Whisk in granulated sugar until incorporated; batter will be slightly grainy and paste-like.
Whisk in eggs, one at a time, whisking completely after each one, until batter is smooth and shiny. Whisk in vanilla.
Sprinkle dry ingredients over top of melted chocolate mixture and whisk or stir until just incorporated. Stir in chocolate chips and most of pistachios (reserving a tablespoon or two for topping, if desired). Spread into prepared pan, using an offsest spatula to smooth batter into corners. Sprinkle with reserved pistachios, cocao nibs, and flake sea salt, as desired.
Bake for 30 to 35 minutes or until top is shiny and crackly and a toothpick inserted near the center comes out mostly clean. Cool on a wire rack for until completely cooled, 1 to 2 hours, before slicing into squares. Brownies will keep in an airtight container for up to 5 days.
Did you make this recipe?
Let us know what you think!
Leave a Comment below or share a photo and tag me on Instagram with the hashtag #loveandoliveoil.