Think of this tart like a king-sized cherry cordial nestled in a sweet and salty chocolate cookie crust, filled with a layer of tart cherry jam and a cloud-like chocolate ganache.
A tart tart if you will.
The ganache layer falls somewhere between a ganache and a mousse, dark and rich with a dollop of lightly whipped cream folded in for a texture that's truly heavenly.
And the jam takes the sour-sweet flavor of tart cherries and concentrates them into a sticky layer of awesome: the perfect fruity foil to the rich chocolate surround. Chocolate and cherry may be a lesser-utilized combination than, say, raspberry, but the underlying purpose is the same: the fruit cuts the richness at the same time as it enhances the depth and flavor of the chocolate itself.
I've had some great fun with tart cherries this year, working with the Cherry Marketing Institute to create new and unique recipes using this oft under-appreciated ingredient. I've always lamented the lack of fresh tart cherries here in the South, but that doesn't mean you can't enjoy them in other forms all year round. While this might be the last official recipe on behalf of the CMI, I've still got a bag of frozen cherries and a few more bottles of cherry juice, so you'll likely see more of this versatile fruit. (And if you're looking for more recipes, check out the Tart Cherry archive for all of our favorite tart cherry recipes).


The quick tart cherry jam comes together in under 20 minutes and is naturally thickened with granny smith apple (no pectin necessary). I like it so much I may have to make and preserve a full-size batch.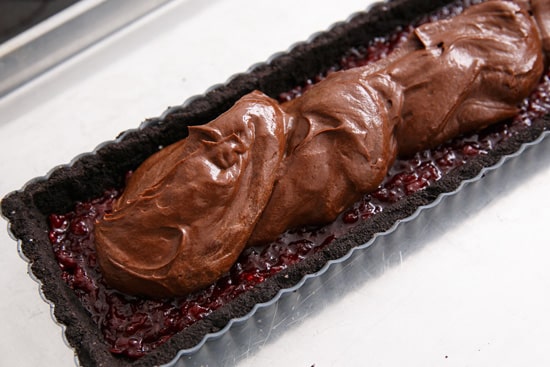 The crust itself is chocolate on chocolate, with ground up chocolate wafer cookies and melted chocolate for added structure and flavor (one of my favorite tricks when making a chocolate cookie crust). Because you can never have too much chocolate. Or, maybe you can, as I debated adding more chocolate to the jam too but decided I wanted the cherry flavor to stand strong on its own.
As chocolate desserts go, this one might just blow your mind. It's incredibly rich and decadent (so you may want to rethink that giant slice you've got there) but the punch of sweetly sour cherry flavor perfectly balances out the chocolate. I'd argue that the cherry makes the chocolate taste even better, cutting the richness and bringing out the bright and fruity notes that make the chocolate sing.
They say that your soul mate is the person who brings out the best in you. With that argument, chocolate and tart cherry were truly meant to be.
Tart Cherry Chocolate Tart
Layers of tart cherry jam and cloud-like chocolate ganache nestled in a sweet and salty chocolate cookie crust.
Ingredients:
For Cherry Jam:
6 ounces (1 heaping cup) pitted tart cherries (fresh or frozen)
1/4 cup peeled and finely grated granny smith apple*
1/2 cup granulated sugar
For Crust:
1 1/2 cups chocolate wafer cookie crumbs (from about 7 ounces cookies)
2 tablespoons granulated sugar
1/8 teaspoon fine sea salt
5 tablespoons unsalted butter, cut into chunks
2 ounces dark or semisweet chocolate, finely chopped
For Chocolate Filling:
7 ounces good quality dark chocolate (70-75%), finely chopped
1 1/4 cup heavy whipping cream, divided
1/4 cup unsalted butter, cut into chunks
1 teaspoon vanilla extract
Directions:
For jam, pulse cherries and apple briefly in a food processor until cut into mostly pea-sized chunks (do not puree). If using frozen cherries, no need to thaw them first, just throw them right in the food processor.
Combine chopped cherries and sugar in a large saucepan set over medium-high heat. Bring to a simmer, stirring occasionally, then continue to cook for 10 to 15 minutes or until very thick and jam-like. Be sure to stir fairly regularly to prevent scorching. Remove from heat and let cool. (Jam can be made a few days ahead of time; refrigerate until ready to use).
To prepare crust, finely chop wafer cookies in a food processor. Add sugar and salt and pulse to incorporate.
In a microwave-safe bowl, microwave butter for 30 seconds or until mostly melted. Add chopped chocolate and stir; the residual heat of the butter will begin to melt the chocolate. As needed, microwave the butter and chocolate mixture in 15 second intervals at half power, stirring well after each interval, until chocolate is just melted. Pour into cookie crumb mixture and fold until incorporated and crumbs are evenly moistened.
Dump into a 13.75-by-4.5-inch rectangle or a 9-inch round tart pan with a removable bottom. Press firmly onto bottom and up the sides (use a tamper or a small flat-bottomed glass to help if necessary). Refrigerate at least 30 minutes or until firm.
For filling, place chopped chocolate in a heat-proof bowl. The finer you can chop this chocolate the better.
Heat 3/4 cup of cream in a small saucepan until it just begins to bubble (do not let it fully boil). Pour warm cream over chopped chocolate. Let sit for 30 seconds, then begin to gently whisk, making small concentric circles in the center of the bowl, until chocolate is melted and smooth. Add butter, 1 chunk at a time, whisking slowly until incorporated before adding the next chunk. Stir in vanilla.
In a clean bowl, vigorously whisk remaining 1/2 cup cream until it forms soft mounds (you're looking for a slightly softer consistency than typical whipped cream). Fold into melted chocolate mixture until smooth and no white streaks remain.
To assemble, spread jam in an even layer in the bottom of chilled crust. Pour chocolate mixture over top and spread into an even layer. Place in the refrigerator and chill until set, at least 2 hours or overnight. Before serving, lift out of tart pan using removable bottom and slice into serving sized pieces.
*Peel your apple then grate it on the fine side of a standard cheese grater like it was a round piece of cheese. About 1 smallish size apple should give you more than enough for the 1/4 cup needed for this recipe.
Did you make this recipe?
Let us know what you think!
Leave a Comment below or share a photo and tag me on Instagram with the hashtag #loveandoliveoil.
Disclosure: This post was sponsored by the Cherry Marketing Institute. As always, all opinions written are purely our own. We're incredibly grateful for opportunities like these that allow us to continue sharing delicious recipes with you, so thank you for supporting us and the brands we love.