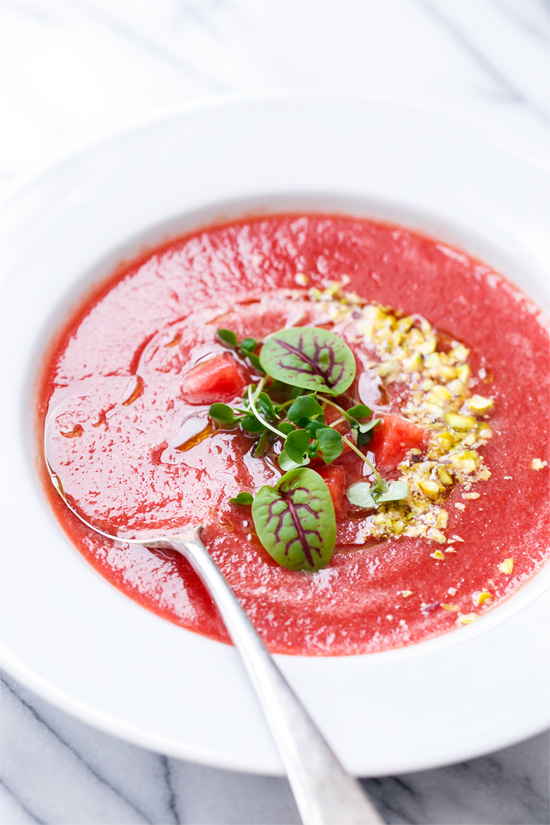 This recipe was made for August.
Seriously, hot soups have no place in the summer. Cold soups, on the other hand, are perfection. No heat, no cooking, just a quick whirr in the blender and a bit of chill time to allow the flavors to intermingle and you have yourself one steller summer soup.
So it's quick and easy and no-cook, not to mention raw, vegetarian, vegan, gluten-free, dairy-free, refined-sugar free, and even paleo (I think, don't quote me on that one) if you're into that kind of thing.
But even if you're just on the delicious diet (my personal diet of choice), you'll find this soup fits right in to the rigorous requirements of said diet. Because, no surprise here, it's downright delicious.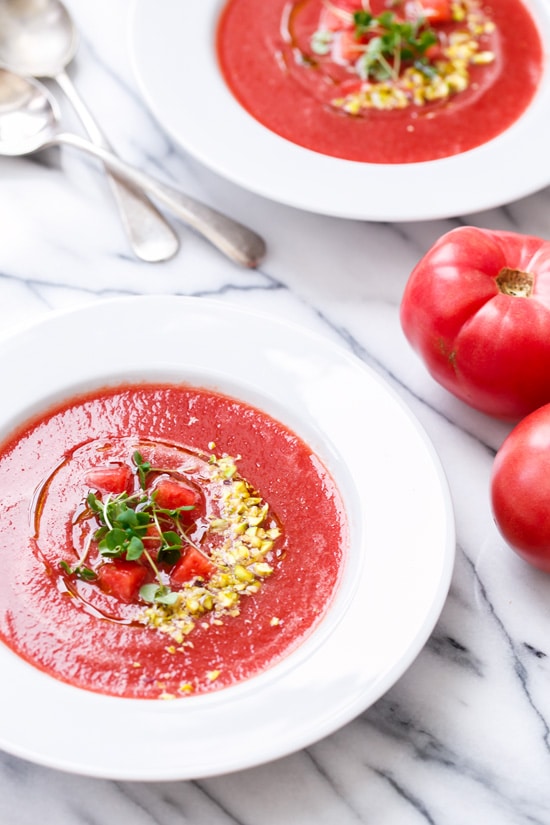 Confession time: I've never been a fan of gazpacho. At all. Too me it just tastes too much like you're eating cold salsa with a spoon, promptly activating my gag reflex. I just can't do it. Probably the same reason I can't stand tomato juice or bloody marys.
You have to give me some credit here, I've come a long way since my tomato-hating childhood, but I have to draw the line somewhere.
While traditional gazpacho is off the table (unless it's super chunky and served with chips… salsa, basically), this fruity watermelon version, on the other hand, I could devour by the gallon.
The watermelon adds a refreshing fruit flavor to offset the savoriness of the tomatoes. Just a hint of garlic and cucumber to keep it from being too smoothie-like, it walks that fine line between sweet and savory with the ease of a seasoned acrobat.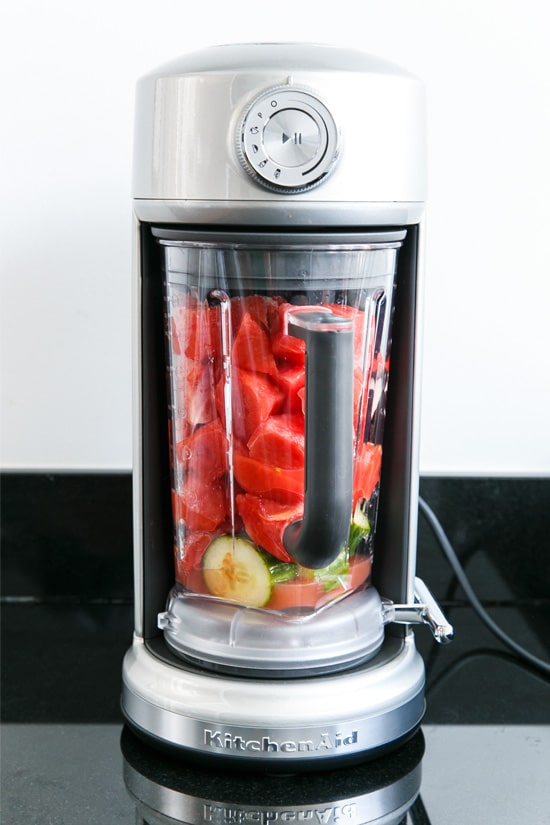 I'm excited to be sharing this recipe with you today thanks to KitchenAid® and their brand new Torrent™ Magnetic Drive Blender. To say this blender is a beast would be an understatement (I mean this in the best way possible, of course). A pitcher full of fruit and vegetables is no match for its powerful magnets, going from chunks to velvety smooth puree in mere minutes. I'm intrigued by the workings of the thing, as it's unlike any other blender I've ever used, in that the pitcher and base are completely flat. At first it doesn't seem like the blade will spin at all, and yet it does, with surprising speed and power that can rival any of the other high-end blenders on the market today. Even the stray watermelon pips disappear after a minute at high speed. The only downside for me is the size and weight; like I said, it's a beast. It's definitely meant to be a blender that sits as a showpiece on your counter… if you have the space for it.
(Looking back at these photos now I'm kicking myself for not getting the red one to match my soup. Darn it.)
Curious to try this high style, high power blender for yourself? Thanks to KitchenAid®, I'll be giving one of these babies away to one lucky reader. Check back tomorrow for your chance to win!
The soup itself is stellar on its own, but the garnishes take it over the top and perfectly round out the flavors and textures. We added a few small cubes of watermelon for some textural contrast, plus a drizzle of basil-infused olive oil (or a good fruity extra virgin olive oil), a sprinkle of sea salt and finely crushed pistachios, and a few sprigs of micro-basil to top it off.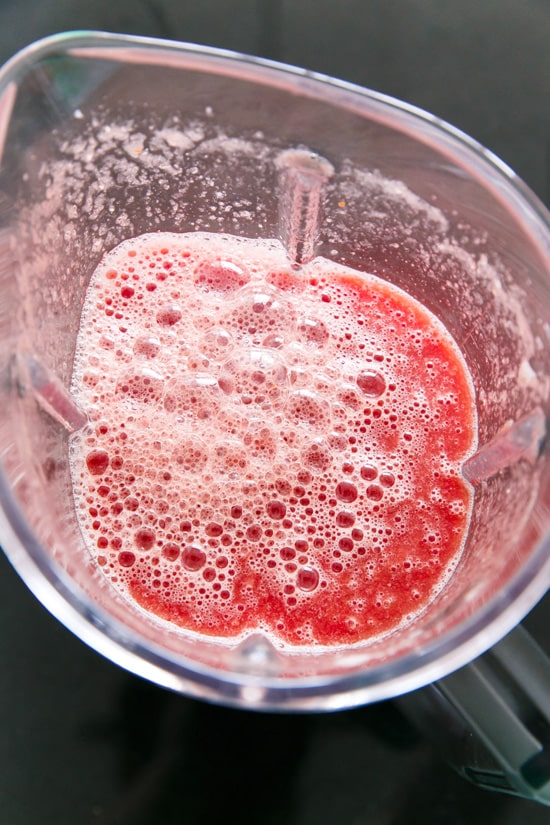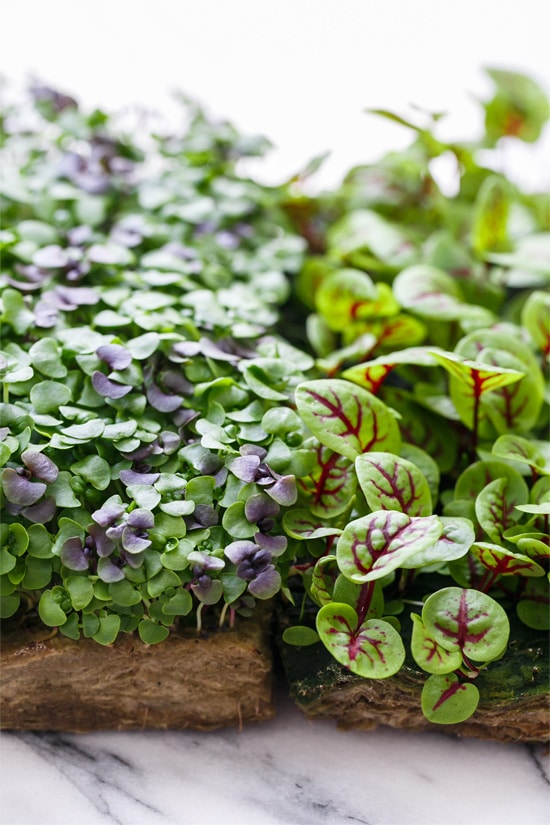 I've made my love of microgreens known before. And as I was planning this recipe, I knew in my heart of hearts that it wouldn't be complete without a few sprigs of micro-basil to top it all off.
Problem is, microgreens are not easy to find. I've only seen them at Whole Foods once or twice this year (and you can bet I check the cold section over by the sprouts every single time I go there).
I put a call out to the twitterverse where someone directed me to a local farm who then told me to look up Charlie at at CC Gardens. After a quick email exchange and a phone call, he gave us directions to his house and told us to come around back and meet him in the basement.
I'm not sure what I was expecting, but it definitely wasn't a lush forest of microgreens with more varieties than I could count. It seriously made me smile from ear to ear. It was just what I'd been looking for. Now I know where all the hip new restaurants in town are getting their microgreens, it's not a secret anymore. I walked out with a square of micro basil and another of baby red sorrel (it was simply too pretty, I couldn't help myself!) Needless to say, don't be surprised if you see microgreens on anything and everything in the near future (and if you're looking for a local source for microgreens in Nashville, I'd suggest giving Charlie a call. He'll hook you up.)
That said, if you aren't lucky enough to have a Charlie where you are, freshly torn basil will work just fine instead. :)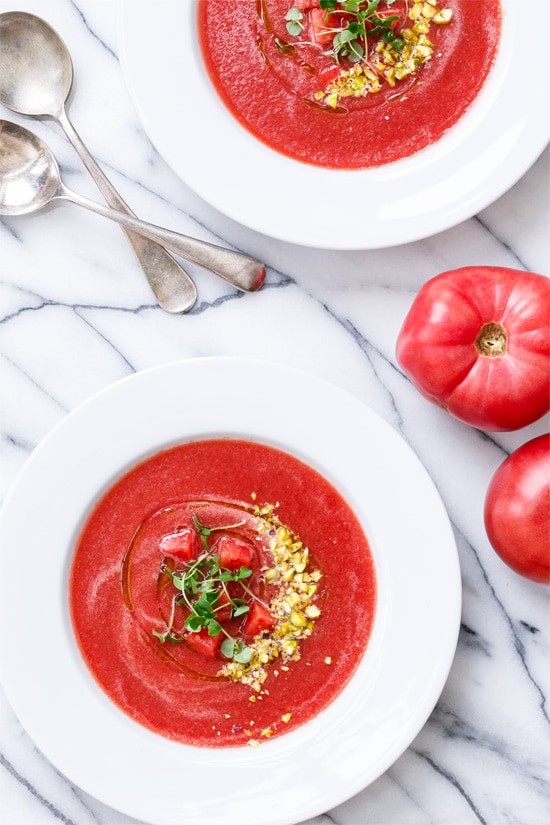 That's what I call summer in a bowl right there.
Tomato Watermelon Gazpacho with Pistachios and Basil Oil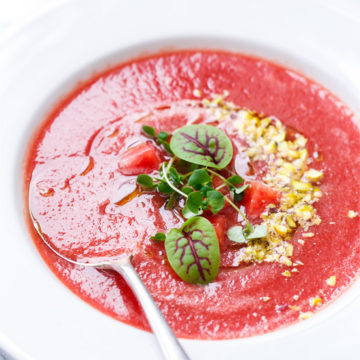 Ingredients:
1 1/2 pounds ripe Bradley tomatoes (2-3 large), peeled and cored*
4 cups cubed seedless watermelon (about 1 1/2 pounds worth, from 1/2 a smallish melon), plus more small cubes for garnish
1/2 small cucumber (about 4 ounces worth), peeled and cut into large chunks
1 large garlic clove
1 tablespoon red wine vinegar
1 tablespoon freshly squeezed lime juice
1/2 teaspoon red pepper flakes (or to taste)
1/2 teaspoon sea salt
1/4 teaspoon freshly ground black pepper
1/4 cup lightly toasted shelled pistachios, finely chopped
basil-infused olive oil, for garnish
microgreens or freshly torn basil, for garnish
Directions:
Combine tomato, watermelon cubes, cucumber chunks, garlic, red wine vinegar, lime juice, red pepper flakes, salt and pepper in the pitcher of your KitchenAid® Torrent™ Blender. Cover and blend on variable speed, starting with the lowest speed and gradually increasing speed to the maximum. Blend for about 1 minute or until smooth. Season to taste with additional salt and pepper, as desired. Cover and refrigerate for at least 1 hour or until ready to serve (you can refrigerate it right in the pitcher if you like, or transfer to a bowl and cover).
To serve, divide soup among serving bowls. Drop a few small cubes of watermelon into each bowl. Drizzle with basil oil. Sprinkle with chopped pistachios and top with fresh basil or microgreens. Serve chilled.
*To easily peel tomatoes, cut an X in the bottom of the tomato with a sharp knife. Submerge in boiling water for 30 seconds, then transfer with a slotted spoon to a bowl of ice water to stop the cooking process. When tomatoes are cool enough to handle, the skin should peel off easily.
Did you make this recipe?
Let us know what you think!
Leave a Comment below or share a photo and tag me on Instagram with the hashtag #loveandoliveoil.

Disclosure: This post is sponsored by KitchenAid®. I received a Torrent™ blender for the purpose of this review. As always, all opinions written are purely our own. We're incredibly grateful for opportunities like these that allow us to continue sharing delicious recipes with you, so thank you for supporting us and the brands we love.