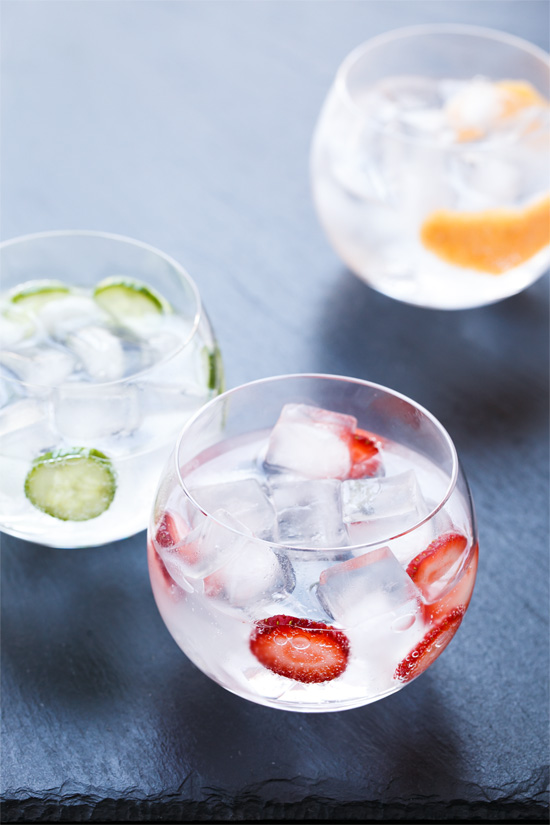 It's high time you made yourself a nice cocktail, don't you think? I mean, it's almost 5'oclock, and it's almost Friday at that.
The G&T is certainly not a complicated cocktail, but when it's done right there is nothing more refreshing on a hot summer afternoon.
But this post is more than just a plain ol' G&T. Because as simple as it is, you can subtly flavor it with just about anything: fruit, vegetables, or fresh herbs. We tried the whole muddling thing and frankly it just came out kind of… muddled. Not the crisp flavor that you'd expect from a good gin and tonic. Rather, flavored gin-tonics should be treated more like infused waters: letting the flavoring element, whether it be fruit, vegetable, or citrus peel, permeate the alcohol on its own terms. If you like a stronger flavor, give it a good stir and let it sit a few minutes (add more ice if you need it). The longer it sits, the more pronounced the flavor will be.
Barcelona adores their gin and tonics, and that's what inspired us to create our own versions at home. When we were there this past spring it was definitely the thing to drink, with hip bars serving up gigantic cocktails in bubble glasses the size of your hand in myriad different flavors and varieties. It's one of those cocktails that often gets overlooked because of its simplicity, but in reality we should be appreciating it even more because of that.
In Barcelona they actually offered a strawberry black pepper version, but we found the pepper to either be too subtle to even be worthwhile, or if you added enough to be able to taste it, it imparted a bitter flavor to the drink. Instead, find a nice peppery gin (like St. George Spirits' Terroir gin) is a better option than adding actual black pepper.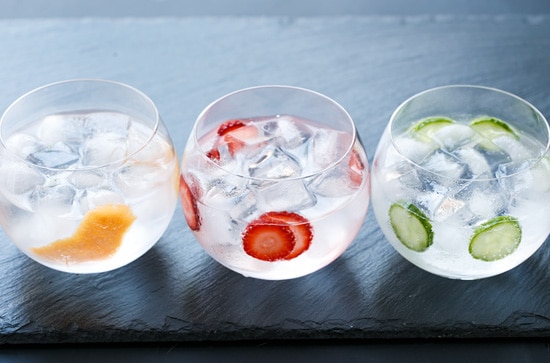 Taylor is partial to the grapefruit version; I personally liked the strawberry. That is until we made a watermelon version last night (!!) and that might our new favorite.
I can't stress enough how important it is to use quality ingredients, especially for limited-ingredient cocktails like this one. Our favorite gins-of-the-moment are Nashville's own Corsair artisan distilled gin, and the official gin of Disney's Club 33 from St. George Spirits. The same goes for the tonic. We cannot say enough good things about Jack Rudy tonic syrup (which gets mixed with basic club soda for the best tonic every). But at the very least get yourself a good quality tonic soda like Fever Tree brand. You will definitely notice a difference in the final taste and flavor.
Here's to appreciating the simpler things in life (especially if those things include a good Gin & Tonic). Cheers!
Perfect Gin and Tonic: 3 Ways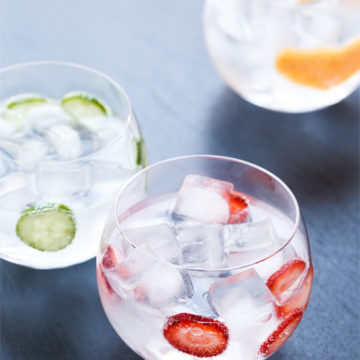 Ingredients:
grapefruit peel, sliced strawberry, or sliced cucumber
2 ounces good quality gin
4 to 5 ounces tonic soda (or combine 4 to 5 ounces of club soda with 3/4 oz tonic syrup)
Directions:
Fill a tall collins or bubble glass 3/4 full with ice. Place a few slices of fruit or citrus peel down among ice cubes. Add gin, followed by tonic (or tonic syrup first, then club soda). Gently stir and and enjoy. Rinse and repeat.
Did you make this recipe?
Let us know what you think!
Leave a Comment below or share a photo and tag me on Instagram with the hashtag #loveandoliveoil.