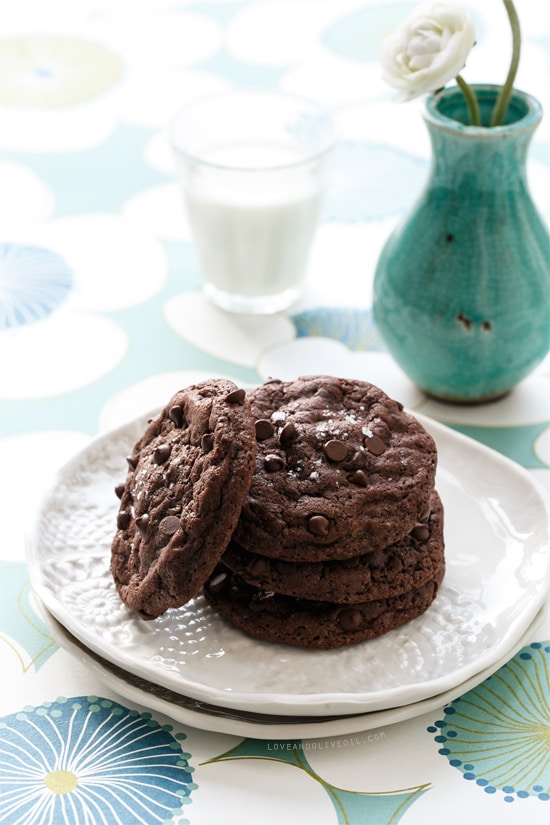 The hardest part about food blogging is writing about food that's long gone, dredging up feelings and flavors past and knowing that you've long since eaten the last one. Recalling the flavors and textures of a recent recipe, trying to transpose those sensory details into words, well, that's a surefire way to get your mouth watering and your stomach grumbling. Especially something as decadent and delicious as a fudgy chocolate cookie.
Instead of sitting here stringing together words that could not possibly do justice to these amazing stuffed cookies, I wish I were downstairs in the kitchen baking some more right now (ok, if we're being entirely honest it's not even the baking that I'm craving, I just want to bite into one right now.)
Eating > Baking > Writing.
Sorry, but it's true.
So you'll forgive me if this post ends here, right?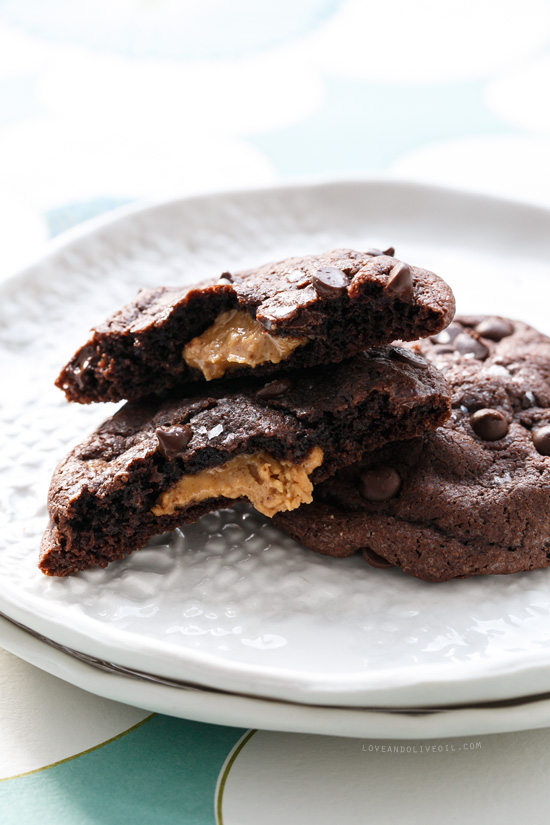 Just kidding.
There's a lot more to be said about these cookies. Somewhat plain-looking on the outside (although I'm never one to turn down even a plain chocolate cookie, sea salt or not), they're far more than meets the eye, for these cookies have a sweet secret: they're stuffed with peanut butter.
The filling is like a peanut butter cup, creamy peanut butter stabilized with a little powdered sugar. Fresh out of the oven it's melty and gooey and out of this world delicious (and I definitely advise eating at least one while it's still warm). Sure, you could stuff them with bite-sized peanut butter cups (like the regular chocolate chip version) and save yourself some time. Either way.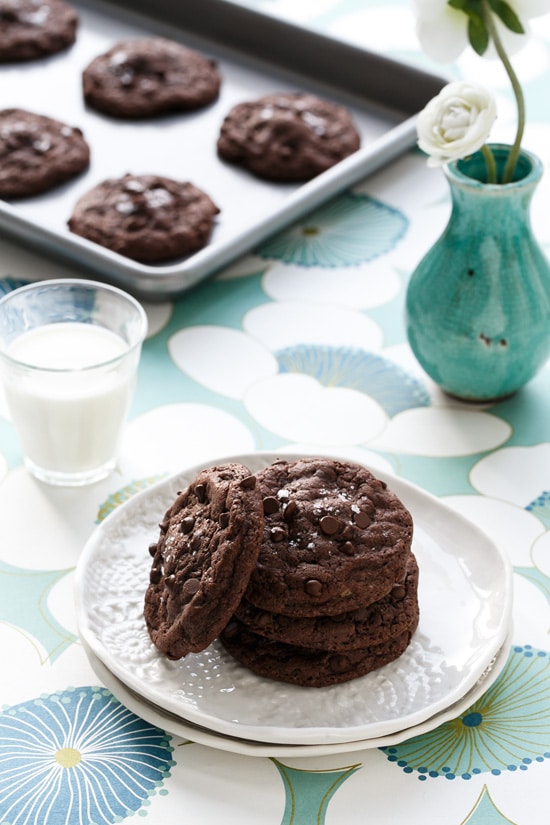 The trick to stuffing is to dollop out spoonfuls of the filling and freeze it first, that way it is firm enough to sandwich and encase inside the cookie dough. I found the best way to get the peanut butter inside the dough was by splitting the dough ball into two pieces, flattening and placing the frozen filling ball in the middle, then smashing the other half on top, sealing in the edges.
The best part about the peanut butter/chocolate combination is the play of sweet and salty that satisfies all my cravings at once (satisfacion efficiency, two for the price of one). And so I figured that a sprinkle of sea salt on top, you know, for good measure, couldn't hurt. The finishing touch, if you will.
(Tip: if you want a few perfectly placed chocolate chips to show on your baked cookies, press a few onto the outside of the rolled cookie balls just before baking. Food stylist secrets, y'all.)
Peanut Butter-Stuffed Chocolate Cookies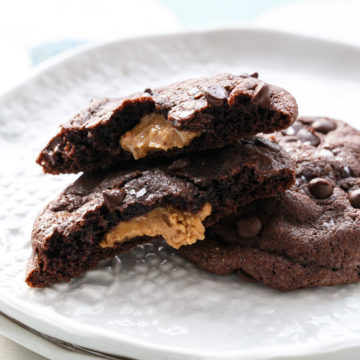 Ingredients:
For Filling:
1/2 cup creamy peanut butter, room temperature
1/4 cup powdered sugar, sifted
1/4 teaspoon vanilla extract
1/8 teaspoon salt (increase to 1/4 teaspoon if using unsalted pb)
For Cookies:
1 3/4 cup all-purpose flour
1/2 cup dark or dutch-processed cocoa powder, sifted
3/4 teaspoon baking powder
1/4 teaspoon baking soda
1/2 teaspoon salt
1/2 cup (1 stick) unsalted butter, room temperature
1 cup packed light brown sugar
1/2 cup granulated sugar
2 large eggs
1/2 teaspoon vanilla extract
1/2 cup mini chocolate chips
large flake salt (such as Maldon), for sprinkling
Directions:
In a bowl, mix together peanut butter, powdered sugar, vanilla, and salt until it forms a smooth paste. Dollop teaspoons (grape-sized balls) of filling mixture onto a parchment or foil-lined baking sheet. Freeze for at least 30 minutes or until firm enough to handle.
Preheat oven to 350 degrees F. Line baking sheets with parchment paper or silicone mats.
In a bowl, whisk together flour, cocoa powder, baking powder, baking soda, and salt and set aside
In a large mixing bowl or the bowl of a stand mixer, beat butter and sugars together on medium-high speed until light and fluffy, 2 to 3 minutes. Add eggs and vanilla and mix until smooth, scraping down the sides of the bowl as needed. Add dry ingredients and mix on low speed until incorporated. Stir in mini chocolate chips.
Scoop 1 1/2-inch balls of dough with a medium cookie scoop (about 2 tablespoons per cookie). Split dough in half, and slightly flatten one half in the palm of your hand. Place one frozen filling ball into the center of the dough. Top with other half of dough ball and smush around frozen filling until well sealed. Roll into a smooth ball and place on prepared cookie sheet, leaving at least 2 inches of space between cookies to allow for spreading. If desired, sprinkle cookies with a pinch of flake sea salt just before baking. If you are baking in batches, returning tray of filling balls to freezer while one batch bakes so they stay firm.
Bake cookies for 11 to 12 minutes or until centers are just set. Remove from oven and let cool on pans for 10 minutes, then transfer to wire racks to cool completely.
Cookies will keep in an airtight container for up to 3 days.
Did you make this recipe?
Let us know what you think!
Leave a Comment below or share a photo and tag me on Instagram with the hashtag #loveandoliveoil.