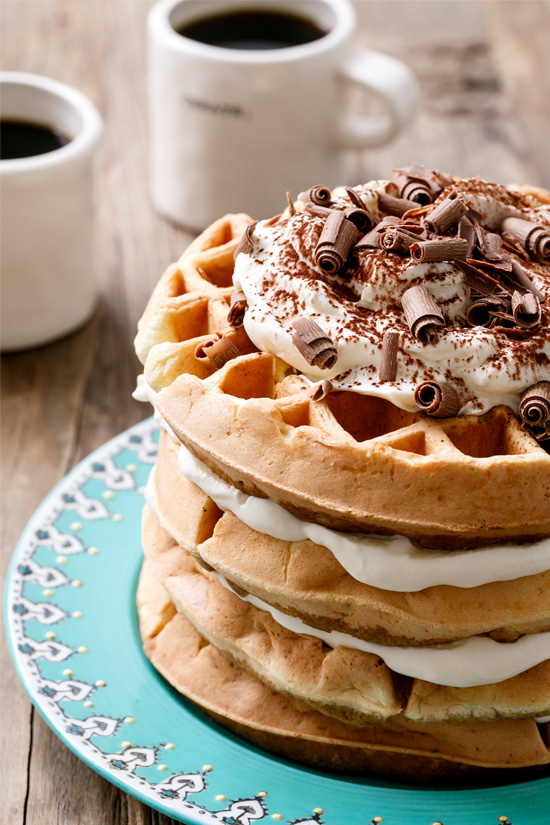 File under: proof that you can 'waffle' just about anything.
In this case, tiramisu.
The waffles themselves are made from ladyfinger batter. Instead of piping into fingers it's heaped into a Belgian waffle maker and cooked until crisp and golden on the outside and light and airy on the inside. It honestly surprised me at how well this worked, even the first try (believe me, I've scraped some sorry failures off of this waffle baker before).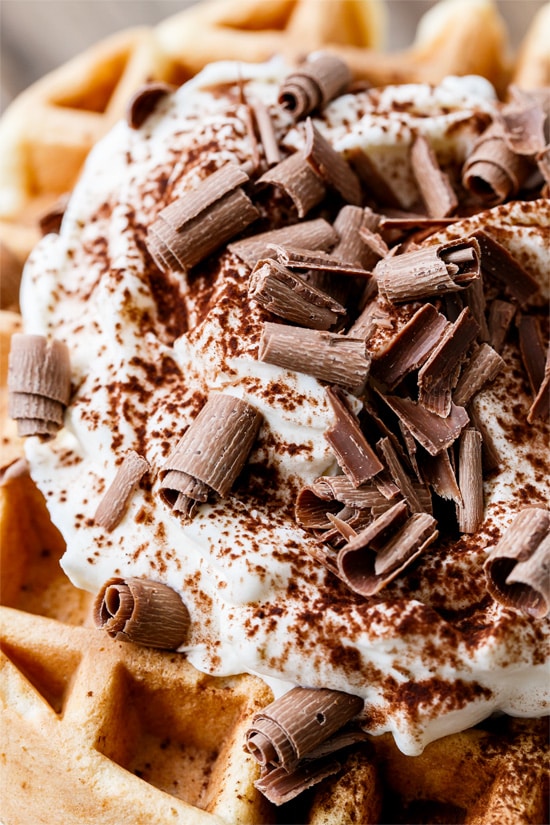 Much like a ladyfinger cookie, the waffles themselves are pretty lackluster. Eating them on their own and you might think I'm a horrible recipe developer. But trust me, once they're dipped in freshly brewed espresso and layered high with creamy clouds of sweet mascarpone filling, you'll get it. I guess you could call this a 'big picture' kind of recipe.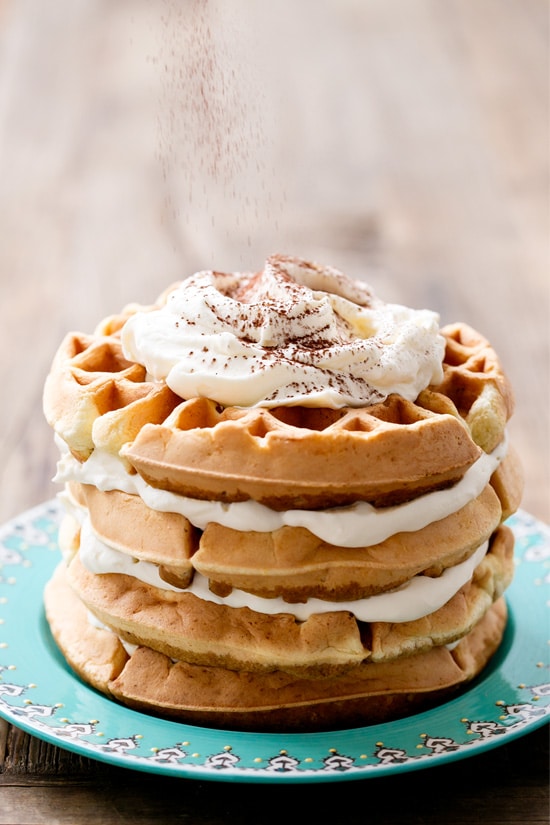 While certainly show-stopping, the stacked waffle cake-like presentation is perhaps not the most practical thing in the world (a case of form over function for sure).
That said, you can most certainly serve these quartered on dessert plates, dolloped with a heaping scoop of the filling and liberally sprinkled with cocoa powder and chocolate curls.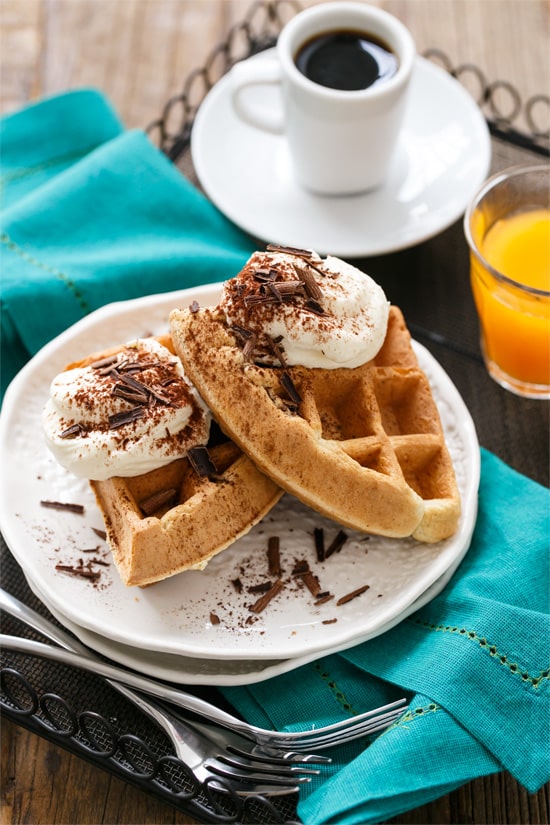 For breakfast, even. I mean… coffee? cream? eggs? It's basically breakfast already.
Get the recipe on the Kitchenthusiast blog now »
Tiramisu Waffles
Light and fluffy ladyfinger-like waffles, dipped in espresso and topped with mascarpone cream and chocolate shavings. As if you needed an excuse to eat tiramisu in the morning…
Ingredients:
For Waffles:
6 large eggs, separated
1/8 teaspoon cream of tartar
3/4 cup tablespoons granulated sugar, divided
1 1/2 cups all-purpose flour
1/2 teaspoon baking powder
1 teaspoon vanilla extract
1/4 teaspoon salt
For Filling:
1 cup (8oz) mascarpone cheese
1/2 cup granulated sugar
1/4 teaspoon vanilla extract
2 cups heavy cream
1 cup brewed espresso, lukewarm
cocoa powder, for dusting
chocolate curls, for garnish (optional)
Directions:
Preheat Belgian waffle maker according to manufacturer instructions.
Combine egg whites and cream of tartar in the bowl of a stand mixer fitted with a whisk attachment. Beat on medium-high speed until frothy, then add 2 tablespoons granulated sugar. Increase speed to high and whip until the whites hold soft peaks. Transfer to a clean bowl and set aside.
Return mixing bowl to stand mixer (it's ok if there's still a little bit of egg white left in it), and replace whisk with paddle attachment. Add egg yolks and remaining 1/4 cup sugar to bowl. Beat on medium-high speed for 1 to 2 minutes or until yolks are thick and light yellow in color. Mix in vanilla and salt.
In a small bowl, whisk together flour and baking powder until evenly incorporated. Fold into egg yolk mixture until stringy and only a few streaks of dry ingredients remain. Fold in 1/3 of egg whites to lighten; add remaining egg whites and fold until just incorporated. Do not over mix.
Scoop a heaping 1 cup of batter into the waffle maker (more or less depending on your specific machine). Cook for about 3 minutes 30 seconds or until waffles are golden brown and crisp. At this point waffles can be cooled, then frozen in an airtight container for up to 1 month.
To prepare topping, combine mascarpone cheese, sugar, and vanilla in the bowl of a stand mixer fitted with the paddle attachment. Mix on medium speed until evenly incorporated. Add heavy cream and beat until thickened and smooth. If filling is too thick (it will continue to thicken as it stands), mix in another tablespoon or two of heavy cream as needed.
Place brewed espresso in a shallow bowl or dish. Dip the bottom of each waffle briefly in the espresso, submerging it no more than 1/3 of the way, then place on serving plates, or, for a waffle cake, on a cake stand. Dollop with a generous spoonful of mascarpone mixture, or, for waffle cake, layer a generous 3/4 cup of filling between espresso-dipped waffles. Dust with cocoa powder and sprinkle with chocolate shavings. Enjoy.
Did you make this recipe?
Let us know what you think!
Leave a Comment below or share a photo and tag me on Instagram with the hashtag #loveandoliveoil.