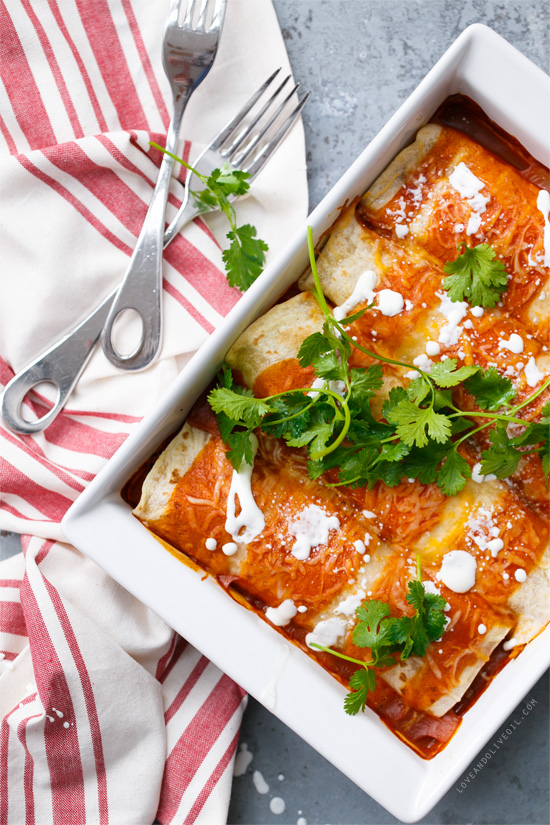 In our house, I usually make the grocery lists, so I'm responsible for making sure we don't accidentally use something up that we're going to need later in the week. Especially when I know we need to photograph something, I'm usually pretty good about letting Taylor know what foodstuffs are off limits until the shot is done.
This time, my system didn't work quite so well. Taylor, unawares of our Mexican-food-packed week (enchiladas, tacos, and burritos, oh my!) unknowingly made himself a few breakfast burritos for lunch, using up most of what was left of our container of sour cream and two of the few remaining good tortillas.
So when it came time to make enchiladas for dinner that night, I found myself with shoddy stuck-together tortillas (I'm never buying that brand again) and a measly two tablespoons of sour cream. Yes, it was probably my fault for not buying more to begin with, but I secretly wanted to blame him for using something he should have known not to, even if I had never actually told him so.
Knowing that these enchiladas needed sour cream, I stubbornly scraped what was left into a squeeze bottle, thinking that it was maybe just barely enough.
But as I went to squeeze out an artful drizzle over the freshly baked and bubbly enchiladas, what I got instead was a nice loud phffffffffthththtthph and a splatter of sour cream all over my beautiful enchiladas (and my backdrop. And my linens. And my shirt…)
I could have flipped out. I could have thrown the squeeze bottle across the room and stomped off in a huff. I could have made a scene out of something that was so minor and trivial that I would have looked like a total food blog-zilla (and, I admit, I've done so before).
Instead, I laughed. At myself. At the ridiculousness of the situation. At the fact that my Pollock-esque spatters of sour cream and crudely clumped cilantro thrown down in a fit of restrained rage ended up looking better than if I had precisely placed each perfect leaf with a pair of tweezers.
Such is life.
Such are enchiladas.
And you know what? That's ok. Because these enchiladas taste amazing.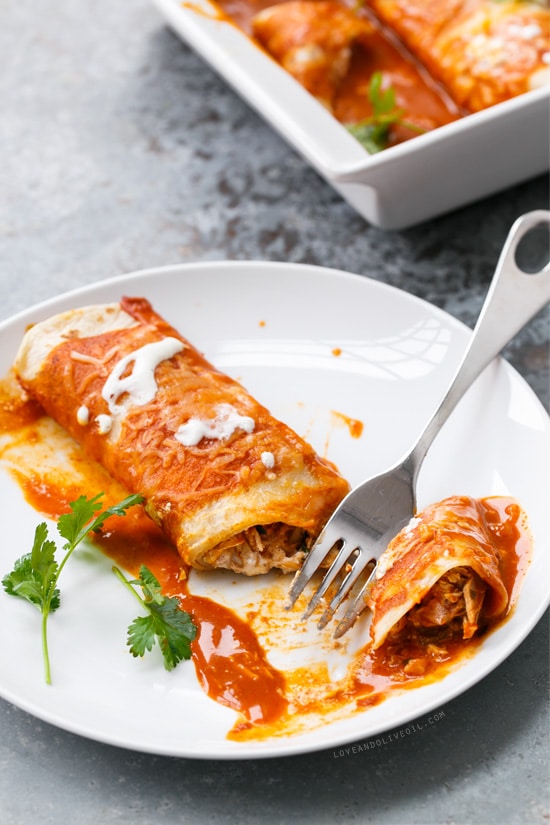 They're based on Gina's amazing enchilada recipe from the Skinnytaste Cookbook. I have to admit, I'm pretty good at un-skinnyfying her skinny recipes, swapping in full fat for low fat and so forth. Even so, these enchiladas are full of flavor and still manage to be somewhat healthy. We added the goat cheese (because everything is better with goat cheese), as well as some pickled jalapeños to the filling for a bit of a kick. You can use jarred Enchilada sauce (the Trader Joe's brand is surprisingly good!) or make your own if you prefer.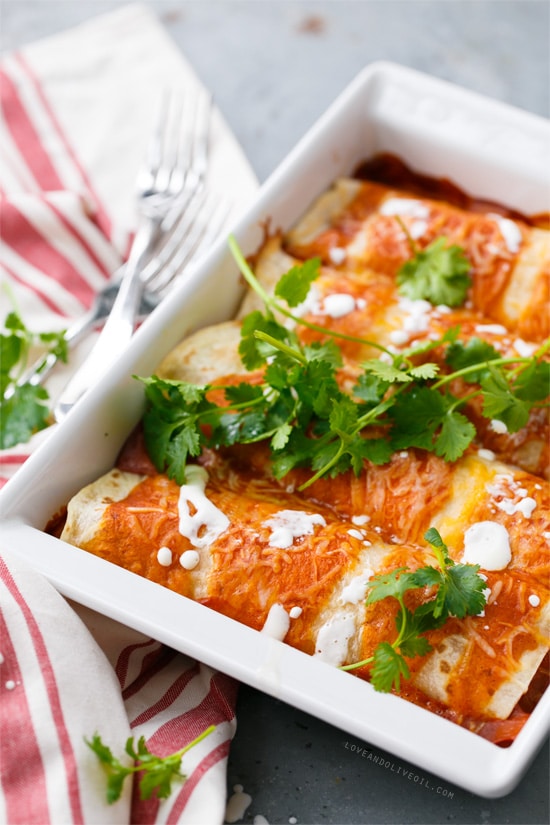 In this crazy food-blog world where a kind of 'perfect imperfection' runs rampant (I know I'm not the only one to have thought, 'there's no way that crumb was unintentional' on more than one occasion), sometimes you just have to accept that things might come out looking/smelling/sounding like a big juicy… uh, well, not what you originally intended.
This will henceforth be known as the Enchilada Incident, and will serve as a shining example of that one time when everything went wrong and I had no choice but to sit back and laugh at the absurdity of the situation.
And honestly? I think we'd all be a lot happier if we were able to laugh at ourselves more often.
Chicken & Goat Cheese Enchiladas
Ingredients:
1 teaspoon vegetable oil
1 medium onion, chopped (about 1 cup chopped)
2 garlic cloves, minced
1/2 cup canned tomato sauce
1/3 cup chicken broth
9 ounces cooked shredded chicken (from about 2 smallish chicken breasts)
1/4 cup fresh cilantro, plus more for topping
1/4 cup pickled jalapeños, drained and chopped
1 teaspoon chili powder
1 teaspoon ground cumin
1/2 teaspoon dried oregano
3/4 teaspoon kosher salt
8 flour tortillas
1/2 cup (4 ounces) soft goat cheese
1 1/2 cups enchilada sauce
1 cup Mexican blend cheese
sour cream, for garnish
Directions:
Preheat oven to 400 degrees F. Lightly spray a 13-by-9-inch baking pan with cooking spray.
Heat oil in a non-stick skillet set over medium heat. Add onion and garlic and stir until softened, about 2 minutes. Add tomato sauce, chicken broth, chicken, cilantro, jalapeños, chili powder, cumin, oregano, and salt. Simmer until slightly reduced, 4 to 5 minutes. Remove from heat.
Lay a tortilla flat on a clean work surface. Spread a generous tablespoon of goat cheese in a stripe down the center, then top with about 1/3 cup of chicken mixture. Roll up and place, seam side down, in prepared baking pan. Repeat with remaining tortillas. Pour enchilada sauce over top and sprinkle with grated cheese. Cover with aluminum foil and bake until heated through and cheese is melted, about 20 to 25 minutes (if you like your cheese speckled with brown, remove the foil during the last 5 minutes of baking).
Serve warm, topped with fresh cilantro and a dollop (or splatter) of sour cream if desired.
Did you make this recipe?
Let us know what you think!
Leave a Comment below or share a photo and tag me on Instagram with the hashtag #loveandoliveoil.