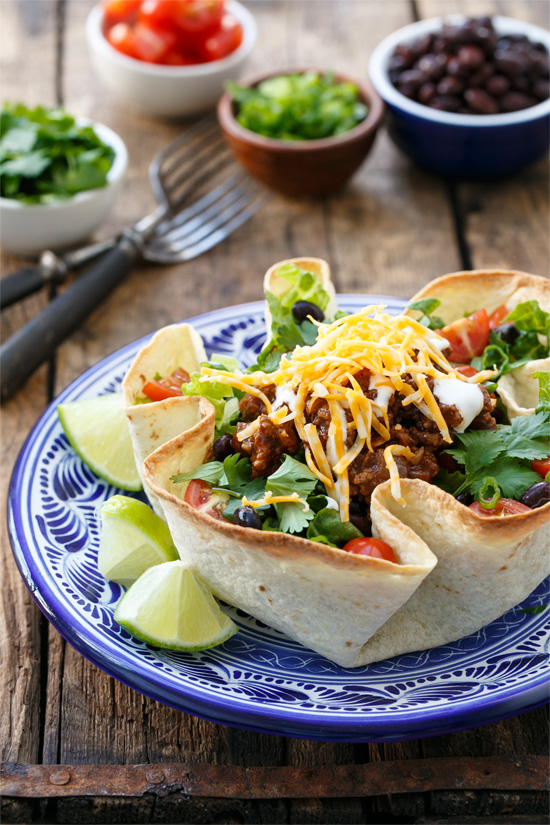 I honestly can't tell you the last time I had taco salad.
Oh wait, yes I can… two weeks ago. When we made these.
But before that I mean. Taco salad was always this oddly unappealing concept, something my mom would order when we'd go out to eat, that I'd side-eye skeptically as I plowed down my greasy cheese enchiladas.
Because when you're craving Mexican food, salad is usually the last thing to come to mind.
Maybe I'm maturing in my tastes because these days, I can definitely see the appeal. I thought it might just be a grown-up thing, this Americanized dish we call taco salad, but then I realized, you can eat the entire bowl. I mean, c'mon. What kid wouldn't enjoy that? (And actually, now, maybe I do remember slyly cracking bits off my mom's bowl, taking care to avoid the lettuce at all costs).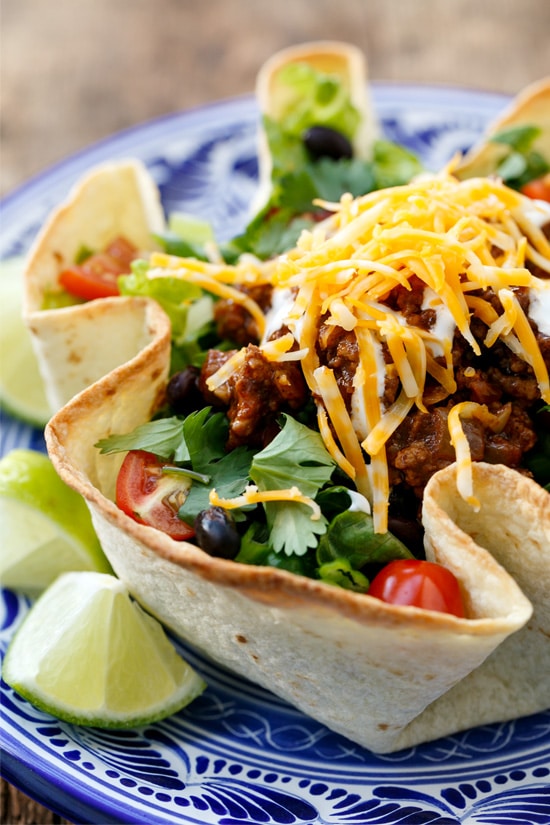 This recipe comes from The Best Mexican Recipes, the newest release from the Editors at America's Test Kitchen. Their Complete Cooking for Two is still one of our favorite cookbooks to date, and so we were confident this book of Mexican recipes would not disappoint.
There are a number of very authentic-sounding recipes in the book, which I appreciate, but it does mean that they are often time consuming and complex, which was surprising to us for an ATK cookbook (like the Swiss chard burritos we tried. I'm all for a complicated meal if it is worth it in the end, but alas, these were not.)
This beef taco salad is a different story, and it's a stellar example of the kind of delicious, impeccably flavored food I expect from ATK. It's simple AND flavorful. Even after making your own tortilla bowls, you'll be sitting down to eat in about 30 minutes.
It may very well change your impression of taco salad forever.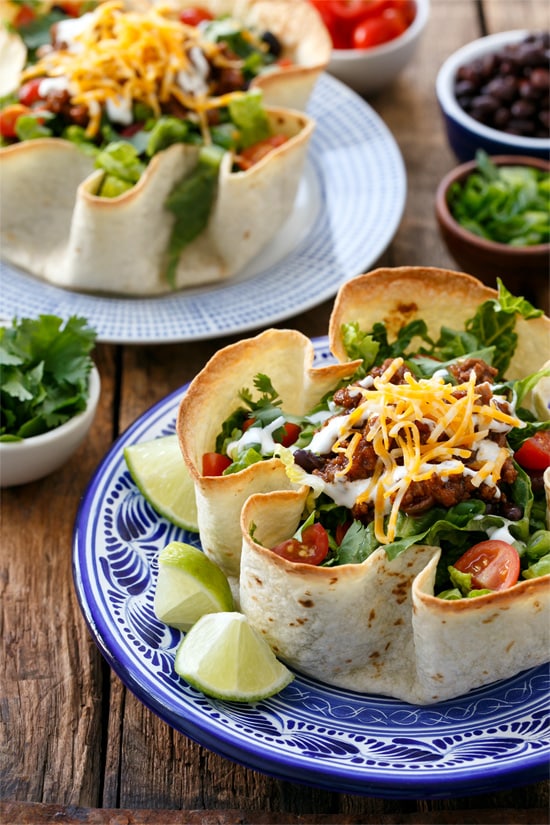 Taylor still talks about this taco meat like it was yesterday (and this from the guy who can't even remember what we actually ate yesterday). When a recipe resonates with Taylor, for whatever reason (and I can never predict exactly what recipes will stick) I know I'll be hearing the echoes for years. This is one of those recipes.
Actually, I think Taylor liked this recipe way more than our own go-to taco meat, which is not as saucy and has a different flavor profile altogether.
"It's like Hamburger Helper, only not." (While I can't see how that'd be a good thing, he is insistent that it is.)
While I'm not a huge fan of drippy tacos, for a taco salad, though, the sauciness of the meat serves as both topping AND dressing and makes complete sense.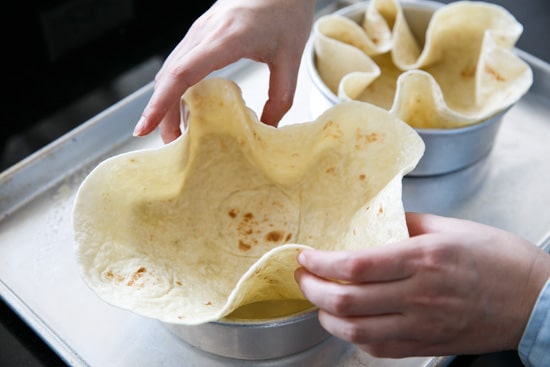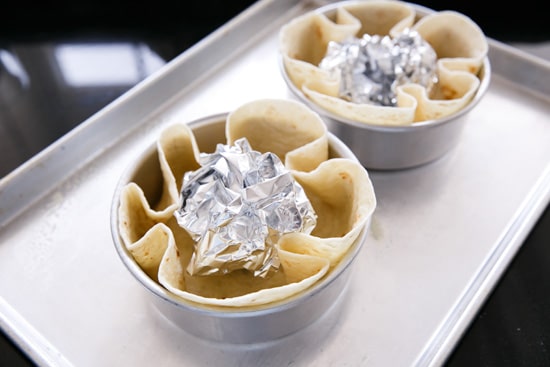 It's surprisingly easy to make your own baked tortilla bowls. You can either drape the tortillas over an up-turned soup bowl (be sure the bowl is oven-safe!) or you can use a small 6-inch cake pan and nest the tortilla inside of that. If your tortillas fall in on themselves, put a lightly crumpled foil ball in the center to help hold the shape.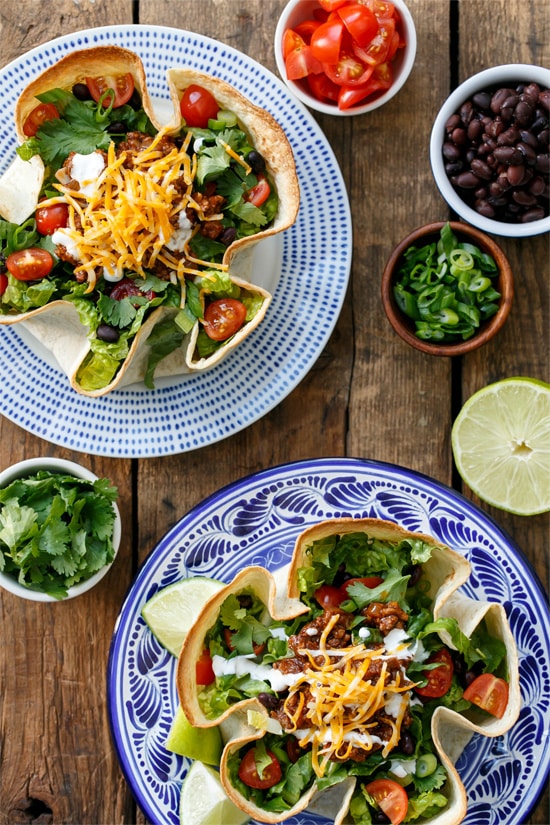 Looking at these photos now I'm kicking myself, because I know I had two perfectly ripe avocados sitting on the counter, just waiting to be adorn for these homey-looking taco salads. Alas, all you get is a dollop of sour cream and a pile of shredded cheese. Avocado is totally optional, of course, but I think it'd be a fabulous addition.
Beef Taco Salad with Homemade Tortilla Bowls
Ingredients:
Tortilla Bowls:
4 10-inch flour tortillas
vegetable oil spray
Taco Meat:
1 tablespoon vegetable oil
1 onion, finely chopped
2 tablespoons chili powder
3 garlic cloves, minced
1 pound lean ground beef
1 (8-ounce) can tomato sauce
1/2 cup chicken broth
2 teaspoons cider vinegar
1 teaspoon packed light brown sugar
salt and pepper
Salad:
2 romaine lettuce hearts, shredded
1 (15-ounce) can black beans, drained and rinsed
8 ounces cherry tomatoes, quartered
2 scallions, thinly sliced
1/4 cup chopped fresh cilantro
2 tablespoons lime juice
1/2 cup shredded Mexican cheese blend
salt and pepper
avocado, for topping (optional)
sour cream or Mexican crema, for topping (optional)
Directions:
To make homemade taco shells, adjust oven racks to upper-middle and lower-middle positions; preheat oven to 425 degrees F. Arrange 4 oven-safe soup bowls, flattened foil balls, or 6-inch cake pans on two rimmed baking sheets.
Warm tortillas slightly until pliable. Spray both sides with cooking spray, then drape over soup bowls or nest inside cake pans. Bake until crisp, 10 to 15 minutes, rotating sheets half way through baking. Let cool completely before moving.
Heat oil in a nonstick skillet set over medium-high heat. Add onion and cook until softened, about 5 minutes. Stir in chili powder and garlic and cook until fragrant, about 30 seconds. Add ground beef and cook, breaking up meat with a wooden spoon, until almost cooked through but still slightly pink, about 2 minutes. Stir in tomato sauce, broth, vinegar, and sugar and simmer until slightly thickened, about 5 minutes; mixture will be saucy. Remove from heat and season with salt and pepper.
Combine lettuce, beans, tomatoes, scallions, and 2 tablespoons cilantro in a large bowl; toss with lime juice and season with salt and pepper to taste. Place tortilla bowls on serving plates. Divide salad among bowls. Top with taco meat and sprinkle with cheese and remaining cilantro. Garnish with sour cream and avocado, if desired.
Did you make this recipe?
Let us know what you think!
Leave a Comment below or share a photo and tag me on Instagram with the hashtag #loveandoliveoil.