As I sit here with frozen fingers, numbly trying to type up why you need to make this soup NOW, I realized that winter has essentially done my work for me. I could write 1,000 words about why this soup is amazing and continues to be one of your favorite recipes to date, but I'm not nearly as convincing as those single-digit temperatures lurking just outside your door.
Brr.
So if you're looking for a hearty, satisfying dinner to warm you up from the inside out, well, this is it.
It's like a pair of mittens, for your stomach.
As far as I can tell, there are three basic varieties of tortilla soup: red tomato-based, green tomatillo-based, and clear, the only surefire commonality is the crispy tortilla topping (hence the name tortilla soup – duh). I prefer thin and freshly fried strips of corn tortilla, but you can certainly use crushed up tortilla chips or tortilla chip strips as well.
This is our take on the red variety, with a flavorful base made of mainly tomatoes and chicken broth; the addition of blistered green peppers (both poblano for flavor and jalapeño for spice) may give it a slightly off orange hue, but the flavor is out of this world.
In a twist of fate, we just so happened to find a rare package of micro cilantro at the store the same week we were planning to make and shoot this soup. I couldn't have asked for better timing. Obviously, micro cilantro not being easily attainable, normal cilantro will work perfectly fine in its place.
But if you DO happen to find micro-cilantro at your store, BUY IT ALL. It's seriously like my new favorite thing and I want to put it on everything.
Want to make your plain old bean quesadilla look like it came from a gourmet restaurant?
BAM. Micro cilantro.
Want to turn a somewhat unphotogenic soup into the prettiest thing this side of Mexico City?
BOOM. Micro cilantro.
Get my drift?
And since I can never seem to get cilantro to grow very well here in Tennessee (it's just too darn hot and the cilantro starts bolting before it's even usable), I'm kind of psyched about the prospects growing my own micro herbs. Yes, dear, I will be taking over the upstairs bathroom, but it's not like we ever use that shower anyway. In my mind it's the perfect place for my microgreen farm, and the cooler indoor temperatures should be perfect for a bumper crop of micro cilantro (among other things).
But enough about microgreens, as they are just the icing on a really fabulous cake. This soup is so much more than just the garnish, though the garnishes aren't an insignificant part of the dish as a whole. I mean, tortilla soup simply wouldn't BE tortilla soup without the tortillas. But the avocado chunks and the sour cream and yes, the cilantro too, really bring the soup together.
We originally developed this Tortilla soup recipe for Le Creuset and their adorable Bell Pepper Cocotte, but it's easily become one of our favorite recipes. We've made a few modifications since the original, increasing the proportions for ample leftovers and adding a splash of lime at the end, and I figured it was high time I share it here.
Chicken Tortilla Soup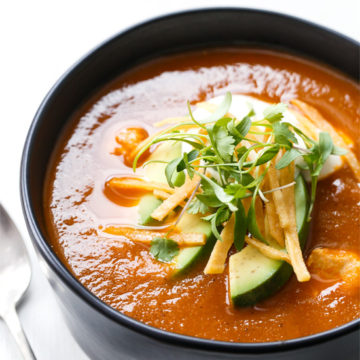 Ingredients:
1 small onion, cut into 1-inch chunks
4 garlic cloves, minced
1 poblano pepper, halved and seeded
2 jalapeño pepper, halved and seeded
2 tablespoons olive oil, divided
1 (28 ounce) can diced tomatoes
2 tablespoons olive oil
4 cups chicken stock or broth
2 boneless, skinless chicken breast, cut into 3/4-inch cubes
1 tablespoon fresh squeezed lime juice (from 1/2 lime)
salt and pepper, to taste
For Toppings:
2 corn tortillas, sliced into 1/4-inch wide strips
canola or vegetable oil, for frying
fine sea salt
sour cream
sliced avocado
fresh chopped cilantro or micro cilantro
Directions:
Preheat broiler on high and arrange baking rack in the upper third of the oven. Line a baking sheet with aluminum foil and coat lightly with cooking spray.
Toss onion, garlic, and peppers with 1 tablespoon of olive oil; spread in a single layer on baking sheet, cut sides down. Broil for 6 to 8 minutes or until peppers and onions are blistered and blackened in spots. If the garlic gets brown too quickly, remove the cloves early or cover them with a piece of pepper so they don't burn.
Place broiled vegetables in a blender along with tomatoes and all their juices. Blend on medium-high speed until smooth.
Heat remaining olive oil in large heavy stock pot or Dutch oven set over medium-low heat. When oil begins to glisten, add tomato puree mixture and stir. Add chicken broth. Bring to a boil, then reduce heat to low and simmer, stirring occasionally to prevent splattering, for 10 minutes. Add cubed chicken and simmer for another 15 minutes or until chicken is cooked through. Add lime juice; season to taste with salt and pepper.
Meanwhile, to prepare crispy tortilla strips, place a saucepan over medium heat. Fill with 1/4-inch of oil. When oil is shimmering, add about 1/4 of the cut tortilla strips (working in batches will ensure the oil stays at an appropriate temperature and the strips won't stick together.) Fry for 1 to 2 minutes, flipping once part-way through. When tortillas are lightly golden brown (they will get slightly darker once they come out of the oil) transfer with tongs or a slotted spoon to a paper towel-lined plate. Sprinkle with fine sea salt. Repeat with remaining tortilla strips.
Divide soup among serving bowls. Top with a dollop of sour cream, sliced avocado, fresh cilantro, and crispy tortilla strips.
Did you make this recipe?
Let us know what you think!
Leave a Comment below or share a photo and tag me on Instagram with the hashtag #loveandoliveoil.