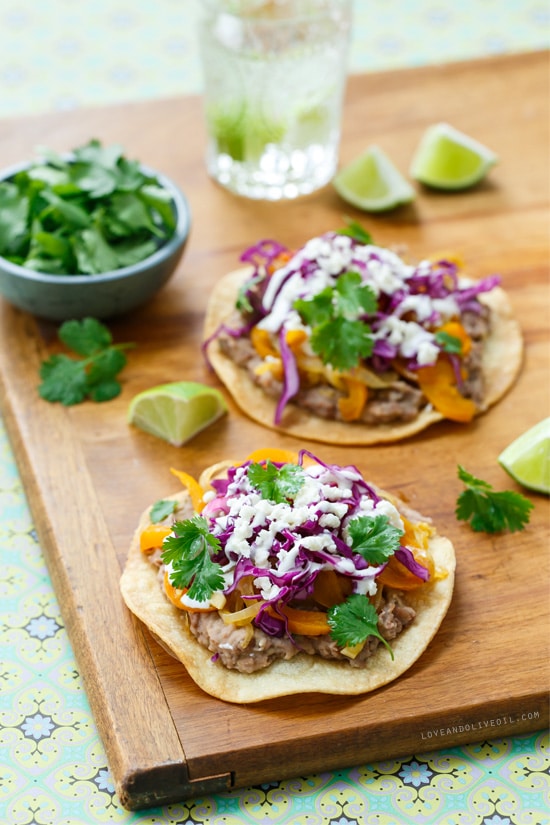 I don't know about you, but in our household, cookbooks tend to languish on their shelves, gathering dust and all but forgotten. Our recipe inspiration comes from the net, from pinterest and other food blogs and digital versions of the magazines which we used to receive, but ultimately let our subscriptions lapse because they ended up sitting unread in towering stacks in the corner.
Call it a resolution, of sorts, to pay more attention to my beloved cookbooks. To use them and abuse them to the point where their pages are sticky and splattered and stained. Because (as a cookbook author myself) I know the amount of work that went into creating them, and they deserve more than just a spot on a shelf.
Take, for instance, America's Test Kitchen's The Complete Cooking for Two Cookbook. I received a review copy months ago, and, due in part to our extra packed fall schedule, the book just sat there, untouched. For months.
I don't know what prompted Taylor to pick it up a few weeks ago. I was struggling to put together a meal plan for that week, frustrated that I always have to do it on my own, and likely whining that he needed to contribute more and find some G-D recipes (ok ok, so I probably wasn't the nicest wife at that point in time. I'm working on that.)
Whatever the reason, the book was there and he picked it up and immediately found a few recipes from the book for the week's meals. That was maybe one month ago. In the weeks since, we've made at least a half a dozen of the recipes in the book, and Taylor has firmly declared it his favorite cookbook of all time. We like it so much, in fact, that we bought a few more copies to give away as Christmas presents.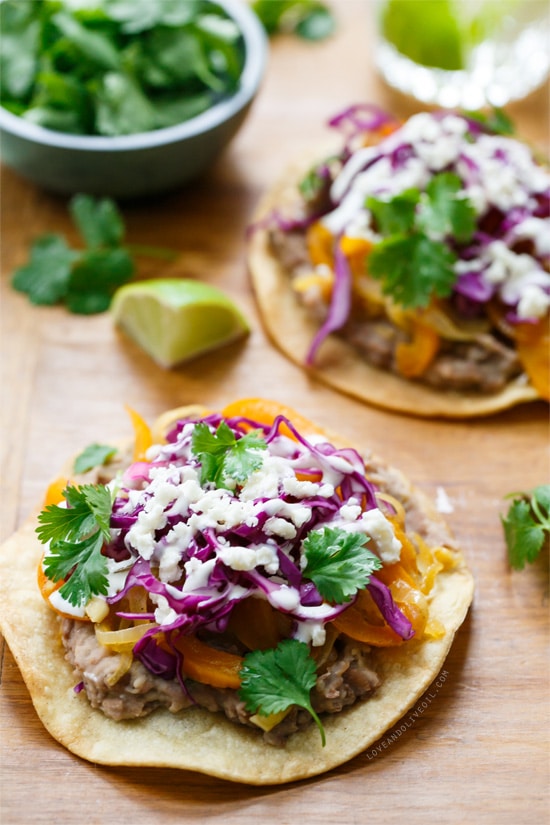 These pinto bean tostadas are just one of the recipes we've tried from the book, and dare I say our favorite recipe so far (though Taylor has easily another 20 recipes bookmarked that I'm sure will be equally as good).
Despite being vegetarian, the dish is packed with protein and flavor, color and character, and is easily one of the best things we've made in quite some time. We would have never thought to use pickled jalapeños in a dish like this, nor use the juice from the jar to season the beans and slaw (brilliant).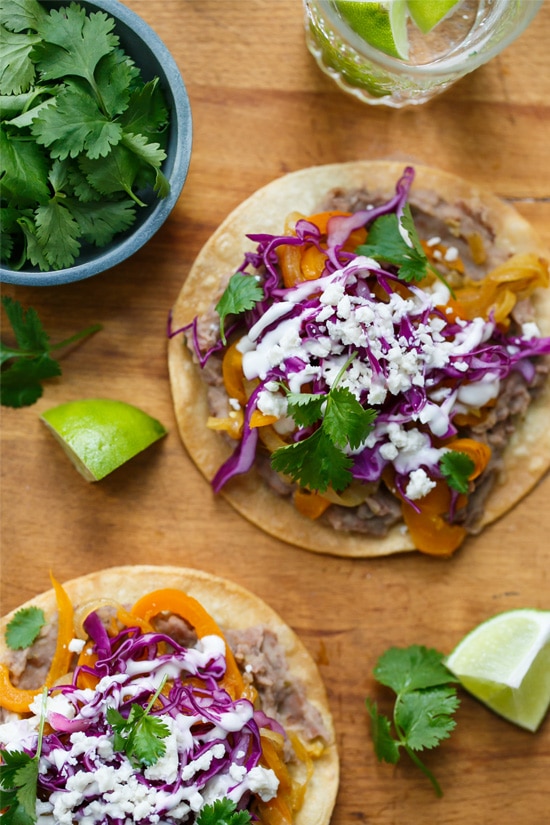 The great thing about this book is that the recipes are perfectly scaled for two servings.
We have found, however, that the 2-serving constraint often means partially unused containers, half bags of pasta and partially used cans of broth, things like that. Luckily it's easy enough to double the recipe (which completely defeats the point, I know) to use up the leftover ingredients and guarantee that our lunch the next day will be amazing. Despite our being a two-person household, cooking for four is perhaps our specialty: dinner tonight and lunch tomorrow.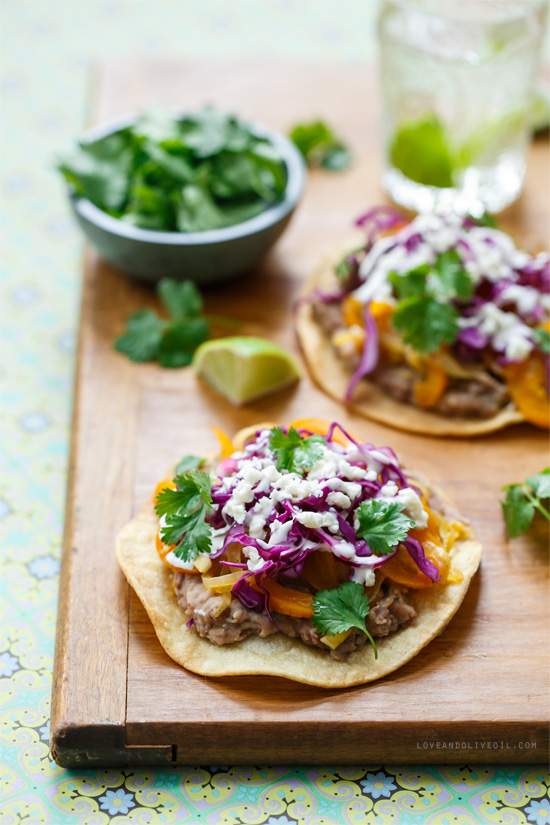 It's definitely a different style of food than we usually cook when left to our own devices, more ordinary (in a good way) and less fussy. While the dishes aren't things I may have chosen or come up with on my own, we're enjoying the change of pace and the variety. Sometimes, it feels good to make something you wouldn't normally choose to cook.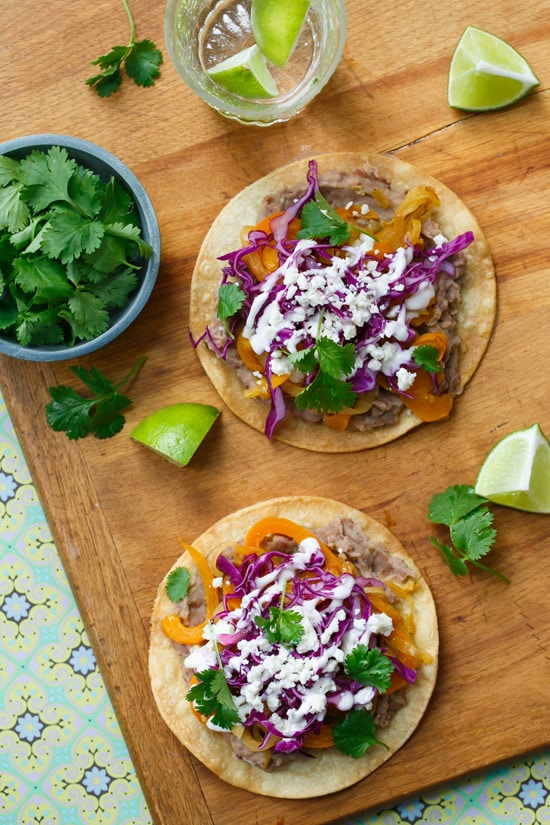 We made a few small aesthetic changes to this recipe, using purple cabbage and orange bell peppers instead of green (blah green peppers), but the substance of the recipe is exactly as published. Why tweak something when it's perfect as is, right? I mean, if it 'aint broke…
Vegetable and Bean Tostadas
Ingredients:
6 (6-inch) corn tortillas
vegetable oil
1 bell pepper, stemmed, seeded, and thinly sliced
1 onion, havled and thinly sliced
2 garlic cloves, minced
1 1/2 tablespoons lime juice
salt and freshly ground black pepper
1 (15-ounce) can pinto beans, drained and liquid reserved
1 1/2 teaspoons mincced jarred jalapeños, plus 2 tablespoons reserved brine
2 cups finely shredded red or green cabbage or coleslaw mix
1/2 cup (2 ounces) crumbled queso fresco or cotija cheese
1/4 cup sour cream
2 tablespoons minced fresh cilantro
Directions:
Preheat oven to 450 degrees F. Spray or lightly brush tortillas with vegetable oil or cooking spray; arrange in a single layer on a baking sheet. Bake until lightly browned and crisp, about 8 to 10 minutes.
Meanwhile, heat a splash of oil in a large nonstick skillet set over medium heat. Add bell peppers and onion and cook about 5 to 7 minutes or until softened and beginning to brown. Add garlic and stir 30 seconds or until fragrant. Remove from heat; stir in 1/2 tablespoon lime juice and season with salt and pepper to taste. Transfer to a bowl and cover with foil to keep warm.
Return skillet to medium heat with another splash of oil. Add beans and their liquid along with minced jalapeños and 1/2 tablespoon of reserved brine. Cook, mashing beans with a potato masher, about 5 minutes or until thickened. Season with salt and pepper to taste.
Toss cabbage with remaining 1 1/2 tablespoons jalapeño brine liquid and a pinch of salt and pepper.
In a small bowl, whisk together sour cream and remaining 1 tablespoon lime juice.
To assemble, spread bean mixture on tortillas. Top with onion and peppers and a heap of cabbage. Sprinkle with crumbled cheese, drizzle with sour cream, and finally top with fresh cilantro and serve.
Did you make this recipe?
Let us know what you think!
Leave a Comment below or share a photo and tag me on Instagram with the hashtag #loveandoliveoil.