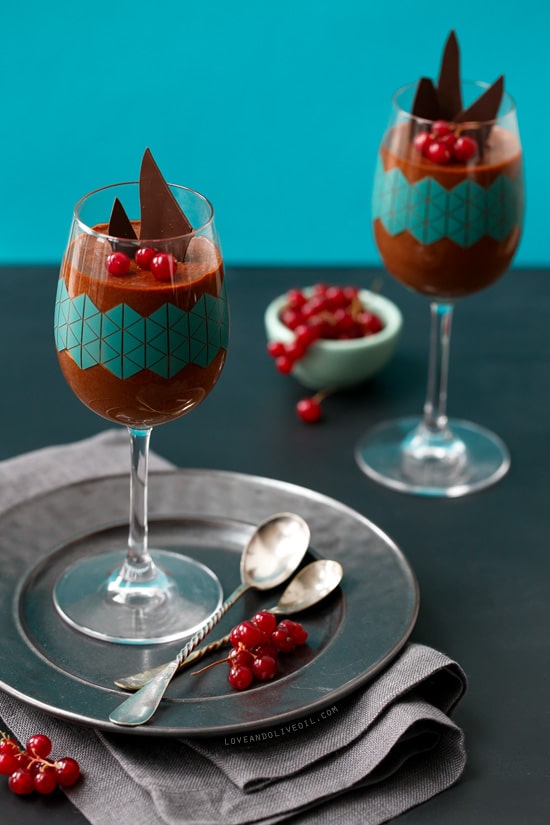 Can we start posting decadent desserts again?
Not that it stopped me before, but it seems like there is about a 25 day period in the food blogosphere where every recipe is kale or quinoa or chia something.
And then about 3 weeks into January, the healthy recipes slowly start to disappear, replaced with the super bowl snacks and Valentine's day desserts. Apparently our willpower has a 25-day statute of limitations. Your seemingly strong resolutions are no match for cheese dip and chocolate mousse.
And there's no shame in that. I've never been one for resolutions anyway, preferring to allow myself to indulge in moderation. For as soon as I tell myself I CAN'T have something, that's all I'm going to think about until I cave in.
So for me, making a batch of incredibly decadent (and I mean, whoa) chocolate mousse on a Monday afternoon isn't breaking any rules, in fact, I think it should be encouraged. Allow yourself something sweet, something decadent every now and then, and you'll be a happier person for it.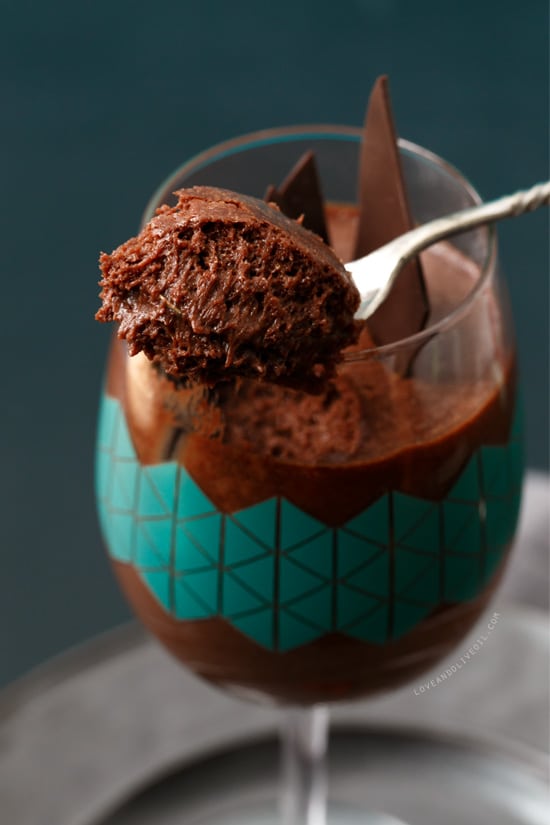 And let me just say, if you're going to indulge, this is the ultimate way to do it. It's a true chocolate mousse, meaning, yes, raw eggs, but you're not going to be able to replicate the heavenly texture any other way. If that makes you squeamish, seek out whole pasteurized eggs and you're good to go.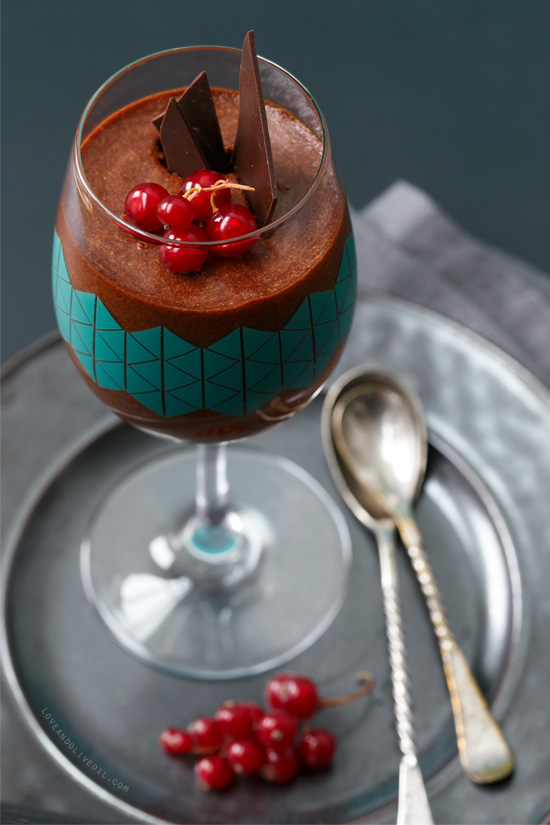 This recipe is slightly trickier than a standard chocolate mousse, as it involves first making a dry caramel (meaning the sugar is melted over heat without any added water).
Dry caramel scares me. I much prefer the wet method (where the sugar is cooked with a bit of water), but I trust David and so followed his method to a T. Yes, it's scary, but just keep your eye on it and you'll be fine.
And let me say the results are WELL worth it.
I'm talking a mousse so rich and decadent, yet light and airy at the same time. Sweet and slightly salty, with rich undertones of nutty burnt caramel that plays off the floral chocolate perfectly.
It is quite possibly the best chocolate mousse I've ever had.
We chose to serve these in wine glasses (or, excuse me, BEER glasses) for an extra romantic touch, but you can use ramekins or glass jars or even dainty teacups. The mousse will have cooled to room temperature by the time you portion it into serving dishes, so the containers do not have to be heat proof. Meaning glass, porcelain, ceramic… anything goes.
You could also put the mousse in one large serving bowl or a dish, for more of a family-style presentation.
I topped ours with chocolate shards and pretty red currants. The touch of tartness is the perfect way to cut the richness of the mousse. Why currants? Well, Whole Foods had them and I'd never seen them for sale here before. So I did what most food bloggers in my situation would do: I bought a few containers without any specific plans. You could also use raspberries if you can't get your hands on currants.
And hey, don't be afraid to indulge every now and then. You deserve it!
Salted Caramel Chocolate Mousse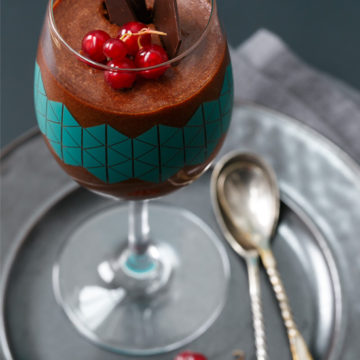 Ingredients:
1/2 cup granulated sugar
3 tablespoons butter (salted or unsalted), cut into cubes
3/4 cup heavy cream
6 ounces bittersweet or semisweet chocolate, finely chopped
4 large eggs*, separated
1/4 teaspoon flaky sea salt
red currants or raspberries, for garnish
Directions:
Spread the sugar evenly over the bottom of a wide saucepan and set over medium heat. As it begins to liquefy at the edges, use a heatproof spatula to very gently drag the liquefied sugar toward the center. Watch carefully, as once the edges start to darken, the sugar is in danger of burning. Continue to cook, stirring very gently, until all the sugar is melted and begins to caramelize.

When the caramel is a deep amber color and smell just slightly burnt, remove from heat and quickly whisk the butter cubes, whisking until melted. Slowly whisk in the cream until smooth and no bits of hardened caramel remain (be sure you scrape the edges of the pan to incorporate any stubborn bits). Add the chopped chocolate and gently stir until melted and smooth. Transfer to a large heatproof bowl and let cool to room temperature (about 15 to 20 minutes).

When chocolate mixture is no longer warm to the touch, whisk in the egg yolks until smooth.

In a clean bowl, whip the egg whites until they hold stiff peaks. Using a large rubber spatula, fold one-third of the whipped whites into the chocolate mixture to lighten it along with flaky sea salt. Then gently fold in the remaining egg whites until just incorporated (do not overmix). Divide among serving glasses and chill for at least 8 hours until set. Serve with fresh berries if desired.
*This recipe contains raw/uncooked eggs. We always recommend seeking out fresh, local eggs from a trusted source. However, you can also purchase whole pasteurized eggs if you're worried.
Did you make this recipe?
Let us know what you think!
Leave a Comment below or share a photo and tag me on Instagram with the hashtag #loveandoliveoil.