Every year comes the same challenge: how to mix up plain old cranberry sauce. Not that there's anything wrong with plain cranberry sauce, but I'm always looking for something new and different (in essence, blog worthy).
Now, I don't like relish. That's just weird. I want cranberry sauce, not chunky crunchy fruit salad masquerading as sauce.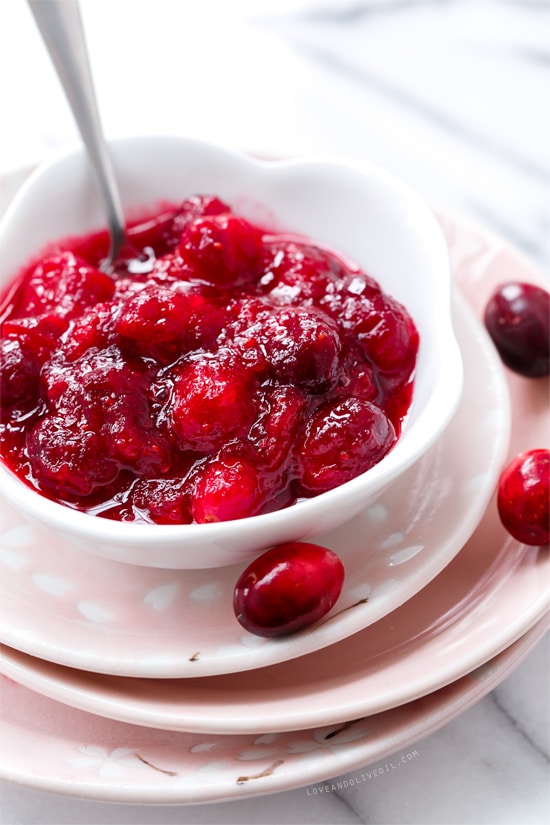 Since our Thanksgiving was loosely Asian-themed, we were trying to think of ways to spice up our cranberry sauce to go along with it. I chose to add just a smidge of ginger (just enough to entice the tastebuds, not overpower the palette) and a splash of Japanese sake. Because boozy cranberry sauce is always a good decision, I mean, really, where can you go wrong?
It may just be my favorite cranberry sauce yet, right behind last year's Hibiscus Cranberry Sauce. In fact, I wish I had made more of it (I only used one 8-ounce bag, where I think at least two would have been appropriate). Then again I'm the type who can eat cranberry sauce in various forms for weeks following the holidays. With some goat cheese and arugula, it makes for one heck of a turkey sandwich.
Knowing nothing about sake, we picked this one up based on the pretty pink packaging (girly sake, as Taylor called it) and a description that mentioned an "appealing, fruity flavor". Cranberries are fruit, so that meant it'd go together, right?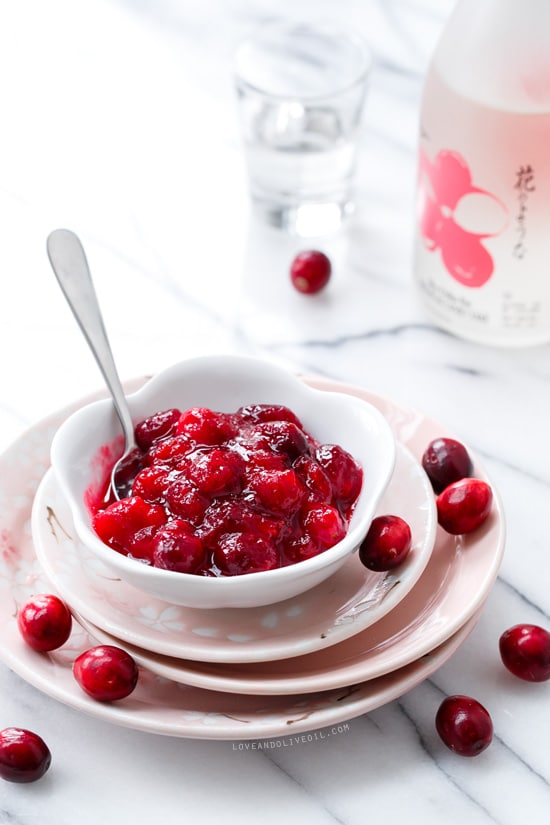 Apparently this week has unintentionally become cranberry week. And that's ok with me: I'm of the mindset that cranberries can (and should!) be enjoyed year round. So stock up, freeze a few bags while you still can, and enjoy the tart results for months to come.
Ginger Sake Cranberry Sauce
Ingredients:
8 ounces fresh or frozen cranberries
1/3 cup granulated sugar
2 tablespoons water
1 teaspoon fresh grated ginger
3 tablespoons sake
Directions:
In a saucepan, combine cranberries, water, sugar, and ginger over medium heat. Bring to a simmer, stirring occasionally, for 10 to 15 minutes or until cranberries are burst and liquid is thickened. Remove from heat and stir in sake. Sauce can be made up to 3 days ahead of time and refrigerated in a jar or airtight container.
Did you make this recipe?
Let us know what you think!
Leave a Comment below or share a photo and tag me on Instagram with the hashtag #loveandoliveoil.