New Year's Eve usually means sparkly dresses and fancy cocktails and lots of gold and glitter and fuss. 'Tis the season to celebrate, after all. We use the start of the new year as an excuse really, to party hardy and eat sweets and have a merry old time. It's our last hurrah before those resolutions kick in and we have to behave ourselves.
But here's the thing: do you really need a reason? I'd argue that this cocktail is in itself a reason to celebrate. In fact, I think this fruity, bubbly cocktail would be just as appropriate on a plain old Tuesday in May than it would be on New Year's Eve. But since New Year's Eve happens to be this week, we'll use that as our excuse. Well, next week we'll celebrate #BecauseNoReason, but that's ok (remember, we don't need one!)
The flavor of Chambord® Black Raspberry liqueur inspired this fruity shrub made from fresh raspberries and blackberries (alas, the elusive black raspberry not something I was able to track down), which I then mixed with vodka, Chambord, a dash of bitters, and a splash of club soda for a fun and festive fizz.
How 'bout them bubbles?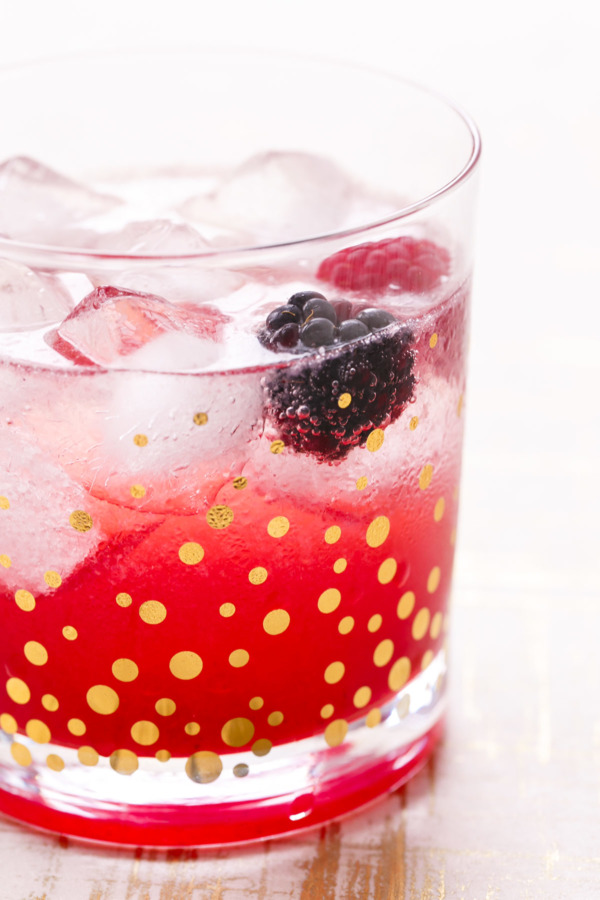 But wait, a shrub? What the heck is a shrub?
Well, a shrub is a guy who thinks he's fly… no, wait. That's not right. Sorry. I'm getting my scrubs and my shrubs confused.
A SHRUB is actually a fruit preserve of sorts that dates back to colonial times, made from acidifying fruit juice and sugar, usually with a bit of vinegar; it's a process that was invented, essentially, to preserve the fruit long before the advent of refrigeration.
This is one case where old fashioned ingenuity has become modern creativity. Once you have your shrub, you can mix it with soda or water for a crisp nonalcoholic refreshment, or, even better, add in some booze for a truly unique cocktail.
Let's just say this drink goes down easy. The sugar and vinegar balance out the bite of the alcohol to create a smooth, fruity finish, with none of the harshness of stronger drinks. And I promise you, I know putting vinegar in your drink sounds weird (Taylor gave me the side-eye when I suggested it), but you won't even know you're drinking vinegar. All that comes across is tart berry flavor.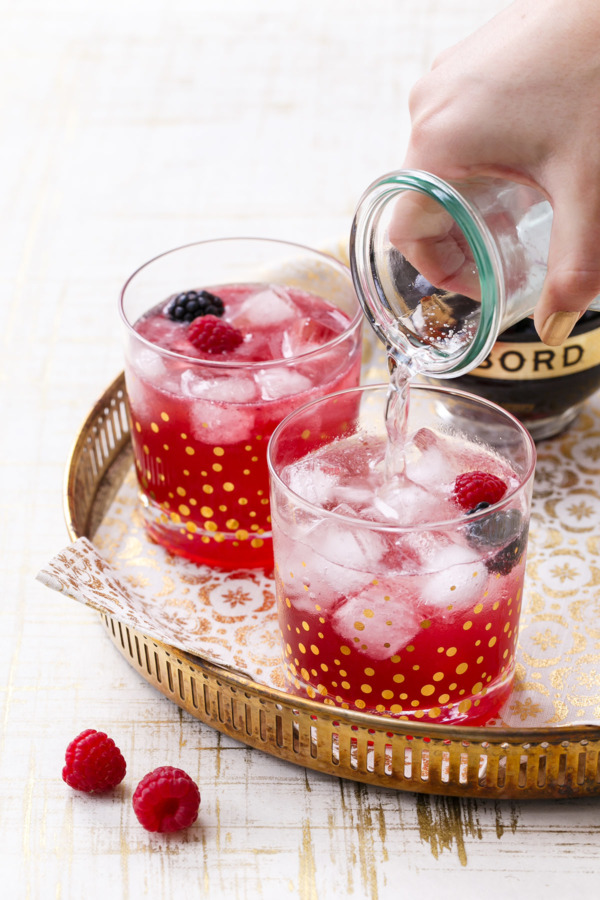 So grab an ice cold glass and let's celebrate… whether it be New Year's Eve or just any old Tuesday. Because that's what Chambord® is all about: celebrating the fact you don't need a reason to celebrate.
Black Raspberry Shrub
A fresh and fruity cocktail made with fresh raspberries and blackberries, vodka, Chambord, a dash of bitters, and a splash of club soda for a fun and festive fizz.
Ingredients:
For Shrub:
1/2 cup (2 ounces) fresh rasbperries, rinsed
1/2 cup (3 ounces) fresh blackberries, rinsed
1/4 cup granulated sugar
1/3 cup red wine vinegar
For Each Cocktail:
1 ounce vodka
1 ounce black rasbperry shrub
1/2 ounce Chambord® Black Raspberry Liqueur
dash Angostura bitters
club soda
Directions:
To make shrub, toss berries with granulated sugar in a small bowl, lightly crushing the berries with the back of a spoon. Cover and refrigerate for 12 to 24 hours, stirring once or twice in the middle, until juicy and sugar is mostly dissolved. Strain through a fine mesh sieve, pressing the berries to release as much juice as possible. Add vinegar to strained juice, stir to combine. *shrub can be made ahead of time. It will keep, sealed in an airtight container like a mason jar for up to one month. This recipe makes enough shrub for 4-5 cocktails.
To prepare cocktail, fill a lowball glass with ice. Add vodka, shrub, and Chambord® and stir to combine. Add a dash or two of bitters, to taste. Top with club soda and serve.
Did you make this recipe?
Let us know what you think!
Leave a Comment below or share a photo and tag me on Instagram with the hashtag #loveandoliveoil.
Disclosure: This post was sponsored by the Chambord®. As always, all opinions written are purely our own. We're incredibly grateful for opportunities like these that allow us to continue sharing delicious recipes with you, so thank you for supporting us and the brands we love.