It's become a tradition to summarize our Thanksgiving every year, here in this space. I mean, what good is a food blog if not to post about your holiday meals? More as a visual record of everything we cooked and ate more than anything.
It's kind of neat, looking back and seeing a photographic record of our past Thanksgivings.
For some reason I didn't do an overall wrapup of Thanksgiving in 2011, although I did post a few recipes after the fact.
This year it was just the two of us. We've had family in and out during the months of September and October, and were ready for some down time to ourselves.
We picked up a half turkey from local Wedge Oak Farms, where we've gotten our turkeys for the past 4 years. They had a crop of unusually hearty birds this year, so instead of getting a small 7 or 8 pounder (they didn't have many) they had a few larger birds cut in half. It was a bit macabre to look at, the bird being cut right down the middle, but the 6 3/4 pound half-bird was the perfect amount for two.
We tried a new brine recipe this year, one with apple cider as the base and savory, Asian-inspired ingredients like star anise, shiitake mushrooms, cinnamon, and ginger. Taylor was convinced he could taste the star anise in the final bird, but all I knew was it was a good one. We halved the below recipe for our 6 pound bird, and brined it for 8 hours on Wednesday before taking it out of the brine and letting it dry out in the fridge overnight.
According to common turkey lore, you need about 20 minutes of cook time for every pound of turkey. Which would mean our bird would be done in just over two hours, and so we planned out the rest of our timing accordingly.
That lore, however, is for larger birds. Smaller ones, and especially half ones (surface area or something along those lines) allow smaller birds to cook much faster. Lesson learned, when we were registering well over the necessary 165º in just over an hour.
Our Thanksgiving dinner suddenly became Thanksgiving lunch.
Cue slight panic, as we scrambled to finish our beans and potatoes and gravy before the turkey got cold. Luckily, we had enough of the prep done ahead of time and the last pieces came together easily, so we were sitting down to eat less than 30 minutes later.
The only problem with such an early meal is, despite the amount of food you've just consumed, you're bound to get hungry again later that night. But by that point I was totally ready for round two.
Potatoes: I was tickled by how well this year's potatoes turned out, with the seemingly minor addition of toasted sesame oil. Just a bit, a teaspoon or so for 2-3 pounds of potatoes, but it was enough to give the potatoes a unique nutty flavor that I loved. Plus plenty of cream and butter, of course. Topped with a sprinkle of toasted sesame seeds for flair. :)
Green Beans: We made this Green Beans with Miso and Almonds recipe from Epicurious. The miso is almost spicy, with a unique, rounded flavor. Probably the most non-traditional green beans we've ever made, but enjoyable nonetheless.
Cranberry Sauce: In sticking with the loose Asian-theme of this year's meal, I threw in some fresh grated ginger and a bit of fruity sake at the end. Not enough to be overpowering, but enough to give the cranberries a very unique flavor. I'll be posting the recipe for this one shortly!
Stuffing: Taylor adapted a 'multicultural' stuffing recipe he found, including some dried shiitake mushrooms and sesame oil. I'm not a stuffing, or excuse me, dressing fan, but Taylor insists Thanksgiving is not complete without it.
Dessert: Seeing that we've made 3 pumpkin pies and two entire batches of pumpkin bars in the past 3 weeks for recipe-testing purposes (that Amaretti pumpkin pie did not come together easily), we were pretty pumpkined out. So I used the opportunity to do something different, making a buttermilk chess pie recipe I've been stalking for some time now. It was a nice change from the typical pumpkin, although, and you'll be shocked when you hear this, almost too sweet for me. Still, it's a solid recipe, and one I'll be sharing with you later this week.
As for the turkey, I'll print our adaption here, for our future benefit more than anything. We did not do the 'cider jus' specified by the original recipe as we wanted to save the drippings for a traditional gravy instead.
Savory Cider-Brined Turkey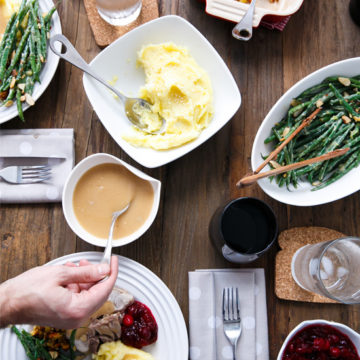 Ingredients:
2 quarts apple cider
1 cup kosher salt
1 cup soy sauce
1/2 cup packed light brown sugar
16 whole black peppercorns
8 whole star anise pods plus more for garnish
6 garlic cloves, smashed
6 scallions, white parts only, trimmed, split lengthwise
6 1/4"-thick slices unpeeled ginger
5 dried shiitake mushrooms
2 3-inch cinnamon sticks
2 sprigs cilantro
1 12–14-lb. turkey
Butter, softened
Freshly ground black pepper
Directions:
Bring cider, salt, soy sauce, brown sugar, peppercorns, star anise, garlic, scallion, ginger, dried shiitake, cinnamon, and cilantro sprigs to a boil in a very large stock pot, stirring to dissolve salt and sugar. Let cool to room temperature, then stir in 1 1/2 gallons cold water. Add turkey to brine and press down to submerge. Cover; refrigerate at least 8 hours or overnight.

Remove turkey from brine and pat dry with paper towels; discard brine. Season lightly inside and out with salt and pepper. Place turkey, breast side up, on a rack set in a large heavy roasting pan and tie legs together with kitchen twine. Tuck in wings to prevent burning. Let stand at room temperature for 1 hour while you Preheat oven to 375 degrees F.

Brush turkey with butter. Flip breast side down. Pour a few cups of cider, chicken broth, or other liquid into the bottom of the pan, then roast turkey, basting occasionally, for 1 hour. Carefully flip turkey. Roast, basting occasionally, until an instant-read thermometer inserted into thickest part of thigh registers 165°, about 1–1 1/2 hours longer. Transfer turkey to a platter. Let rest for at least 20 minutes before carving.
Did you make this recipe?
Let us know what you think!
Leave a Comment below or share a photo and tag me on Instagram with the hashtag #loveandoliveoil.